Crypto.Games Casino Review – Unique Gambling Experience In 2023
First founded in 2020, Crypto.Games is a unique online gaming platform that utilizes cryptocurrencies as the only payment method and allows players to gamble using their favorite cryptos in a provably fair environment. Check it out yourself.
Crypto.Games online casino is owned and operated by MuchGaming B.V, a company registered in Curacao, and the casino operates under a gaming license issued by the Curacao government.
In a world filled with online casino clones that offer the same old games and similar platforms, Crypto.Games bring a breeze of fresh air by providing a completely new and different platform for all the fans of cryptocurrencies out there.
In this Crypto.Games casino review, we will take a detailed look at the operator and offer a fair and unbiased assessment of its games, promotions, payment processing, customer support, and more.
If you are on the lookout for a new place to try your luck, keep reading and find out whether Crypto.Games is the next gaming site you should check out.

Why Play at Crypto.Games
Crypto.Games Pros
Many crypto coins are accepted
Faucets mechanism for all players
Provably fair casino games
Low house edge on all games
Lightning fast withdrawals
Crypto.Games Cons
Lack of game variety
Lack of fiat currency gaming
Only English language is supported
Slightly outdated platform
Crypto.Games Bonuses
We already mentioned that Crypto.Games is different from most classic online casinos in many ways, and bonuses are one of the areas where this shows.
Speaking in terms of traditional casino bonuses, Crypto.Games do not offer any, which is unusual even compared to most other crypto and Bitcoin gaming sites.
However, Crypto.Games has plenty of tricks up it sleeve, including its Faucet Bonuses, daily player promotions, and a strong VIP Membership package.
If you want to join this unique online gambling experience, we will explain how these mechanics work in the following sections.
Crypto.Games Faucets Explained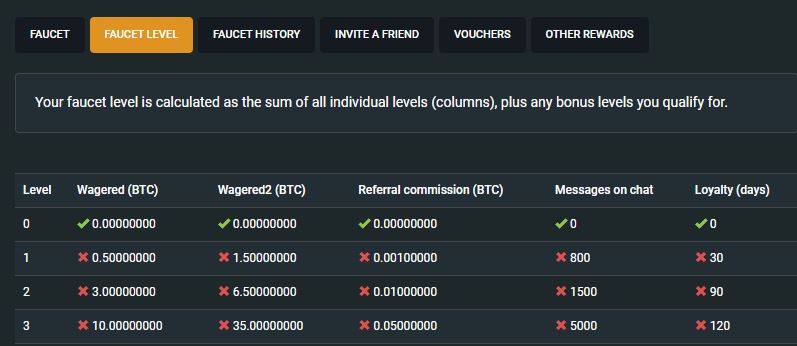 One of the most unique mechanics available at Crypto.Games casino, which comes closest to a traditional online casino bonus, are faucets.
Faucets are available to all players, from novice to the more experienced ones, and they allow players to try games before they have made a deposit.
However, unlike play money, faucets actually allow you to keep your winnings, provided you are a depositing player and you don't try to abuse them to your advantage.
Faucets are designed to allow new players to try the casino before they make their first deposit (in a limited capacity), as well as allow experienced players to play while waiting to buy new cryptos or process their deposits.
While faucets serve as a form of credit and allow players to enjoy playing without stressing about when their deposits will come through, there are some slight concerns about them as well.
Primarily, it can be difficult to understand what constitutes as faucet abuse and what does not, although the folks at Crypto.Games have done a decent job of trying to explain that in one of their posts.
In essence, all fair-use of faucets is allowed, while using faucets to try and spin up maximum cashout without any intention to deposit if you lose, depositing to reach the withdrawal limit on top of faucet winnings, or creating second accounts to abuse affiliate commissions, are all strictly forbidden.
Players who play from faucets are expected to play for their real deposited money as well, in which case using faucets is completely fine, and withdrawing winnings made from faucets is allowed.
It is important to note that the amount of coins you will get to play with from faucets will depend heavily on your involvement with the site, previous deposits, bets, and involvement with the site forums.
The more active of a player and member you are, the more you will be able to receive through faucets and the more time you will get to play in between your deposits without risking your own coins.
Crypto.Games Bonus Codes 2023
The differences between Crypto.Games and most online casinos are quite apparent from the moment you turn the platform on, and we have already explained the absence of traditional casino bonuses at Crypto.Games.
As such, you will not need to worry about any Crypto.Games bonus codes when registering or depositing either, as all players are eligible for the same rewards as they play on the platform.
Regardless of any Crypto.Games promo codes, you will be able to deposit, play real money games, and use faucets in accordance with your site involvement and activity.
Crypto.Games VIP Membership
Like most gaming sites out there, Crypto.Games knows how to reward loyalty, and the unique Crypto.Games VIP Membership is a great way to reward the most active users.
In order to reach the VIP status, you will need to win one of the top spots in the wagering leaderboards for the current month, with each coin having a separate leaderboard.
At the time of writing this Crypto.Games review, the top five ranked players for Bitcoin and Ethereum, top three for Litecoin, Binance Coin, and Dogecoin, and the top ranked player for Monero and other coins will earn the VIP status.
Players who earn their VIP membership will get to keep it for one month, while those who reach it in three consecutive months will get one extra month for free.
Some of the perks of the VIP membership include:
Lower house edge on Dice (0.8%)
Highest bet priority
Higher on-site exchange limits
Access to VIP chat room
VIP chat tag
Birthday rewards worth $100
More faucet rewards
Monthly voucher drops
As you can see, the perks of VIP Membership at Crypto.Games include both monetary rewards and bragging rights, as you gain access to special chat rooms and get that unique VIP chat tag.
The more you play at Crypto.Games, the more of a chance you have of becoming one of the few monthly VIPs and showing the world that you are a true VIP and high roller!
Promotions & Offers
Like most online casinos out there, Crypto.Games also offers further promotions and incentives for their players to engage them in playing.
At this time, the operator offers a series of daily challenges and wager quests, all of which are aimed towards driving traffic for particular casino games.
Each day of the week, a different game is selected by Crypto.Games staff and a daily challenge is issued.
Players who are able to complete the challenge, such as make a Blackjack after splitting their hand in Blackjack, or reach a certain amount of bets in a particular coin, receive their daily reward.
The daily promotions are not subject to competition, which means all players who reach the daily goal within the day will receive their reward, regardless of all other players playing the same promotion.
As time goes by, you can expect to see Crypto.Games offer other types of promotions and leaderboards as well, so make sure to stay tuned and check out their promotions page regularly.
Online Casino Games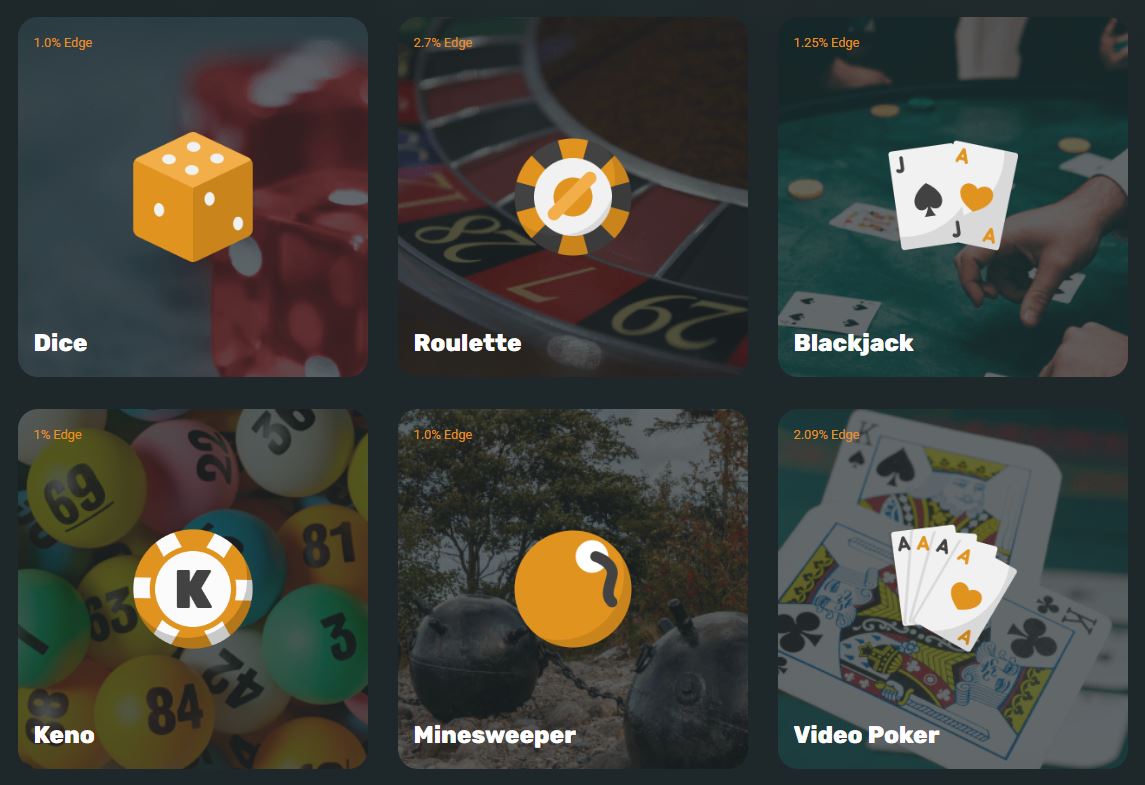 Perhaps the biggest difference between your common online casino and Crypto.Games is the number of different games offered on the platforms.
Unlike most casinos, that offer hundreds of variations of same games, Crypto.Games keeps things very simple and only offers a total of nine games.
All games on the platform are based on blockchain, all are provably fair, and all offer an incredibly low house edge, often going below 1%.
However, as a Crypto.Games player, you will only have access to the following games:
Dice
Roulette
Blackjack
Minesweeper
Keno
Plinko
Slot
Lottery
DiceV2
Crypto.Games Slots

Players who are used to picking from libraries filled with hundreds of online slots with different features and gameplay mechanics might be a little surprised to see that Crypto.Games offers only one single slot game.
The game is the simplest of slots you could imagine, coming equipped with a single payline, some simple symbols, and straight-up payouts for getting the right combinations across the middle line.
Players can win up to 1,000 times their bet playing the Crypto.Games slot, and they can ensure that the game is fair and random by using the operator's provably fair mechanics.
While the game can be quite fun to play for a while, it is likely not enough to satisfy the needs and wants of gamblers who are used to having so much more selection and variety in the slots department.
Crypto.Games Dice
If you are a gambler at heart, the Crypto.Games Dice game is one of the best options you will find anywhere in the world.
The game is a super-simple game of numbers, which allows you to run the RNG for a random number. You get to choose how high you need to roll for a win, and the higher you set that number, the higher your payout.
For example, if you decide you want to win 15x your stake, you will need to roll over 93.339 or under 6.600 to get paid, giving you a total chance of 6.6% to win.
Of course, you can also roll do double your stake, or go even lower than that, and increase your chances of winning dramatically.
This game offers one of the lowest house edges in online gambling, and can be played extremely fast with the auto roll feature as well, making it a true heaven for all the big-time gamblers out there.
Other Games at Crypto.Games
In total, Crypto.Games offers nine games in its portfolio, including player favorites like Blackjack and Roulette, as well as games like Plinko, Lottery, and Minesweeper.
All of the games offered here are powered by the blockchain technology and are some of the most random and fair casino games you will find anywhere in the world.
The appearance and quality of the games is a bit old-fashioned, but if you are here to play and spin up a bankroll, you are in with a great chance.
The games portfolio at Crypto.Games could definitely use updating with some extra titles, but it appears the operator is happy to keep the number of games to a minimum, while making them more profitable for players to play than any other gambling games out there.
How to Join Crypto.Games Casino

One of the most interesting things about Crypto.Games is that you can start playing virtually immediately upon loading up the site, as there is no need for prolonged registration.
The operator will even offer you a random username you can use, and immediately upon accepting their terms of service, you will be good to go.
Follow these simple steps to start playing at Crypto.Games:
Visit the Crypto.Games website
Choose a username or get one randomly assigned to you
Agree to terms of service and privacy policy
Start playing games under the account
Enter email to verify your account
Pass further KYC procedures for higher account security
While you won't have to submit any personal details upon registration, passing KYC procedures will make you eligible for some VIP and other perks.
Yet, playing at Crypto.Games is quite literally as simple as picking a random name and playing with it, and that's one of the beauties of this crypto-powered online casino.
Mobile Casino
As you would expect from an online casino based on the most modern technologies, Crypto.Games supports mobile gameplay in full.
To play on your mobile device, all you need to do is visit Crypto.Games in your mobile internet browser, and you will have full access to the entire platform.
All nine games offered by the casino are offered to mobile players, and the quality and speed of gameplay is similar to that you would experience playing from a PC.
The simplicity of games at Crypto.Games is a positive for mobile players, as the system requirements of these games are truly minimal, making them ideal even for low-end mobile devices.
Crypto.Games Mobile App
While mobile gaming is fully available at Crypto.Games, there is no dedicated Crypto.Games mobile app that you could download to your device.
Whether you are trying to play on your iPhone, iPad, or Android device, simply load up the site in your mobile internet browser, and you will be good to go.
A downloadable Crypto.Games app might come in handy to some players, but its lack is not a major downside considering the quality of the instant play platform.
Payment Methods at Crypto.Games

Unlike many traditional casino sites that accept payments from many different payment methods, there is only one source of funds that Crypto.Games accepts, and that is cryptocurrencies.
That said, any crypto wallet and most crypto exchanges are accepted at the site, which means if you have crypto coins, you will be able to deposit them into your Crypto.Games balance.
You can deposit and play using the following crypto coins at Crypto.Games:
Bitcoin
Ethereum
Litecoin
Dogecoin
Monero
Dash
Binance Coin
Solana
Ethereum Classic
Bitcoin Cash
Neogas
Fast Processing Deposits
When depositing money into your Crypto.Games balance, it is important to note that crypto transactions are a bit different from fiat transactions, and deposits can take a short time to appear in your balance.
However, you can expect your deposit, whether you are making it from your wallet or your exchange account, to be processed within a few minutes in worst cases.
Once processed, the money will be available for play immediately, and you will even be able to make a limited amount of exchanges on the platform itself.
Note that exchanges on the Crypto.Games platform may not always come at premium conversion rates, but VIP players can get better deals for on-platform exchanging.
Fastest Payouts Around
One of the most annoying things in online casinos can be waiting for your withdrawal to be processed after you have made a significant score.
Fortunately, this is not a problem at Crypto.Games, as all withdrawal requests are processed in record times.
It will take one to two minutes for your cashout request to be fully processed and paid out, unlike the many hours or days you might have to wait at a traditional online casino.
This is one of the biggest perks of playing at Crypto.Games, and one of the top reasons to sign up with the operator if you haven't done so already.
Safety & Security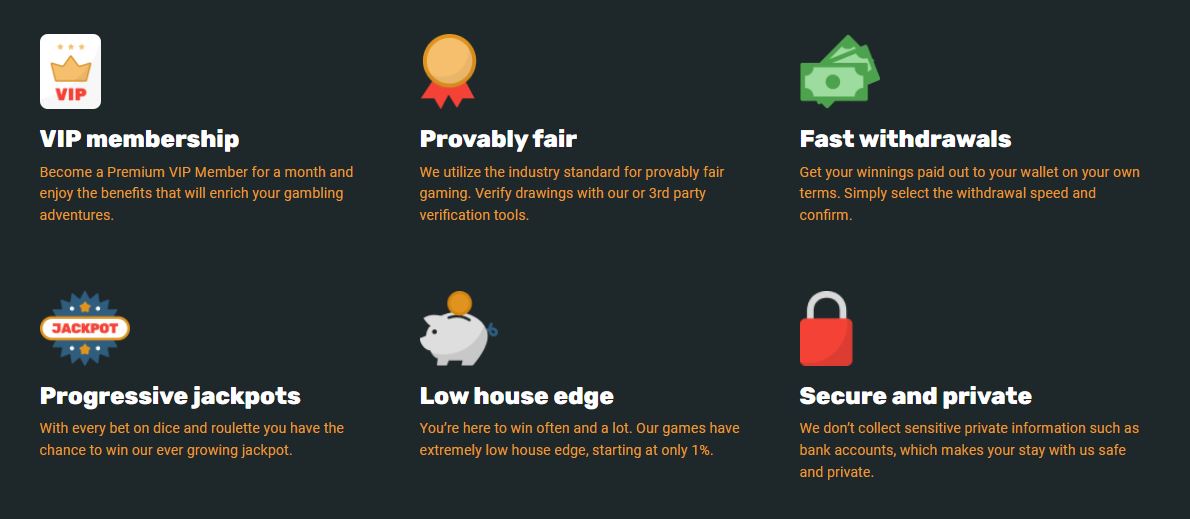 When it comes to player safety and security, Crypto.Games can be considered quite safe, as it offers the provably fair system in each of its games, which helps players prove beyond a shadow of a doubt that all spins are 100% random and fair.
However, this is not the only thing to take into consideration when considering online casino security, so let's talk about some other specifics.
Curacao Gaming License
Crypto.Casino operates under a gaming license issued by the Curacao government, which is generally considered as one of the easiest licenses to receive and maintain.
While the license does offer some level of reliability and legitimacy, it does not ensure beyond a shadow of a doubt that the operator offers stability and security in every regard.
That said, more stable gaming licenses such as the ones from MGA are not offered to crypto-based sites, and many sites operating under a Curacao gaming license offer a perfectly safe and secure gaming atmosphere.
Responsible Gambling
Unlike many other crypto-based casinos, Crypto.Games seems to take responsible gambling quite seriously, and offers a series of tools to help players manage their gambling.
For starters, the operator offers a useful and instructional responsible gambling page which lists different gambling risks and methods to manage them.
Furthermore, players are offered tools such as time-out and self-exclusion as methods to manage potential problem gambling and ensure they never gamble more than they intended to.
By being able to self-exclude permanently or for a limited period of time, you will always have a way to manage your gambling at Crypto.Games in case it goes further than you intended it to.
KYC Procedures
While you will not necessarily need to verify your account identity and ownership immediately to be able to play at Crypto.Games, the operator does offer multiple levels of KYC procedure to ensure your safety and smooth operation.
By providing the operator with your personal details, including your email address, name, and more, you will be able to gain perks and raise the standing of your account.
Customer Support
When it comes to customer support, Crypto.Games offers the answers to most questions via its FAQ section and its detailed Blog posts.
However, if you happen to stumble upon a problem you can't seem to handle yourself, the operator's live chat agents are available around the clock to take any questions.
Live chat is offered only in English language, but the agents are fairly quick in resolving issues and very responsive, making it a useful tool for resolution of any disputes.
You can also send in an email about any dispute or problem you might have, and the operator's staff will do their best to respond in a timely fashion.
Crypto.Games Review Conclusion
Our comprehensive Crypto.Games review has looked into all aspects of the operator's business, from the games they offer, to the ways they process payments, and ensure player security. The casino offers a unique and different approach to online gambling than most other sites but comes with a limited number and variety of games.
That said, the low house edge in Crypto.Casino games give you the best possible shot at running up a bankroll, which is definitely a valuable advantage, so make sure to check out the site.
The lack of traditional casino bonuses is a bit of a downside, but the faucets mechanic and regular promotions make Crypto.Games a site well-worth looking into.
The speed at which all deposits and cashouts at Crypto.Games are processes is also highly commendable, as is the variety of crypto coins accepted at the site.
If you want to give Crypto.Games a shot yourself, head on over to the platform and enjoy playing within seconds, even if you don't want to make a deposit immediately, as the faucets mechanic is available even to brand new players.

Crypto.Games FAQ