Bonanza Slot
The Bonanza slot machine game by Big Time Gaming is one of the all-time favorites among casino players across the globe.
In fact, it is so popular that many games have launched since its release, trying to mimic the same style and gameplay, like Sweet Bonanza, for example.
In this Bonanza Slot review, we will discuss the real Bonanza slot machine by Big Time Gaming.
We will explain the pros and cons of the slot machine game, its return to player, volatility, all of its available bonus features, and how the built-in Megaways feature exactly works.
If you are eager to find out everything there is to know about the Bonanza slot by Big Time Gaming, then keep reading this Bonanza slot review.
Play Bonanza Demo Slot For Free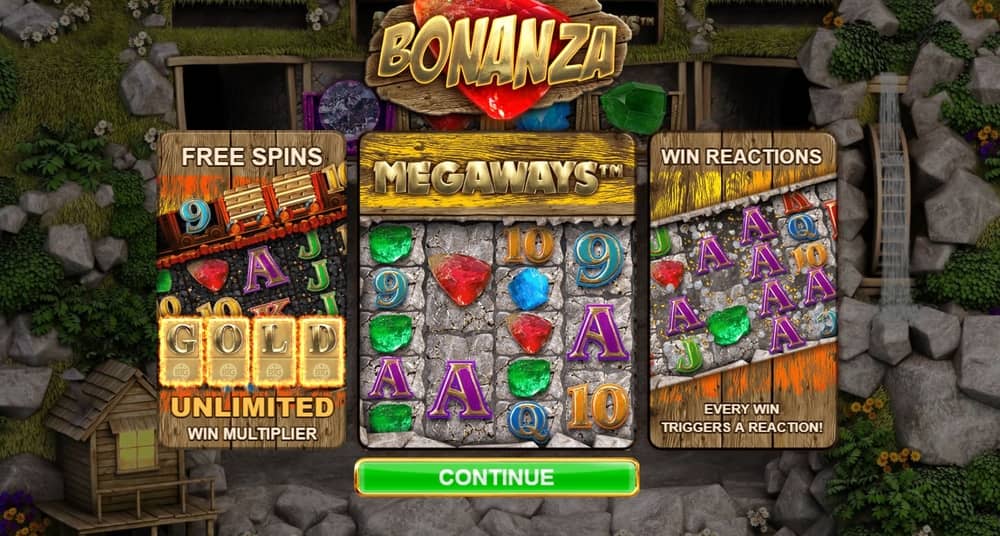 The Bonanza game by Big Timing takes place in front of a mineshaft. In the middle of the screen, we see rocks with symbols on them, and then on top of the 6 reels, we see mine carts carrying symbols again.
A lovely water mill is spinning to the right side of the game, bringing us luck, and we see the current amount of Megaways displayed on top.
In the lower-left of the screen, we find our betting interface, which we can use to adjust our stake per spin.
The soundtrack played in the background is rather cheerful and makes us want to spin the reels to see if we can make those big rocks explode with dynamite and get some gems and gold out of there.
If we look closely at the playing field, we can count 6 reels, but we cannot accurately tell how many rows the game actually has. This is intentional and has everything to do with the so-called Megaways concept, which we will explain how it all works later in this Bonanza slot review.
How to Play Bonanza by Big Time Gaming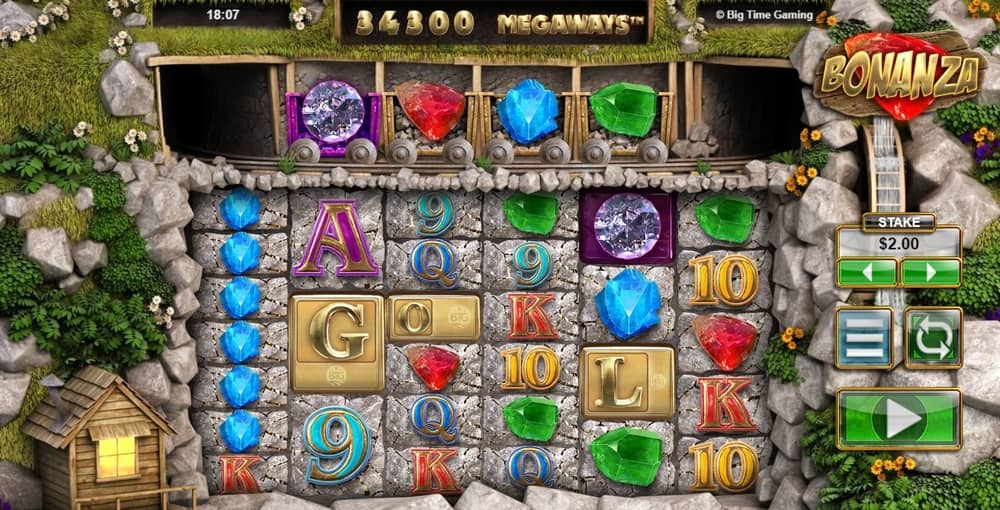 Although Bonanza might look a bit confusing at first, you don't have to worry about a single thing, as it's an incredibly easy casino game that requires no strategy at all.
All you have to do is set your stakes, spin the reels, and check whether you've won or not.
You can try this game for free on this page, or to get started playing the Bonanza slot machine for real money, you simply follow these steps:
Navigate to your favorite casino site, log in to your player account, open up the casino lobby, and use the search feature to search for Bonanza. You could also use the game filter options to search for Big Time Gaming or Bonanza to find the game. Once you have found the Bonanza slot, simply click it to launch the game.
When the game is finished loading, you start off by determining your stake per spin. You do this with the green buttons in the lower-left of the screen. You can play Bonanza from just $0,20 per spin and decide for yourself how much you want to wager. The maximum stake you play per spin is $20,00.
Once you have decided how much you want to play the game, you click on the green Play button on the right side of the playing field to spin the reels.
The reels will now begin to spin, and the soundtrack in the back will become more cheerful, making the whole ordeal extra exciting. Above the playing field, you see the number of current Megaways, which gives you an indication of your chances of winning.
Once the reels stop turning, which can take a while because sometimes blocks will explode and new symbols will fall in place, your winnings are added up and credited to your player account. It's that easy! Just spin and wait.
If you want to play the game for a while, you might want to use the handy autoplay feature. This feature lets you play the game on auto-pilot by setting the number of spins the casino will spin for you. An interesting to notice is that you can set loss and win limits with the autoplay function.
Bonanza Slot Machine Game Minimum and Maximum Bet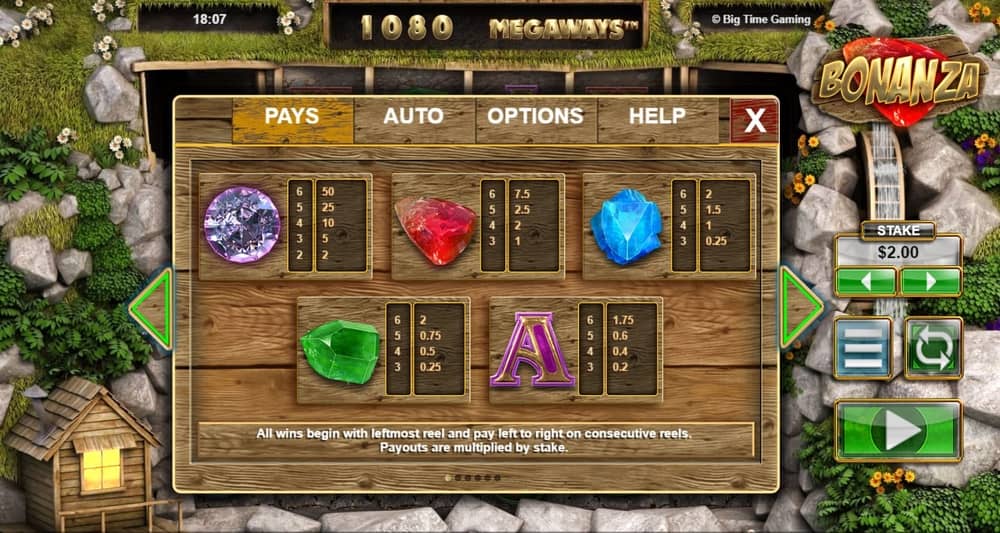 Bonanza is a fairly simple online slot with only one real betting level you can adjust. You can set your stake per spin at $0,20, $0,40, $0,60, $0,80, $1, $2, $4, $5, $10 or $20.
The maximum amount you can win per spin is 12,000x your stake.
There are no other betting levels, coins, or credit values you can adjust.
You also have to play all the pay lines and cannot decide how many of those you want to play. The wide range of betting options makes Bonanza suitable for all kinds of players, from recreational players to high rollers.
Bonanza Slot Machine Game RTP and Volatility
The Bonanza slot machine game from Big Time Gaming has a return to player of exactly 96%, which is in line with the industry average for online slots.
A return to player of 96% means that the house edge is 4% per spin and that you can expect to win $0,96 for every $1 wagered.
Bonanza is a very high volatility game. This means that you won't win often but that the wins will be relatively big if you win.
High volatility slots are not for everyone, as you need to have quite some patience to get those big wins. We recommend considering this before you start playing the game and allocating your budget accordingly.
Bonanza Bonuses and Features
Bonanza has three features that we want to discuss, as they can be a bit confusing at first for new players. We will try to explain these Bonanza bonuses and features as clearly as possible, but we recommend trying out the Bonanza demo game on this page to find out exactly what we mean.
Free Spins
It is possible to receive free spins while playing the Bonanza slot machine game. To receive these free spins, you have to land four symbols: gold bars with letters that spell out the word GOLD.
So there are four gold bar symbols, one with a G, one with an O, etc. They have to spell GOLD correctly, so if you get GLDO, it doesn't count, and you won't get free spins.
If you do happen to spin GOLD, you will receive 12 free spins. All your spins are free of charge during the free spins mode, and the multipliers that normally last only one spin will now last until all free spins are spun.
This essentially creates an unlimited win multiplier, so when you get the free spins, you can expect to win a hefty sum of money. The best thing about Bonanza's free spins is that you can get even more free spins during the free spin mode if you happen to spin 3 or 4 scatter symbols.
Cascading Spins
Whenever you get a winning combination while playing the Bonanza slot machine game, the winning blocks made of stone will explode, and new blocks will fall in their place.
If this creates more winning combinations, they will explode again, and the new winnings are added to your balance. This goes on to infinity until there is no winning combination spun.
Megaways Feature
In the intro of this Bonanza slot review, we talked about the fact that you cannot clearly see how many rows the playing field has. This is intentional as the game features the so-called Megaways pay line feature.
Megaways refers to a unique mathematical model that includes a random reel modifier, which changes how many symbols will appear on the reels and how many pay lines each spin will have.
This means that during gameplay, players can get anywhere between 324 and 117,649  possible pay lines.
Big Time Gaming is famous for inventing this slot feature, which we will discuss in more detail later in this Bonanza slot review.
How to Win with the Bonanza Slot Machine Game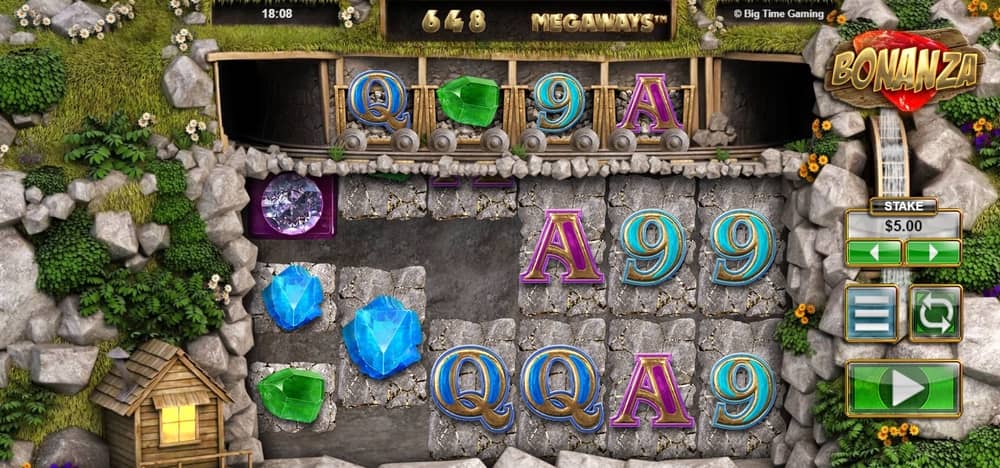 You win with the Bonanza slot machine game by spinning winning combinations. Winning combinations are formed whenever you spin 3 or more identical symbols on adjacent reels. Your win chances are greatly increased by the Megaways feature, which makes the number of pay lines increase steeply while playing.
Bonanza has 10 symbols, 6 of them are playing card values 9, 10, J, Q, K, and A, and 4 of them are gems.
The gems are the higher paying symbols, with the diamond being the best paying symbol. There is no strategy involved while playing Bonanza. You just set your stake per spin, spin the reels and wait for what happens next.
Bonanza by Big Time Gaming Jackpot
You maybe expect from a game with the Megaways feature and free spins that it would contain a progressive jackpot.
The official Bonanza slot machine game by Big Time Gaming that we are reviewing in this guide doesn't have a progressive jackpot.
A different version of the game, called the Bonanza Megapays slot, has four different jackpots players can win the Mini, Midi, Major, and Mega jackpots.
The prize money of the Bonanza progressive jackpots starts at:
Mini Jackpot: $100
Midi Jackpot: $1500
Major Jackpot: $20,000
Mega Jackpot: $300,000
These jackpots are increased by 0,5% of wagers of all players that play the game simultaneously, which makes the jackpots increase rather quickly.
Bonanza Demo Gameplay
You might not want to burn your fingers too quickly and try out the Bonanza slot with a virtual balance first on this page. We recommend doing so and trying out the Bonanza demo slot machine game before wagering any real money, as it will help you to familiarize yourself with the game and its mechanics.
Most online casinos that offer Big Time Gaming games have such a Bonanza demo mode available, which you can test totally free of charge.
Bonanza Mobile Version
Big Time Gaming is one of the most cutting-edge casino gaming studios. For this reason, they develop all their slots and games in HTML 5. This makes the game responsive, which means that all the buttons and text will adjust to the screen size of your device. Because of this, you can play the game easily on smartphones and tablets.
Casino Software Provider Behind Bonanza – Big Time Gaming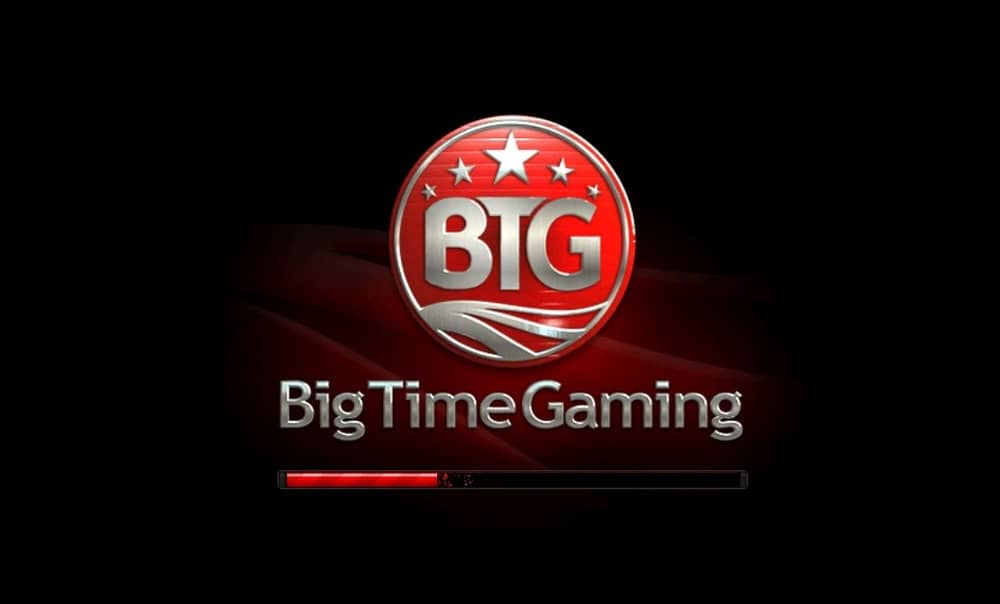 Big Time Gaming is one of the most popular casino software providers nowadays. It was founded 10 years ago by Nik Robinson, an Australian software developer with strong business acumen and innovative ideas for casino gaming.
Big Time Gaming has released about 35 online slots, most of which feature the Megaways feature.
Recently the market leader in live casino gaming, Evolution Gaming, has acquired Big Time Gaming. For this reason, we can expect Big Time Gaming live casino games such as Blackjack and Roulette soon, hopefully with Megaways features built-in.
Bonanza Slot Machine Review – Our Verdict
We are a fan of Megaways slots, and Bonanza certainly is one of our favorite slot machines from Big Time Gaming.
With more than 100,000 pay lines and a maximum win of 12,000x your stake, what's more to want from an online slot?
The theme is good, and we like the mine carts on top, which offer a bit of an extra dimension to the game. The soundtrack and sound effects are also done really well and make it an exciting game that doesn't get boring after a few spins or sessions.
We highly recommend giving the game a spin sometime, trying your luck with it, or jumping on our free games section to find similar titles.
Bonanza Slot Machine FAQ