Gates Of Olympus
If you have visited online casinos before, you probably have already seen Gates of Olympus in most lobbies.
Gates of Olympus is one of the latest Pragmatic Play games that are extremely popular among casino players across the globe.
In this Gates of Olympus review, we dive deeper into the slot. We will leave no stone unturned and tell you all about the pros and cons of Gates of Olympus, its return to player, volatility, all its available bonus features, and more.
If you're still wondering why this game is so popular and whether you should play it or not, then read on to find out all about the Gates of Olympus slot machine game.
Play Gates of Olympus Demo Slot For Free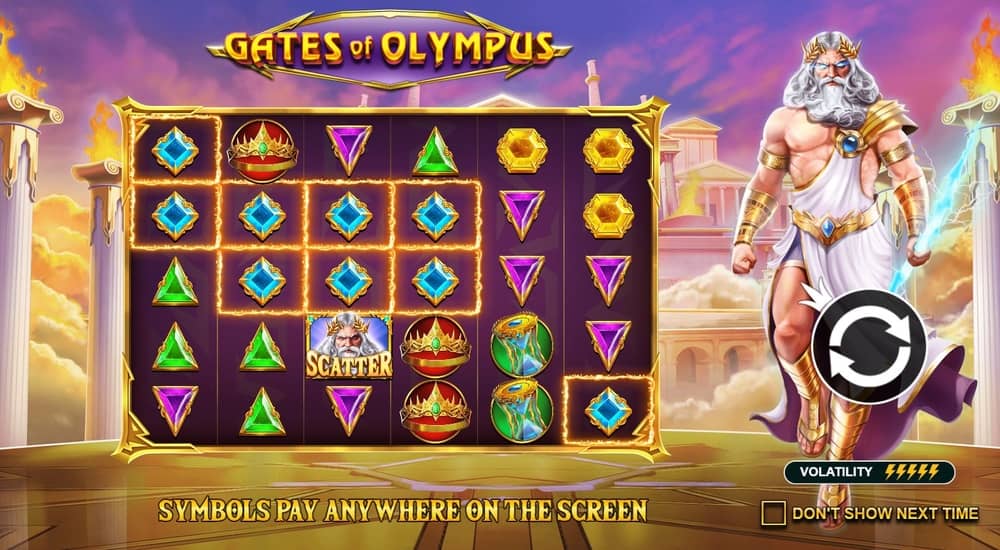 The theme of Gates of Olympus is obviously Greek Mythology. The slot is situated on top of the Olympus mountain in Greece, where we see Zeus floating mid-air to the right of the slot.
The layout is 5 rows and 6 reels.
From time to time, lightning bolts will strike the playing field, and Zeus will keep us entertained doing other magical stuff.
We see cups, rings, timers, crows, and Zeus scatter symbols on the reels. The soundtrack makes you think you're watching an episode of Game of Thrones and excites you to start playing.
Which is the next thing we will cover in this Gates of Olympus review, because how exactly do you play the Gates of Olympus slot machine game?
How to Play Gates of Olympus by Pragmatic Play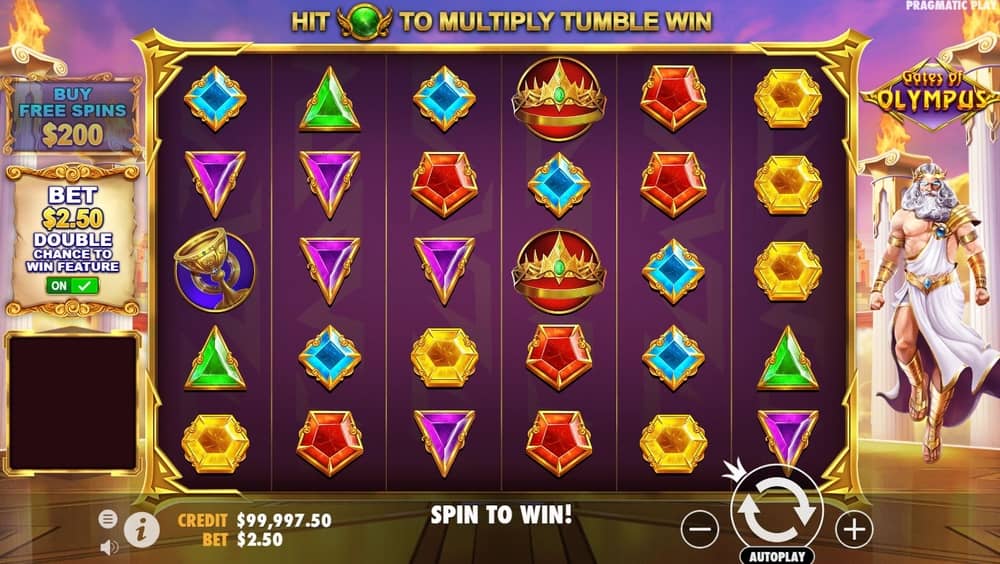 Pragmatic Play's Gates of Olympus is an incredibly easy casino game to play, with absolutely no strategy required whatsoever. With Gates of Olympus, you just sit back and relax while spinning the reels or using the handy autoplay feature.
Anyway, you can play Gates of Olympus for free on our site, or you can follow these simple steps to join real money games:
Navigate to your favorite online casino, open the lobby and search for Gates of Olympus. Sometimes some games are very similar to Gates of Olympus, like Hall of the Gods, so be sure you're actually clicking the right game.
When the game is done loading, you start by setting your wager per spin. You do this by using the little up and down arrows in the betting interface that says credits. You can choose anywhere from 0,20 to 100 credits per spin.
Once you have determined your stake, you can choose to Bet Double or not. With this feature, you bet your original stake x2, but you will have double the normal chance of hitting special features like free spins.
Now that you have decided your total wager per spin and selected Bet Double or not, it is time to spin the reels. Just click on the spin button and watch the reels spin as the soundtrack intensifies.
If you're planning to play Gates of Olympus for a while, you might want to use the handy autoplay feature, which makes the casino spin on auto-pilot for you.
Gates of Olympus Minimum and Maximum Bet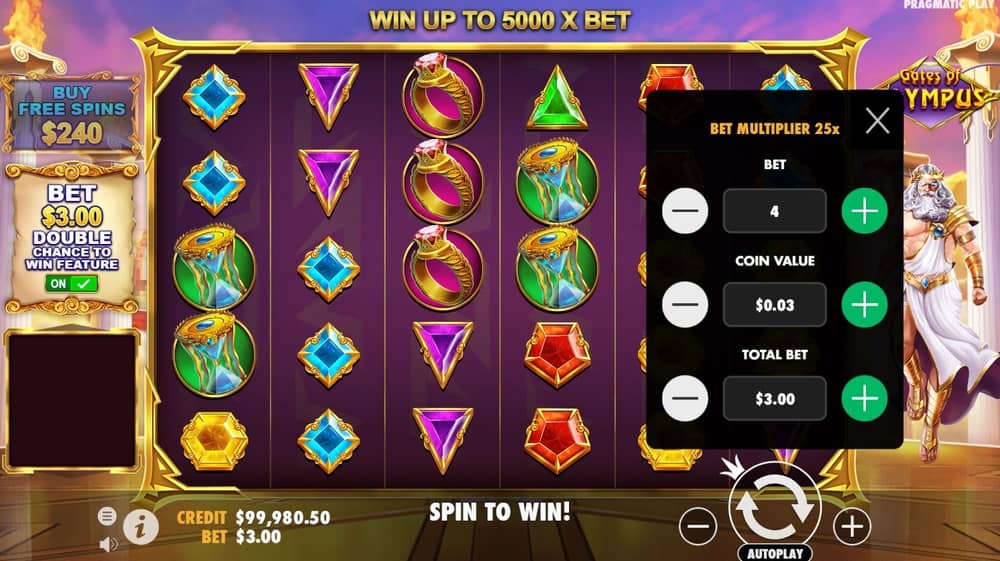 With Gates of Olympus, you set two different betting levels. The main bet level can be set from 1 to 10. The coin value can be set anywhere from $0,01, $0,03, $0,05, $0,10, $0,20, $0,30, or $0,50.
Then you have the option to either play with or without the Bet Double feature.
Note that Gates of Olympus has 20 pay lines, so your total bet is eventually split among all of them.
The maximum bet per spin is $100 because if you set the bet level at 10 and the coin value at $0,50, this makes $5, times the 20 pay lines makes $100 total.
This wide range of betting options makes Gates of Olympus both a great penny slot and suitable for high rollers just as well.
Gates of Olympus RTP and Volatility
Buckle up because Pragmatic Play ranks Gates of Olympus 5/5 in terms of volatility.
This means you will not win often, but you will win big when you win.
The return to player of Gates of Olympus is decent, being 96,50%, which is just above the industry average for online slots. Note that this is the RTP of the base game. If you play with the Bet Double feature, the RTP increases to just under 98%.
Gates of Olympus Bonuses and Features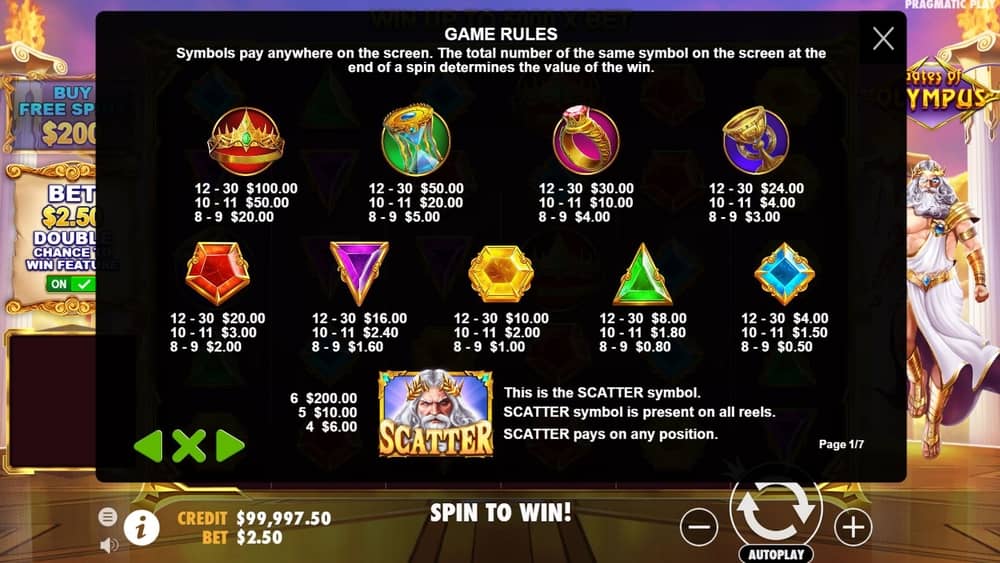 Although most Pragmatic Play games offer one or two bonuses, Gates of Olympus is on a whole new level, as it offers three bonus features on top of the Bet Double and Bonus Buy features.
Multiplier Symbols
During base game gameplay, symbols can drop down the playing field with multipliers attached to them.
These multipliers start at 2x but can go as high as 500x, but this isn't where it ends.
Whenever the symbols that contain multipliers are part of a winning combination, the multipliers shoot to the left of the screen and are added on top of the next spin's winnings. This continues all the way until you spin a round where you win nothing.
Free Spins
Gates of Olympus wouldn't be a proper Pragmatic Play casino game without free spins now, would it?
You can trigger the free spin mode whenever you land four, five, or six scatter symbols anywhere on the reels.
You will always receive 15 free spins, but you can win more free spins during free spin mode if you happen to land more scatter symbols.
During free spins, all your payouts are multiplied by 3x, 5x, or even 100x, depending on the amount wagered per spin and the amount of scatter symbols that triggered the free spins initially.
Ante Bet
The Ante Bet is present in most Pragmatic Play casino games, including Gates of Olympus. With this feature, you increase your total wager per spin by 25%.
In return, you will receive extra scatter symbols on the reels, which double your chances of getting any of the other bonus features.
This is quite a good deal, as you get double the chance to hit bonus features for just a 25% increase of the wager.
How to Win with the Gates of Olympus Slot Machine Game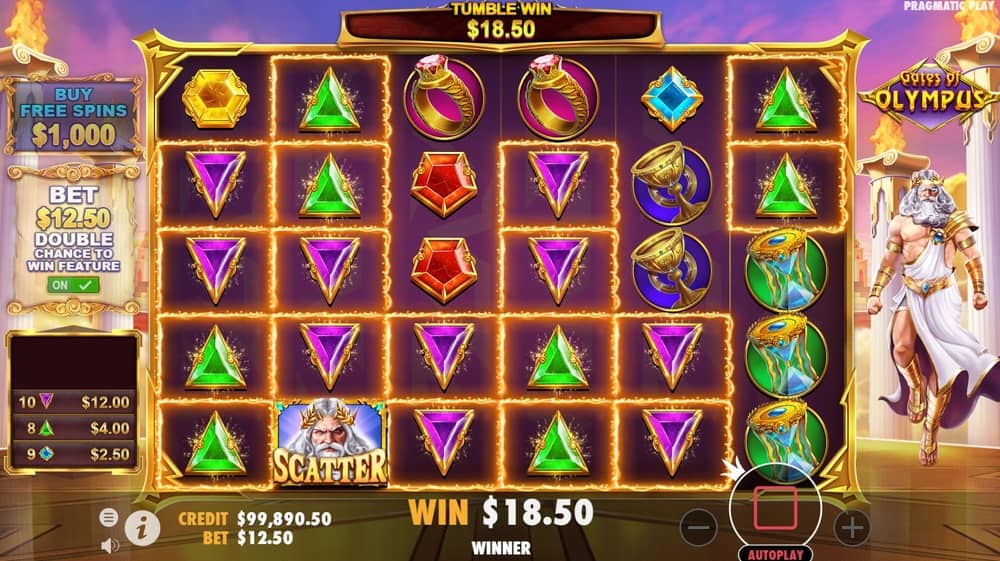 There are no slot machine secrets on how to win with the Gates of Olympus game, so you simply need to spin winning combinations.
These are formed whenever three or more of the same symbols appear on the reels on one of the pay lines.
Gates of Olympus has a 'pay all ways' feature, which means that you don't need to have the same symbols from left to right as you would with normal online slots.
Note that there are 20 pay lines in total on this game and that you can see exactly how those work by opening the game and clicking on the information icon in the betting interface. There isn't really a strategy for Gates of Olympus, but you can check common tips on how to win at slots.
The only thing to increase your chances of winning is to always play with the Ante Bet and/or Bet Double features.
Gates of Olympus Demo Gameplay
If you don't want to play Gates of Olympus before knowing exactly how the game works, which we understand as else you probably wouldn't be on this page in the first place, we are happy to tell you that you can play the game at this page and most online casinos totally free of charge in demo mode.
You get to play the Gates of Olympus demo with a virtual balance of $1,000.
Playing the Gates of Olympus demo is a great way to familiarize yourself with the game and get to know all the different features, mechanics, and payouts.
Gates of Olympus Mobile Version
As Pragmatic Play is really good at adapting whenever new technologies and formats roll out, Gates of Olympus is fully coded in HTML5.
This means you can play the game on your smartphone or tablet whenever and wherever you want.
All you need to do so is to have a stable internet connection. The game is fully responsive as well. This means that all the buttons and texts will adjust to the screen size of your device, making playing the mobile version of the game a breeze.
Casino Software Provider Behind Gates of Olympus – Pragmatic Play Pragmatic Play is one of the leading content providers in the iGaming and betting industry. They have produced hundreds of slots, blackjack, roulette, and even live dealer games. They are most known for their vibrant slots that contain many features like multipliers, expanding wilds, free spins, and built-in bonus games.
If you haven't ever tried a Pragmatic Play casino game before, we highly recommend doing so, as you will quickly understand why their games are so popular among gamblers across the globe.
Gates of Olympus Review – Our Verdict
We really like the fact that players can win up to 5,000x their stake while playing the Gates of Olympus slot machine game and that it pays out whenever you have a winning combination, regardless of the location of the symbols.
What we do find a bit weird is that although it is an extremely volatile slot, even the wins you get sometimes aren't really big, and just 1 to 3x your wager of that spin.
Nonetheless, the Bonus Buy and Bet Double features are definitely worth it, as they increase the RTP of the game and give you a way bigger chance of hitting the free spins and multiplier symbols features.
If you are a big fan of slots or, more specifically, Greek Mythology-themed slots, we highly recommend giving the game a spin and seeing what happens.
Gates of Olympus FAQ