Video Poker Strategy – How to Win at Video Poker More Often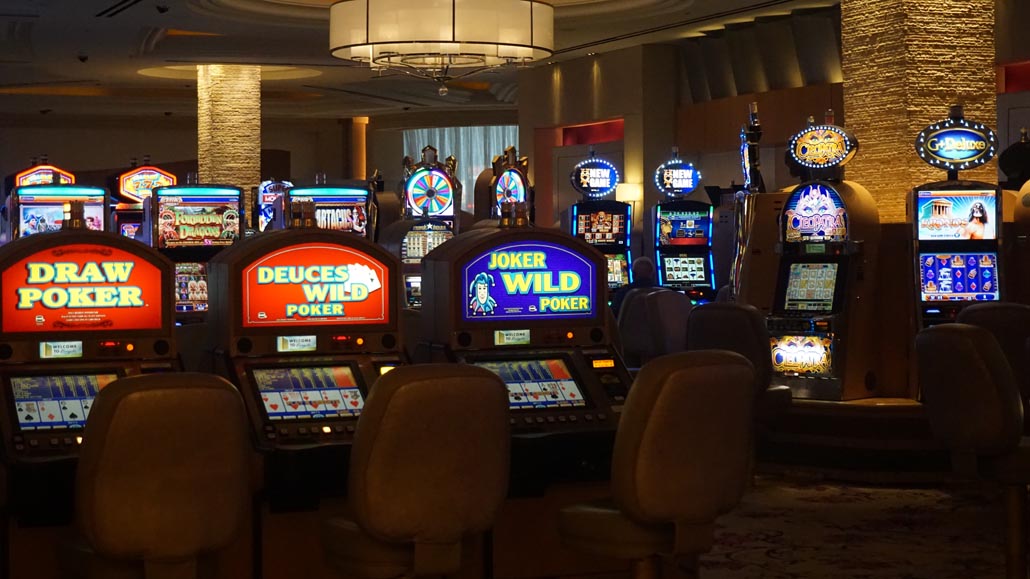 Video Poker Strategy – How to Win at Video Poker More Often
Video poker machines have been around for decades and are one of the staples of gambling cities like Las Vegas and Macau. They are easy to learn and super-exciting to play.
The first video poker machines came out in the first half of the 20th century, with electronic ones arriving a few decades after.
That said, they are not as popular as some other casino games, mainly because they had remained relatively unchanged since the early beginnings almost a hundred years ago.
With that said, if you don't mind playing with simple and basic graphics, video poker can provide you with endless hours of great entertainment.
But, before you start playing these games, make sure to read this entire page. We'll walk you through every essential aspect of video poker strategy and share with you the best video poker tips that will help you win more often.
Video Poker RTP – Crucial to Know If You Want to Win
Video poker machines are actually one of the fairest casino games in terms of the RTP (Return to Player) value.
Some video poker variations have an RTP that goes over 100%, which means that you have the edge over the house, which you won't find in most casino games.
For this reason, understanding the RTP of a machine is the fundamental video poker strategy you need to understand.
Don't settle for a machine that pays less than 98% or 97%, as you're setting yourself short for money in the long run. It doesn't take much time to find out what the RTP is, but it can make a big difference over time.
Most Popular Video Poker Variations
There are countless video poker variations. So, whether you're playing online or in a land-based casino, you don't have to worry about running out of options.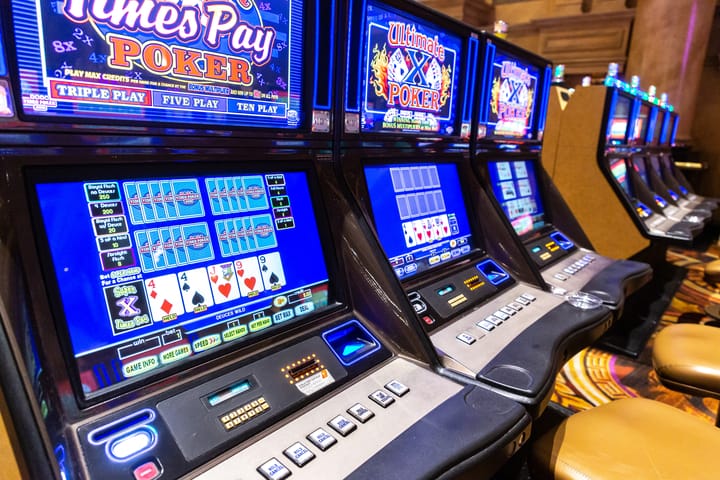 That said, if you're looking for the best of the best, we've gone through all video poker games to filter out the four most popular and most exciting variations you must try.
Jacks or Better
Jacks or Better is by far the most popular video poker variation and one that's available in most casinos. It looks like a slot machine, but it's based mostly on five-card draw poker rules.
Jacks or Better also comes with a progressive jackpot, which can spice up your experience and provide you with some massive wins if you trigger it.
This poker variation comes in two forms, 9/6 machines and 8/5 machines. These numbers relate to how much the machine pays out for a full house and flush, respectively. In that context, it's always best to look for a 9/6 Jacks or Better variation.
Deuces Wild
Deuces Wild is very similar to Jacks or Better but differs from it in one crucial gameplay aspect. The Deuces Wild video poker game includes wild cards.
An identical 52 card deck is used as in Jacks or Better, but the deuces (2s) can replace any other card in your hand to help you land a stronger combination.
Some Deuces Wild video poker machines also come with a progressive jackpot. So, if you're primarily looking to play Deuces Wild, look for the progressive jackpot version, as it can produce much more significant wins.
The video poker strategy for Deuces Wild differs from that of other variations, as you should always focus primarily on the twos and frequently discard your hands.
Bonus Poker
Bonus Poker is a variation of the Jacks or Better video poker machine, which offers a bonus payout for a four-of-a-kind hand. Since it's based on the Jacks or Better version, it plays almost identically. It also offers a payback percentage that goes up over 99% if you play it optimally.
There's also a Bonus Poker Deluxe game, which in its essence is just a rebranding of the original, with a slightly different paytable.
Overall, both Bonus Poker and the Deluxe version offer some of the best payouts you'll find in video poker machines. They are also some of the most entertaining variations around, so if you spend time learning video poker strategy, you might as well focus on these.
Joker Wild
As you can tell from its name, Joker WIld is another video poker machine that includes the wild card mechanism in its gameplay.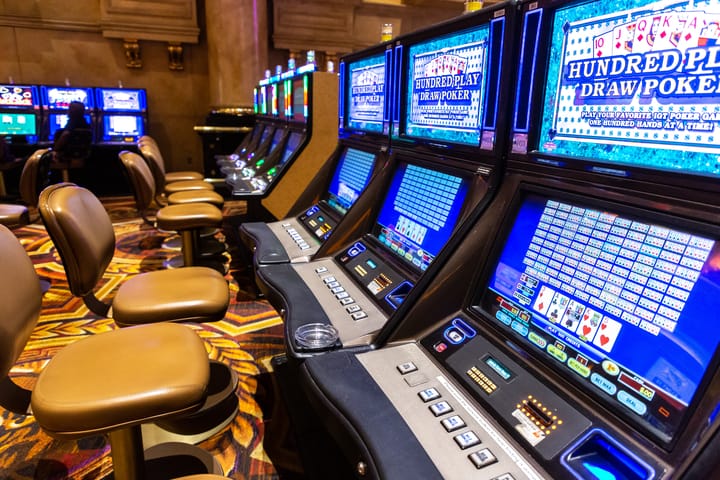 Only, in this case, the wild card comes on top of the 52 card deck. The joker is the 53rd card in the deck and can replace cards and link up with any combination to help you get a stronger hand.
Such a game setup makes mid-range and especially low-range hands hit much more often than in video poker games without a wild card. With that in mind, the machine pays out higher if you line up a win without the joker in your hand.
Video Poker Tips: Understanding the Paytable
There are small paytable differences between the video poker variations, but nothing could drastically change your approach.
Most video poker machines are nearly identical across the board, so when you know the paytable of one game in and out, you'll know the paytables of all other variations. With that in mind, we'll share the example of a paytable in a Jacks or Better 9/6 variation:
| | | | | | |
| --- | --- | --- | --- | --- | --- |
| Your Hand | 1 Coin Bet | 2 Coin Bet | 3 Coin Bet | 4 Coin Bet | 5 Coin Bet |
| Jacks or Better | 1 | 2 | 2 | 4 | 5 |
| Two Pairs | 2 | 4 | 6 | 8 | 10 |
| Three of a Kind | 3 | 6 | 9 | 12 | 15 |
| Straight | 4 | 8 | 12 | 16 | 20 |
| Flush | 6 | 12 | 18 | 24 | 30 |
| Full House | 9 | 18 | 27 | 36 | 45 |
| Four of a Kind | 25 | 50 | 75 | 100 | 125 |
| Straight Flush | 50 | 100 | 150 | 200 | 250 |
| Royal Flush | 250 | 500 | 750 | 1000 | 4000 |
How to Play Video Poker
Although there are many video poker variations, they all play relatively similar. As they are all based on the five-card draw poker format, once you master one video poker game, you'll have no problem finding your way around all other video poker machines.
Here's a quick and easy step-by-step guide on how to play video poker:
Put money into the video poker machine of your choice.
Select how many coins you want to play and make your bet.
Hit the deal button to receive your hand.
Discard the cards you don't want to keep (you can discard your entire hand if you want to).
You'll receive a certain number of cards depending on your previous decision. If you've managed to line up a winning hand, you'll receive winnings according to the paytable.
That's pretty much all there is to it. Playing the game is really not hard, but you need these video poker tips and strategies to know what cards to hold and what cards to exchange at any given point.
Best Video Poker Strategy – How to Win at Video Poker
Casino games, video poker included, should mainly serve for your fun and entertainment. Of course, when you're already playing, you want to give yourself the best chances of winning some money as well.
And, even though video poker doesn't give you many gameplay options you can choose from, there are ways to increase your chances of success. Here are a few simple but efficient tips on how to win at video poker.
Bet the Maximum Number of Coins
This is not as much of a video poker strategy, as it is a basic rule of how these machines work. If you want to have a chance of winning the big bucks, you also have to be prepared to risk a bit more by betting the maximum amount on each hand.
Of course, not everyone can put this video poker tip into action. It requires a sizable bankroll, as you never know many hands you'll lose before hitting a big win. That said, if you have the bankroll to back it up, it's better to play with all five coins than just one or two.
Play for Every Hand
This strategy encourages you to play every hand that offers you some sort of winning potential in contrast to just chasing big wins. While this sounds simple enough to follow, many video poker players forget it in the heat of the game.
The essence of this video poker strategy is that you should never give up on any hand, no matter how small it seems to be.
Chasing bigger wins will often leave you empty-handed, so make sure to play for every hand that will deliver a win.
For example, don't keep three cards in your hand because you're chasing a flush or straight. In the absolute majority of cases, this will leave you in a losing position. The same goes for keeping a kicker and believing that it can help you get a bigger payout.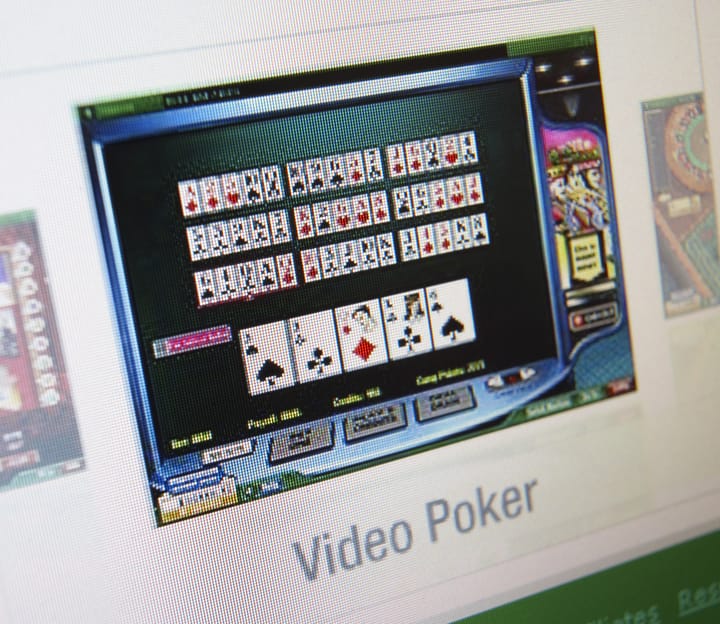 Take it Slow
In poker, the critical aspect to end with the most money is to play fewer hands. In video poker, this objective is slightly different, as you need to play slower hands, not fewer.
Playing slower hands lowers your expected hourly losses and, in return, increases your chances to land a big win.
Although this, like some of the previous strategies, is more just common sense, it often gets overlooked. Luckily, it's a simple video poker tip to follow, so be certain you're always in control and taking it as slow as you think you need to.
Extra Video Poker Tips
Let's take a look at a few additional tips that will help you have a better gaming experience and possibly help you win at video poker more often:
Know the Machine You're Playing – When you walk into a casino, don't just sit at the first video poker machine that crosses your sight. Check out the game's rules, RTP, what hands qualify, and other aspects that can impact your experience. This is even easier if you're playing video poker online, as you can do a quick research and find out everything you need to know before you start playing.
Manage Your Bankroll – Proper bankroll management is a key element you should keep track of if you want to be successful at video poker. Before you start playing, make sure to set a limit of how much money you'll set aside to bet with. A general rule of thumb is that you should have around 50 to 100 times your stake.
Play Responsibly – Video poker is an immersive and extremely exciting casino game, and some players, unfortunately, get carried away when playing. All the money and knowledge in the world won't do you any good if you're not responsible and alert. Make sure your betting sessions don't drag on for too long, and don't let them interfere with your daily activities. Additionally, don't play when you're tired or under the influence, as you'll be more likely to make mistakes.
Write Down and Track Your Sessions – Recording how much you've played, spent, and won will allow you to improve your success during future sessions. Knowing what you did wrong or right will help you make more effective betting decisions, which will lead to bigger and more frequent wins.
These simple video poker tips will make your sessions much more enjoyable and ensure you win more often. Also, when you're on a losing streak, you'll keep better control of your losses.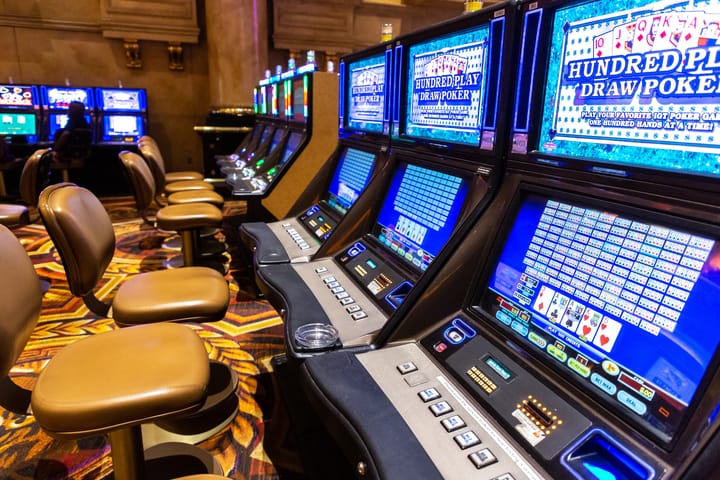 How to Win at Video Poker – Conclusion
Learning to play and win at video poker is not that challenging, but mastering the game requires a lot of time and effort. The tips and strategies we've shared with you on this page will set you on the right path and help you become more successful.
Make sure to pick the video poker variation that suits you the best and bet responsibly. If you take care of these things, you'll set yourself to become a winning video poker player.
One final video poker tip we'll leave you with is that these games can be a great way to beat wagering requirements on a casino bonus, provided they're allowed.