Blackjack Cheat Sheet – Learn Basic Strategy with Printable PDF Card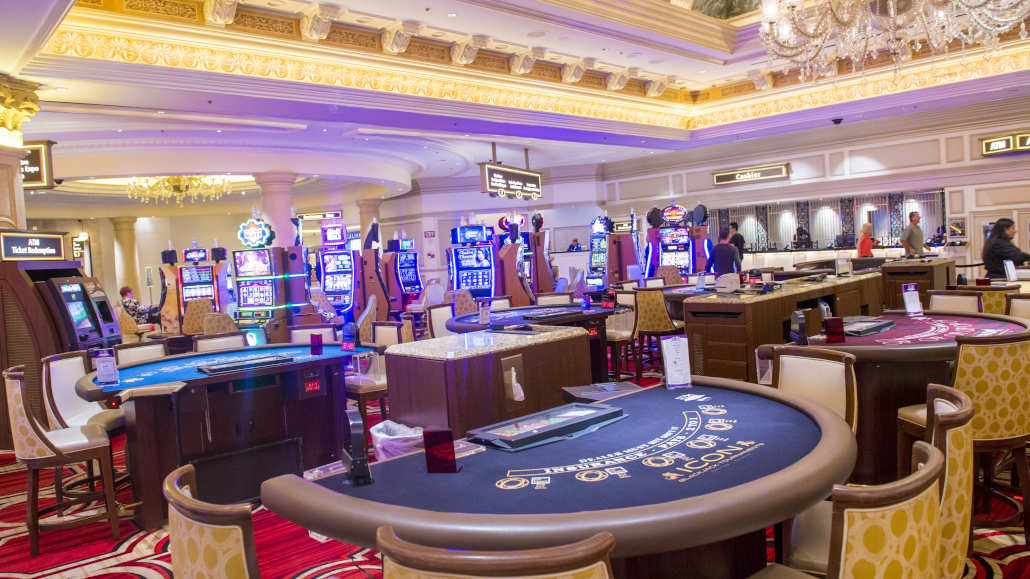 8 minutes
Last Updated: August 11, 2023
Blackjack Cheat Sheet – Learn Basic Strategy with Printable PDF Card
Most blackjack fans think that the game is easy and simple to play. You just have to get as close to 21 without busting out to win the game. But, it's isn't all straightforward.
To be a proficient blackjack player, you need to understand all of the possible card combinations.
More importantly, you need to know the optimum strategy based on the hand you have. You can do so by memorizing every specific tactical decision for your situation. However, this can be challenging and time-consuming. The best way of going about it is to use a blackjack cheat sheet.
In this blackjack game guide, we'll go over the basic strategy cards and share with you a blackjack strategy card in PDF you can download, so you're prepared the next time you play your favorite 21-card game.
Blackjack Strategy Card Printable Version
Although we use the term "blackjack" as a general word for this 21-card game, there are many variations, which can differ significantly between each other. To ensure we've got you covered no matter which blackjack variation you play, we've divided the strategy charts to cover both single deck and multi decks blackjack charts.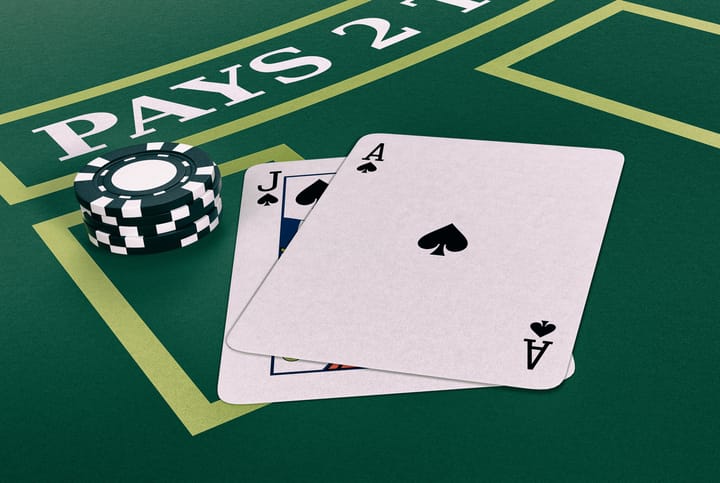 It's also important to highlight a few quick pointers to help make sure you know how to read these charts. The charts we'll talk about provide valuable information you can use on every occasion. However, you should also memorize or write down the abbreviations of all of the featured plays. Here's a rundown of every betting option featured in the blackjack cheat sheets:
H – Hit
P – Split
S – Stand
Ds – Double if you can, otherwise stand.
Dh – Double if you can, otherwise hit.
Ph – Split if it's allowed, otherwise hit.
Pd – Split if it's allowed; if not, double.
Rh – Surrender if you can; if not, hit.
Rs – Surrender if you can; if not, stand.
Rp – Surrender if you can; if not, split.
Lastly, the casino you're playing blackjack at will have specific rules not only for you but for the dealer as well. A majority of the largest casinos say that the dealer must stand on a soft 17 hand. Some, however, state that the dealer must hit if they have a soft 17 hand.
This can have a massive impact on your decision-making. This is why our charts cover both cheat sheets for situations where the dealer hits and when they stand, so you always know what the best strategy is based on the house rules.
Single Deck Blackjack Strategy Chart
Single deck blackjack games are fairly frequent and also the most player-friendly ones you can play. This is because it comes at a very low house edge, giving you advantages over other multi-deck variations.
With that in mind, your success will still depend on how often you can make the optimal play. To help you out with this, we've drafted the ultimate blackjack cheat sheet for single deck blackjack games:
The Dealer Stands of Soft 17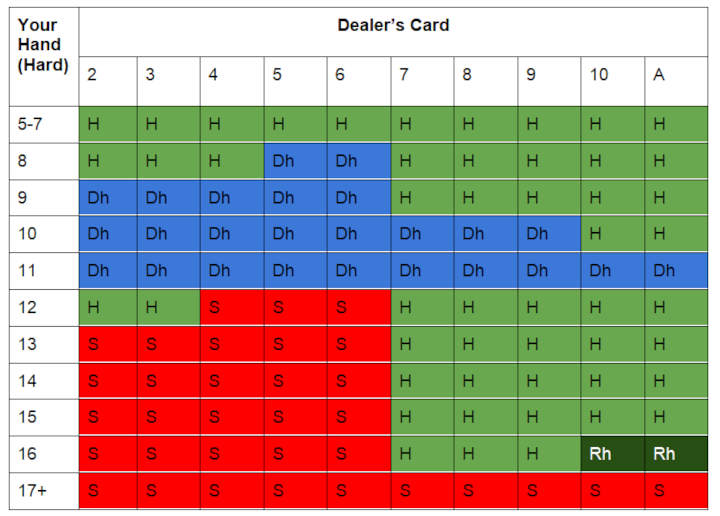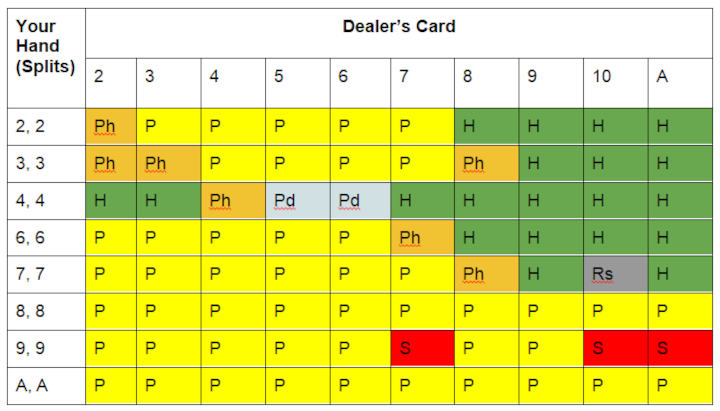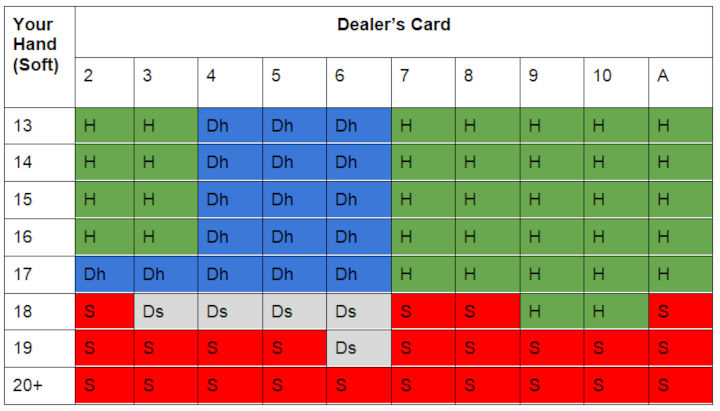 The Dealer Hits on Soft 17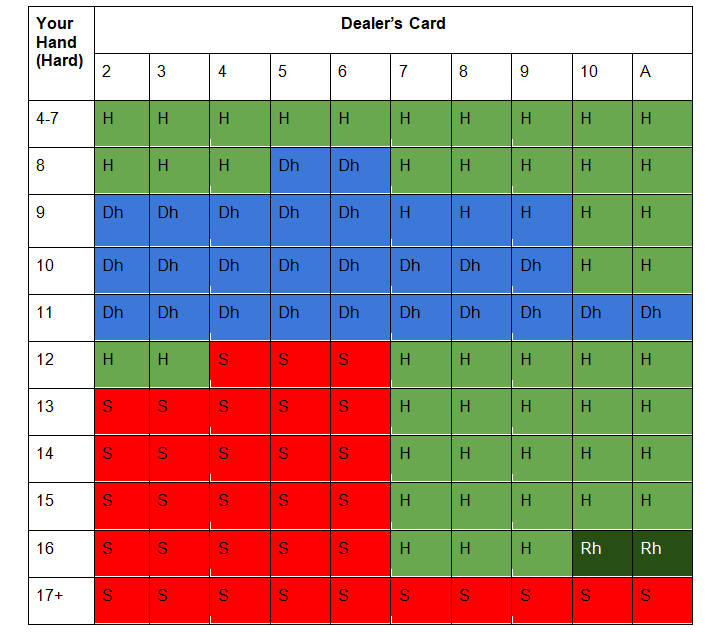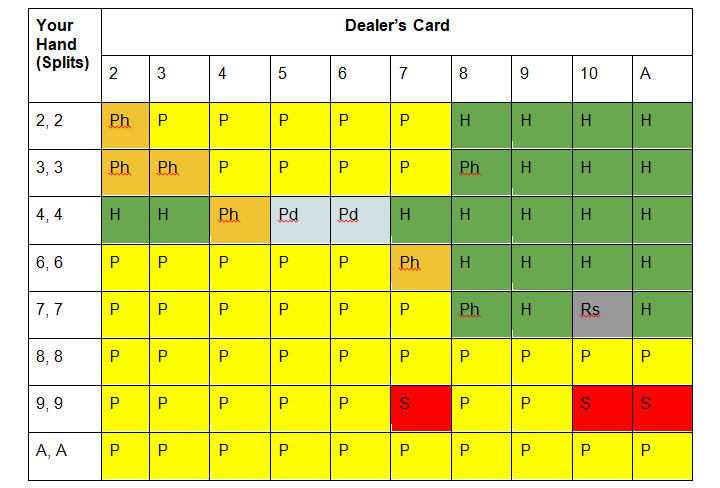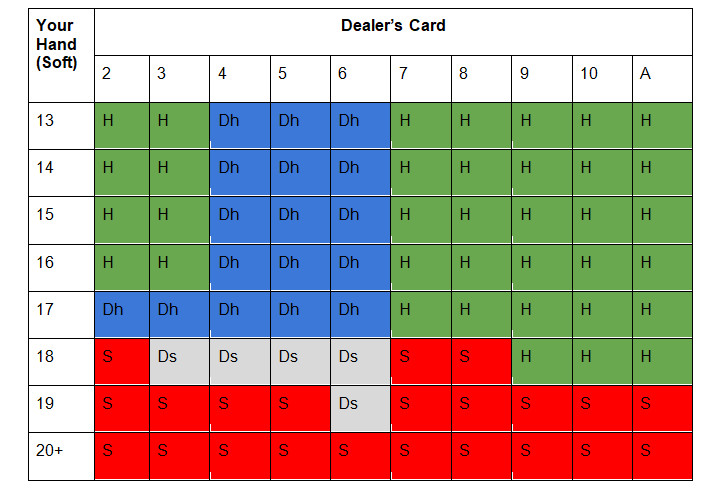 Two-deck Blackjack Strategy Chart
Two-deck or double-deck blackjack is one of the most popular variations of this exciting 21-card game. It plays pretty much the same as the single deck blackjack game but does require its specific chart. Here's the detailed two-deck blackjack cheat sheet:
The Dealer Stands on Soft 17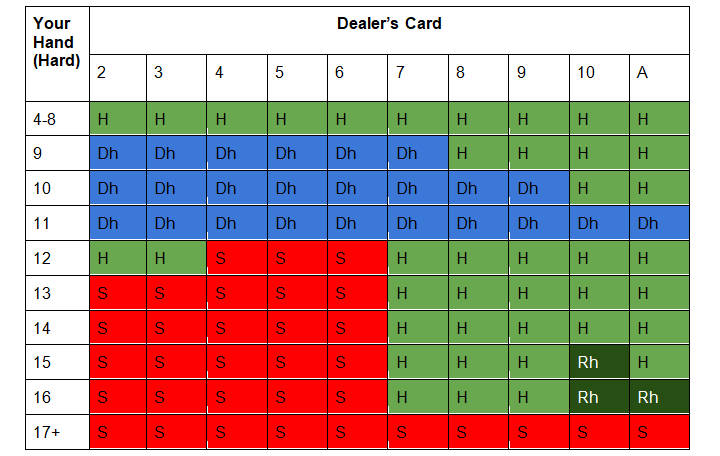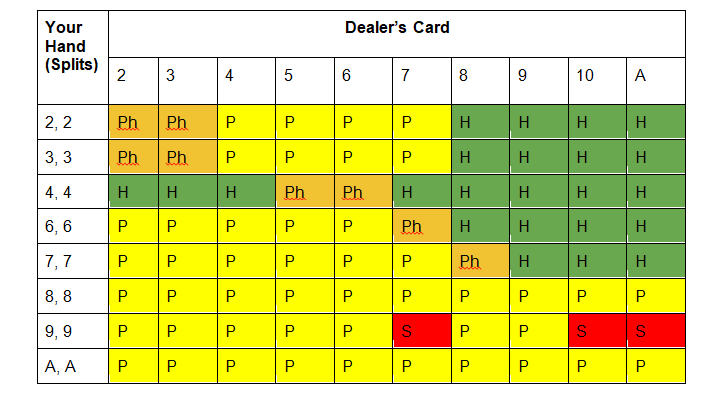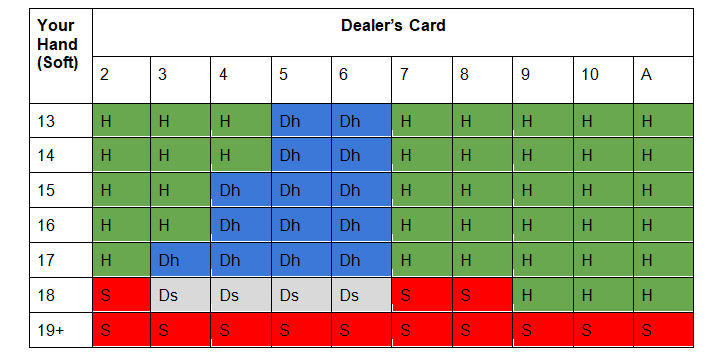 The Dealer Hits on Soft 17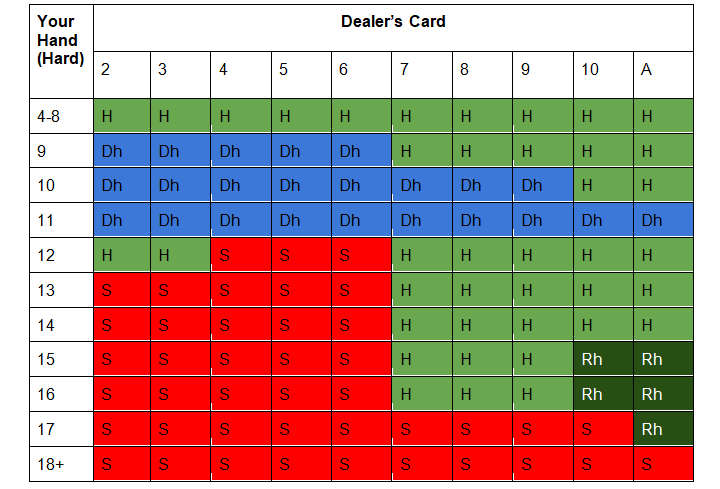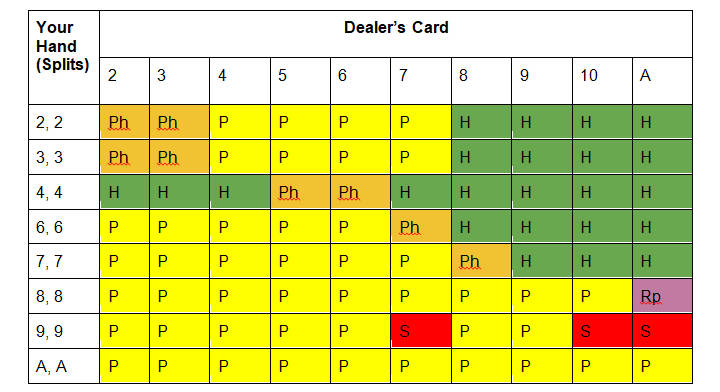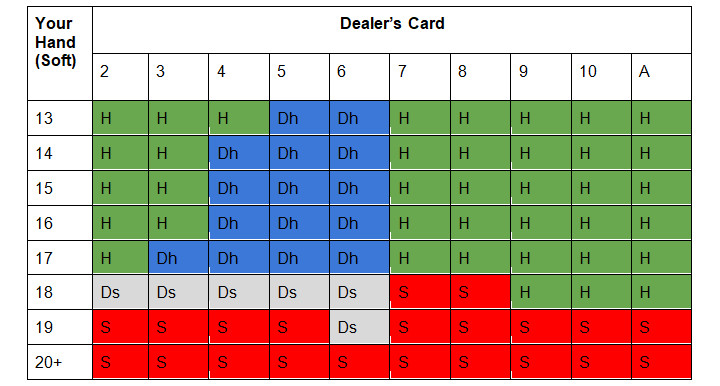 4-8 Deck Blackjack Strategy Chart
Besides single deck and two-deck blackjack as the two most popular variations, you can also play the popular 21-card game with anywhere from four to eight decks. In fact, standard online Blackjack sessions are completed with 6 to 8 decks, as seen from one of the largest Blackjack directories of sites and games. Thus, knowing what your odds are with this fixed number of decks will benefit you in the long-term.
The good news is that you can use the same basic blackjack strategy  for any game numbering four or more decks. Here's a detailed cheat sheet for a 4-8 decks blackjack variation:
The Dealer Stands on Soft 17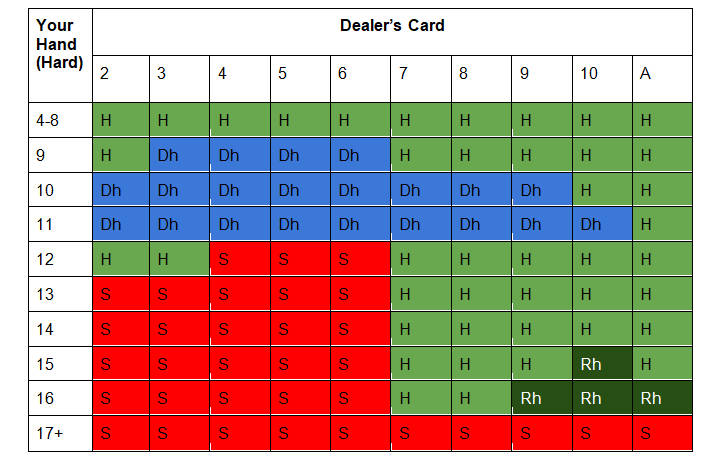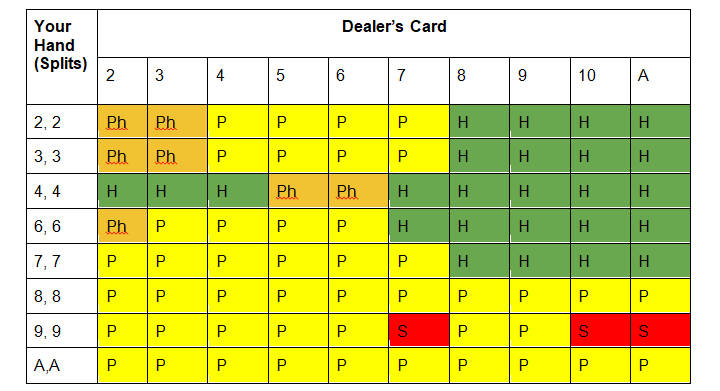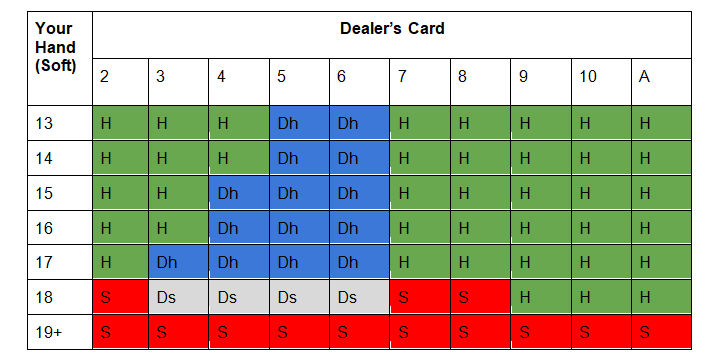 The Dealer Hits on Soft 17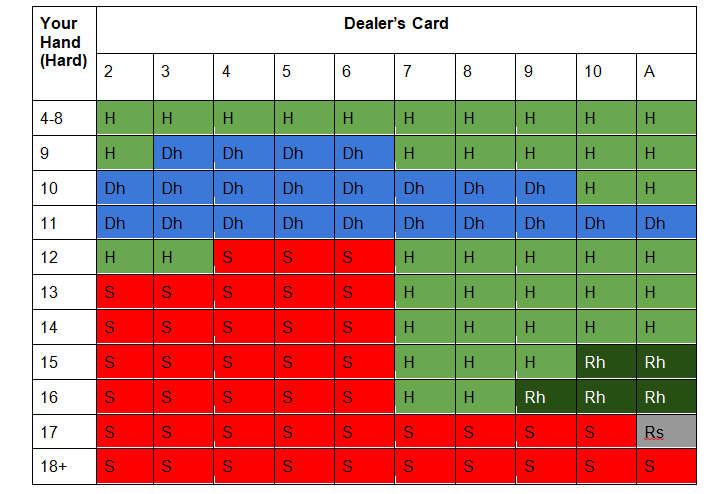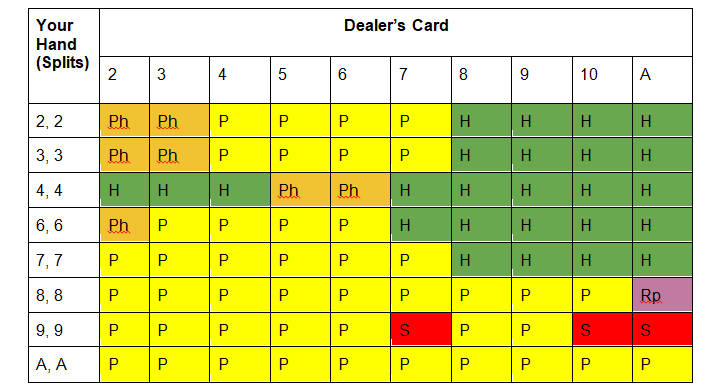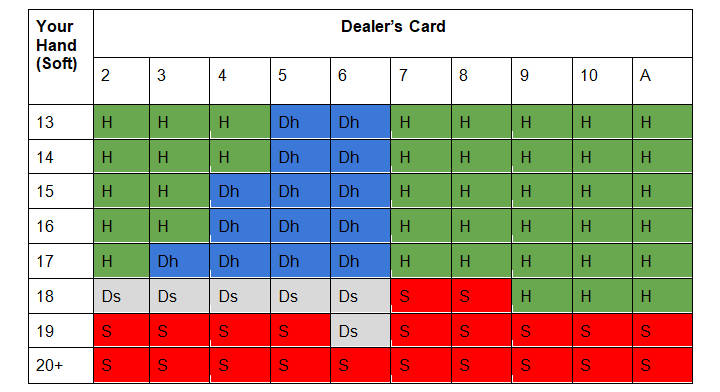 Can you use a Blackjack Cheat Sheet at the Table?
Yes, most casinos allow you to use a blackjack strategy card when playing the game. Using a blackjack strategy card isn't considered cheating nor frowned upon like card-counting or other disallowed activities.
You can even buy a blackjack cheat card directly at the venue you're playing in.
That said, casinos will often overcharge you for these, so going with this printable blackjack strategy card is a much more cost-effective solution. The blackjack strategy card PDF we've shared with you on this page provides you with every bit of information you can use, and it's available entirely for free.
Try Out Our Blackjack Cheat Sheet PDFs Right Now For Free!
These tables will help you get around any blackjack game you play, whether it's online or at a brick-and-mortar casino. As you can see above, there's a lot of information to remember, and memorizing all of the strategies will take a lot of time and effort.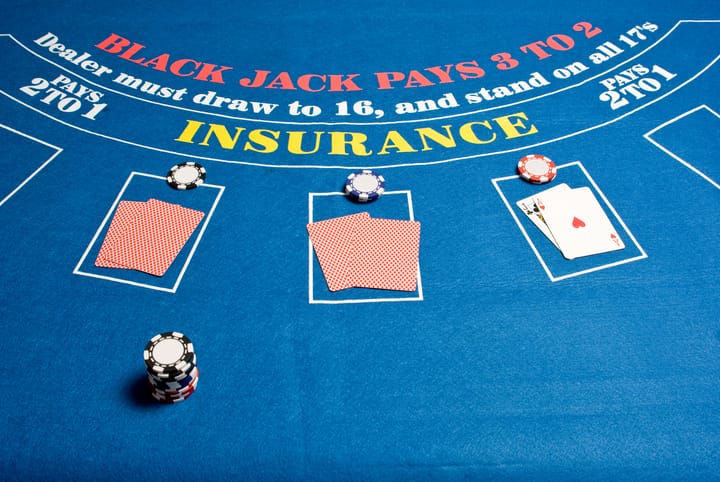 That's why it's best to print out the appropriate sheet you want to use and always have it by your side when playing blackjack. All of the blackjack cheat sheets we've featured on this page are readily available and won't cost you a single penny.
Download them right away and make sure you're fully prepared with the best strategic information the next time you play blackjack!
If you want to learn more about specific games in the US, make sure to check a dedicated site for US online casinos and read in-depth guides for blackjack rules and blackjack strategy.