Roulette is the most popular and best-known game both in brick and mortar and online casinos, and that is not a surprise knowing how much thrill it can offer.
You probably saw someone playing it in a movie or referring to this game in other broadly available media.
Popularity lies in the simplicity of the game. It is effortless to learn roulette rules and strategies, so you can jump in this game as soon as you want.
On top of the exciting game that it is, roulette can offer a significant payday for the winners since if you are lucky enough to guess the right number, you will be paid 35 times the amount you bet. If the luck is on your side, you can walk away with the full pockets.
Even if you do not manage to hit those big numbers, at least you can have some great time in the process, and this is precisely how you should be approaching this game.
Roulette Rules
If you are wondering how to play roulette in the casino, the answer is quite simple. Your goal is to guess where the ball lands in a roulette wheel.
You can pick an exact number, try to guess the color of the field or section where the ball will stop or one from many other options.
One field that every player wants to avoid is "zero." If the ball lands on a "0" field, every bet made by the player loses, so that is not the most pleasant outcome in this game.
Needless to say, everyone chooses how to play roulette based on their risk level and desires, but I will name the most common options so that you would know what you can do at the table.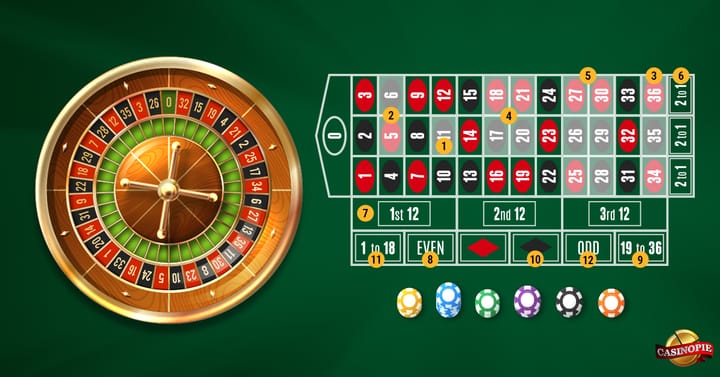 Guess a precise number (1) – if you choose this option, you will place your bet on a specific number where you think the ball will stop. This is the riskiest and potentially most profitable bet, which will pay 35:1 if you are right. This means that you will get 35 times more than you bet, so betting barely $10 and hitting the right number will move an additional $350 to your pocket. Not a bad deal.
Bet on two numbers at once (2) – you can choose an option to place a bet on the line between two numbers, and if you hit any of those, you will walk away as a winner. While also a very risky bet on the roulette table, this gives you two times higher chance to succeed compared to guessing a concrete number. Of course, it also reduces your payday to 17:1 in the event of success, which means you will win 17 times your initial bet.
Bet on three numbers (3) – this option is also known as "street" in the roulette game and combines three numbers that are in the same line. Payout is 11:1 if the ball lands on one of these numbers.
Four numbers (4) – as the name suggests, you can try to guess one out of 4 numbers by placing your bet on the common corner. If the ball lands on one of these numbers, you will be paid with an 8:1 ratio.
Six numbers (5) – if you want to reduce the risk even more, you can choose to bet on six numbers at once by placing your chips on the joint corner of two lines, as shown in the image above.
Column (6) – one of the most popular bets in roulette is called "column." When making this bet, you are trying to guess on which out of three columns, the ball will land and can get paid with a 2:1 ratio.
Third (7) – just as with the "column" option, you can pick one out of three thirds of the roulette board where you think the ball lands. You will also be paid 2:1 on this bet.
The first and second parts (8 and 9) – this bet lets you choose between intervals from 1 to 18 and 19 to 36 and guess which section will be the winning one. Payout is 1:1, meaning that if you bet $10, you will win an additional $10 if you are right.
Color (10) – guessing the color is probably the most popular roulette bet. If you guess if the ball lands on red or black, you will be paid 1:1 on your bet.
Odd or even (11 and 12) – you can also guess if the ball lands on odd or even number. The payout ratio is 1:1 for your bet.
How To Play Roulette
As sad as it is, there is no simple answer to what is the best way how to play roulette, and it heavily depends on your risk tolerance.
This is why some of the players always choose less risky options and try to guess the color, while others almost always go for maximum payday and try to hit the exact number while some jump from one option to another.
It is worth mentioning that there is no difference to your winnings on what type of bet you choose in the long run, but short term fluctuations on your chip stack can be vastly different.
If you choose to bet on a less risky option and try to pick the color, you will be right almost half of the time on average, so you will win some and lose some without massive swings. There is quite a low possibility for you to lose five times in arrow with this bet.
However, if you always try to hit a precise number, you will see an entirely different picture.
Mathematically, you will be right one out of 37 times (since there are 36 numbers in the game plus "0" field), but that does not mean that you will hit it once in every 37 spins. That's just the statistical average in the long run.
In reality, you can easily miss your number even 100 times in a row, just as you can also hit it right a couple of times in a row. That's why you will have massive swings with your stack when choosing this option. While this will give you some enormous wins, it will also look like hell on some days where you will not be able to hit your numbers.
As I mentioned before, all of this boils down to your risk tolerance number. If you are thrilled by chance to win huge at once, you should go for the number. On the other hand, if you want to try and build your stack steadily, sticking with less risky options is better for you since you have a much higher chance of being right.
Roulette Strategy
It is not a secret that roulette is a game of luck, so you just mathematically can't figure out a winning strategy for the long run. Well, unless casinos leave some doors open.
If a casino has no limit on the size of the bet you can place, or at least very high limits, you can win by doubling your bet whenever you lose.
Let's take an example and assume that you are always betting on a red color (to be honest, there is no mathematical difference if you are betting on the same color or changing it every time since the past results do not influence the next outcome of roulette spin).
You place $1 bet and lose since you guessed the wrong color. Then you double your bet to $2, and if you win, you already made a profit of $1. If you lose, you double your bet again and move it to $4, and in the event of success, you are also in profit of $1. If you lose again, you double your bet to $8 and so on till you finally win. When you win, you just start the new cycle and bet $1 again.
One thing that you should always consider is the bet limits in your particular game since the higher the limits are, the more times you will be able to double your bet and reduce your chance of failure.
If you find good games with high limits and maybe even some roulette bonus to go along it, this game could be entertaining and you can even try this strategy while enjoying the games.
However, if you want to put your skills to use, you can always try blackjack, poker, or one of the other casino games.