Plinko Game
Plinko slot is based on a real-life TV game show, with a return to player of a whopping 99%, and players can set their own risk level and volatility.
What more to want from online slots, right? Anyway, in this Plinko slot review, we will discuss all the pros and cons of the game, its features, and more. We definitely recommend reading this Plinko game review before playing the game with real money.
Play Plinko Slot Game For Free
Just like the TV show, the Plinko slot is being played on a triangular-shaped grid. Under the triangle, you see the different payout brackets and the betting interface.
You can select your risk level (low, medium, or high) in the interface and set your stakes.
Once you click the big 'Play' button in the middle of the betting interface, a ball will come out of the hole on top of the triangle and bounce its way down through all the pins. The Plinko slot machine game works just like on the TV show, where you, as a player, will be paid out according to which bracket the ball eventually lands in.
On the highest risk level, this can be up to 29 x your stake, which is more than reasonable. We have to underline here that we quite like the background music as well. It really sounds like you're in an actual game show while playing the Plink slot machine game.
How to Play Plinko Slot Machine Game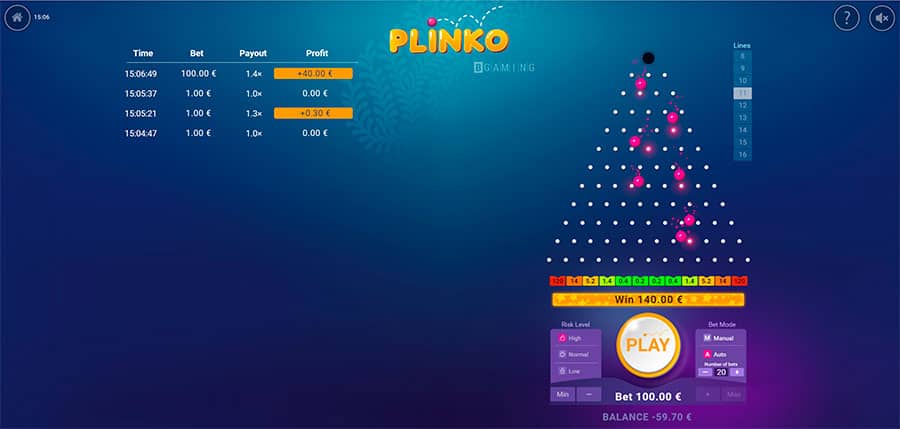 The Plinko slot machine game is an incredibly easy game to play. You don't need to apply any strategies whatsoever and, basically, just determine your risk level and play. To get started playing the Plinko slot machine game, you simply follow these steps:
Search for 'Plinko' in the lobby of your online casino or play the game on this page.
When the game is done loading, determine your risk level by adjusting the risk button to the left of the play button. You will see the possible payouts change as soon as you have done this
Set your betting mode on either manual or auto. With manual mode, you will have to press the play button yourself every round, while with the auto mode, the casino will put you on autoplay and spin the button any number of times for you.
Use the min and max buttons to alter your stake per game round until you have found a stake you are comfortable with playing at.
Choose the number of lines you want to play. You can choose to play 8, 9, 10, 11, 12, 13, 14, 15, or 16 lines.
Once you have set your risk levels, the number of lines you want to play, and determined your wager per game round, it is time to press the play button.
Once you do this, the action starts with the ball coming out of the hole on top of the triangle.
Plinko Minimum and Maximum Bets
You can play the Plinko slot machine game from as little as $1 per game round or as high roller as you want with up to $100 per game round.
The betting levels you can choose from are: $1, $2, $3, $5, $10, $15, $20, $30, $50, $75, and $100.
Apart from these stakes, you can alter the risk level to increase the payouts. Note that when you lose, you always lose your stake for that game round and that the risk level only adjusts the potential payout, not the potential loss.
Plinko Slot Game RTP and Volatility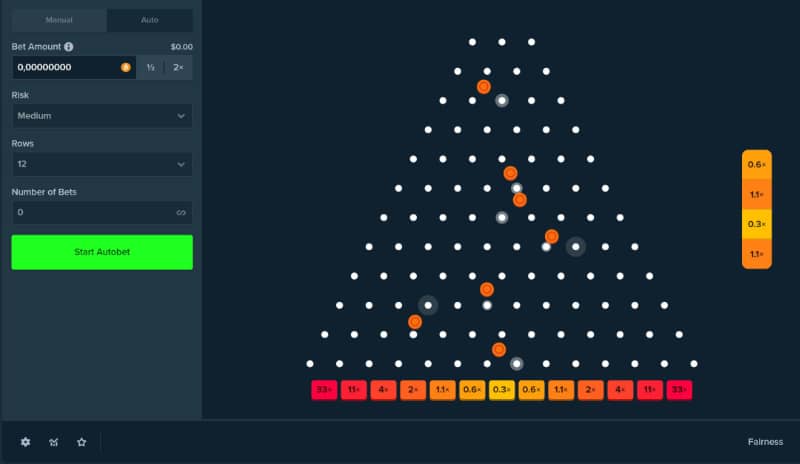 The payout percentage of the Plinko slot machine game is 99%. The volatility is variable, as you set that yourself while playing.
BGaming even offers a provability fairness feature so that you can check while playing if the Return to Player is truly 99%.
With the volatility of Plinko being variable, you can take as much or as less risk as you like while playing Plinko online.
How to Win with the Plinko Slot Machine Game
In case you have no clue how Plinko works or how to win with it, allow us to explain this to you, as it's fairly easy.
Whenever you click on the 'Play' button, a pink ball will come out of the hole on top of the Plinko game field and bounce down through the pins. As you play any number between 8 and 16 pay lines, the game's goal is that the ball eventually lands in one of the brackets below the Plink pyramid with a high corresponding payout multiplier.
So if the ball lands in a 4x bracket, you will be paid out four times your stake that game round. There is really not much to it, as you now know. Plinko is a very straightforward and simple casino game everyone can play!
Plinko Slot Machine Game Payouts
The payouts of the Plink Slot Machine game depend on how much you wager per game round. The maximum payout is 1000x if you play all 16 lines on the highest risk setting. In the table below, you will find the Plinko payouts when playing on high risk:
| | |
| --- | --- |
| Amount of Lines Played | Payout Multiplier |
| 8 lines | 29x |
| 9 lines | 43x |
| 10 lines | 76x |
| 11 lines | 120x |
| 12 lines | 170x |
| 13 lines | 260x |
| 14 lines | 420x |
| 15 lines | 620x |
| 16 lines | 1,000x |
Plinko Slot Game Special Features
The Plinko slot machine game doesn't really have any features other slot machine games do, like free spins, expanding wilds, bonus games, etc.
What Plinko does feature is a built-in provability system, where you can check the fairness and randomness of each game round.
Another noteworthy feature is that when you use the autoplay feature for multiple rounds, multiple balls will drop simultaneously without colliding with each other. Apart from these features, there is the option to choose how many lines you want to play.
Plinko Slot Machine Game Strategy
Apart from adjusting your risk level and choosing how many lines you want to play at the same time, there aren't really any Plinko slot strategies that you could use to maximize your gain while playing.
On the other hand, that might just be the whole fun part of playing Plinko! Absolutely no strategy is required at all. Just click the 'Play' button and hope for the best.
Plinko Demo Gameplay
If you have no clue how Plinko works, we highly recommend trying the Plinko demo version on this page first. With the Plinko demo, you get a virtual balance of $1,000 to play the game with.
Obviously, you cannot win any real money, but you can't lose any money either. Playing the Plinko demo version is a great way to familiarize yourself with the game and different settings.
Plinko Demo Slot Mobile Version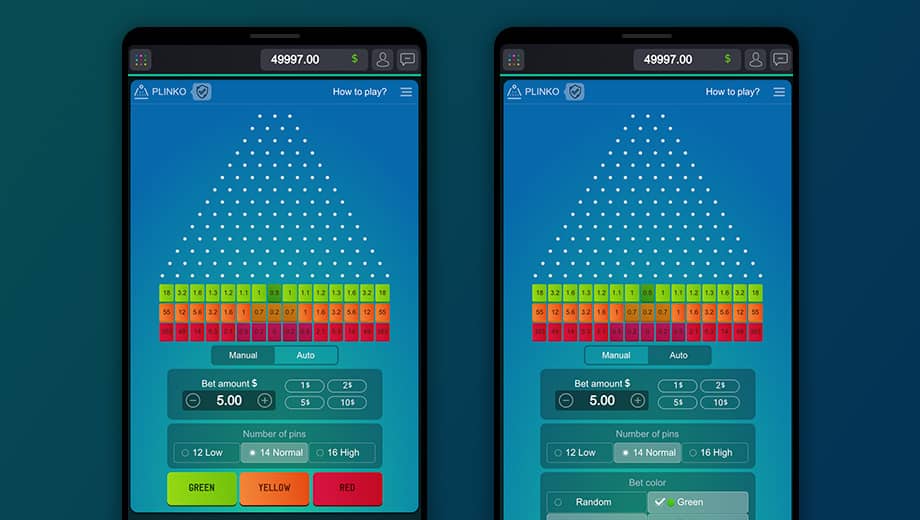 Most online casinos that offer casino games from BGaming are responsive. This means you can play Plinko on any Android or iOS device. The playing field will adjust itself automatically to fit the screen size of your device.
The Plinko slot mobile version has all the same features, soundtrack, and betting options as the desktop version.
Note that it is recommended to only play mobile casino games like mobile Plinko while having enough battery life left. The last thing you want is your phone to die in the middle of the Plinko game for real money.
About the Casino Software Provider Behind Plinko – BGaming
BGaming is a relatively new casino software provider. They mostly focus on 3D slots and don't offer any table games or live casino games. In most modern online casinos, you often see Bgaming slots in the lobby.
One of the things that make BGaming games stand out from the crowd is that they are really designed with the future in mind.
They all are unique in one way or another, and players can play all of BGaming's games with Bitcoin. BGaming also gives players the chance to play their games for free in demo mode. This way, people can familiarize themselves with their games before playing them for real money.
Plinko Review – Our Verdict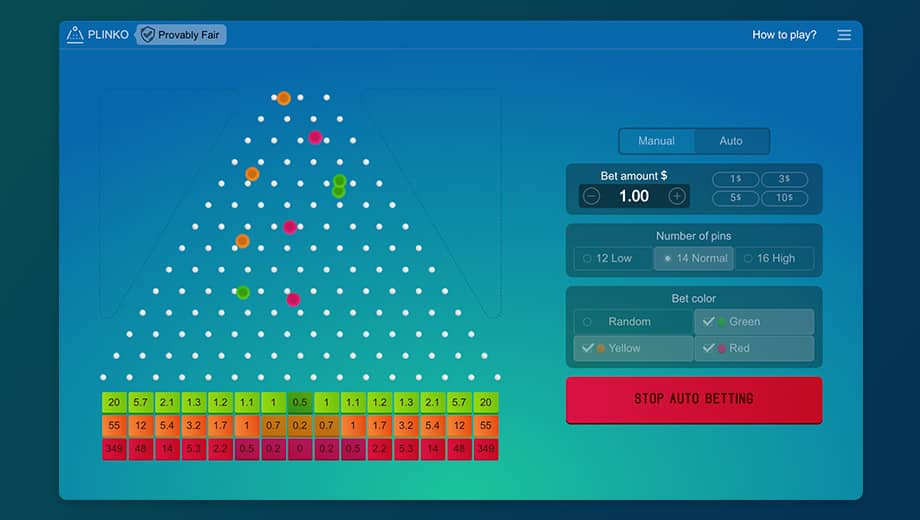 We really like the fact that BGaming tried something completely new with Plinko.
Since it comes from a real-life TV show, the idea is still very cool, and there isn't any other game like it on the market.
We also quite like the fact that the return to player of Plinko is 99% and that you can verify this insane high RTP by using the fairness provability feature while playing.
Overall, we find Plinko by BGaming a unique game worth playing and recommend trying Plinko, both for real money and in demo mode.
Plinko Slot FAQ