Aviator Slot
The chances are that you might have already heard other gamblers talk about the Aviator Casino Game. This particular casino game is taking the world by storm at the moment and is especially popular among cryptocurrency gamblers.
For this reason, you'll find Aviator in almost every crypto casino, and people are betting big on it. In case you have been living under a rock lately, allow us to explain to you all there is to know about this stunningly easy yet exciting new casino game.
Play Aviator Casino Game For Free
Once you load up Aviator for the first time, you might wonder how the game is supposed to work. It has more of a trading platform's look and feel than a casino game.
You will see different buttons and multipliers in the user interface and an airplane that is about to take off.
The background sound effects give you a bit of the feeling that you are in an actual airplane, with a constant buzz and a 'this is your captain speaking' ding.
How to Play the Aviator Casino Game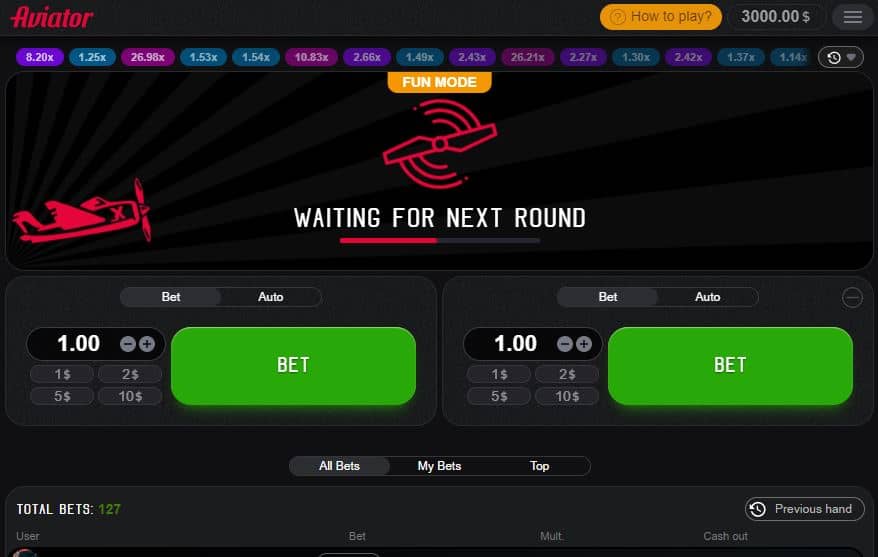 We suggest waiting for a few game rounds to pass before you actually bet yourself, so you'll have an idea of what's about to happen.
The Aviator Casino game works like this: the airplane will take off, and a multiplier will start to go up.
The multiplier starts at 1.00 and then goes up in decimals as the airplane flies.
The goal of the game is simple.
You have to click 'cashout' before the plane goes out of sight and 'flies away'. The trick, of course, is that you never know when the plane actually fully takes off and when to cash out.
You could play it safe and cash out at like 1.10 or 1.20, or keep waiting and let the multiplier go as high as 100.00.
Aviator Casino Game Minimum and Maximum Bets
At most real money casinos that offer this game, the minimum bet is $1 per round, and the maximum bet is set at just $10.
There are quick bet options to bet $1, $2, $5, and $10.
There are no coin values, but you can adjust your bet by using the plus and minus buttons within the user interface.
Note that some crypto casinos that offer this game denominate all bets in decimals of bitcoin. Don't worry, you won't see an endless long number of Satoshis like 0,0000001 BTC. Rather you will see milliBitcoin (mBTC), centiBitcoin (cBTC), and deciBitcoin (dBTC). These casinos don't have a minimum or maximum bet in USD, but in bitcoin, and most often, the minimum bet is far less than a dollar.
You also place two bets per round instead of just a single one. These bets can be of different amounts and cashed out at different moments. This makes the game even more exciting as you need to click both buttons at the right time to maximize your profit.
Aviator Casino Game RTP
The Return to Player of the Aviator Casino game at most online casinos is 97%. However, there are also casinos, crypto casinos in particular, that offer this game with 99% RTP.
Generally speaking, Aviator's house edge is 3%, but it can be as low as 1% at certain online casinos.
In the long run, the house always wins, but this RTP is measured over thousands of rounds, and you might end up lucky in a short gaming session.
How to Win With the Aviator Casino Game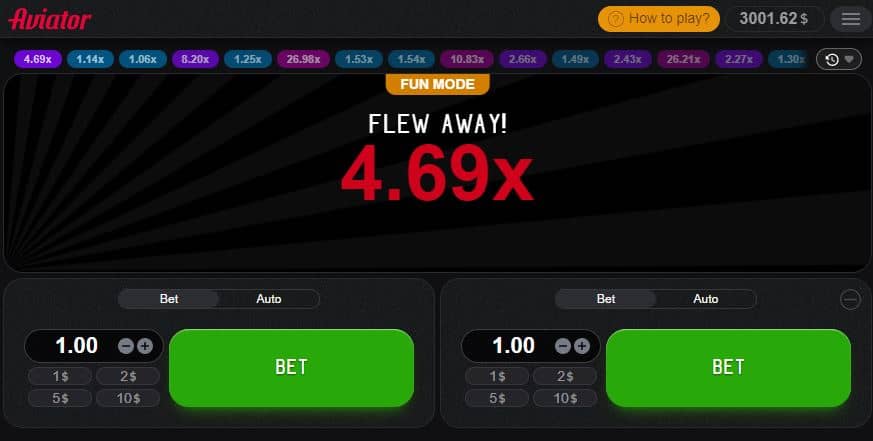 As we explained before, you win with the Aviator casino game whenever you successfully cash out one or both bets before the airplane flies away.
There are a couple of approaches to how you could tackle this game and actually profit from it.
The thing is, you should take advantage of the auto bet and auto cash out features.
This saves you precious time, especially when placing two bets in a single game round, as you don't need to click on the cashout buttons manually.
You could play the game as risky or as safe as you like. For instance, you could set auto cash out on 1,8x to play it safe. You could also take a slightly bigger risk and just set the cash out at 4x or even 10x.
Eventually, it's totally up to you, and you can play the game how you like. There is no real strategy to be played here, and it's just entirely up to you how you place your bets.
Aviator Casino Game Demo Gameplay
Just like almost any casino game, you can play the Aviator Casino free game in demo mode on this page. With this Aviator Casino demo game, you start with a $10,000 balance, which you can replenish unlimited times just by refreshing your browser.
We highly suggest that people new to the Aviator game play a couple of rounds in demo mode to know what to expect and how the game works before betting real money. Note that some crypto casinos give you a nice welcome bonus that can be used on Aviator, so you might as well take advantage of that to boost your chances of winning.
Aviator Spribe Casino Game Mobile Version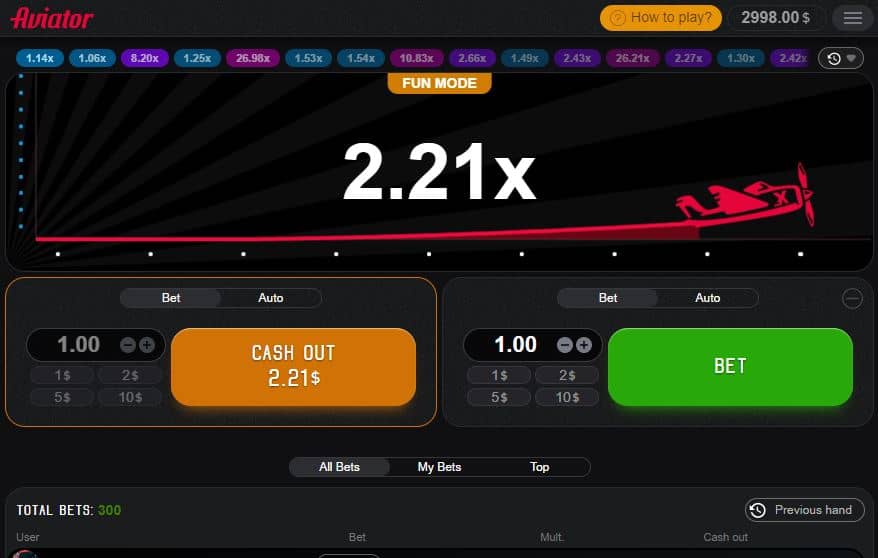 The Aviator Casino game exists as a mobile version and is playable on both Android and iOS devices. In fact, we recommend you play the game on a smartphone or tablet, as the game is designed in a more compact way, and it is way easier to click the cash-out buttons.
The game has the same features and betting interface in the mobile edition, and the same soundtrack can be heard in the background.
Keep in mind that playing online casino games like Aviator consumes a lot of battery from your phone or tablet, so we suggest you play while being connected as the last thing you want is the battery of your mobile device dying in the middle of a game round.
Spribe – Software Provider Behind the Aviator Casino Game
The Aviator casino game is developed by a casino software provider called Spribe. This is a fairly new casino software provider founded in 2018 and focuses mostly on developing cryptocurrency casino games.
The Aviator Casino game was their first big hit, but they designed a handful of other casino games.
Some of the most popular games they created:
Apart from casino games, they also develop skill games like Backgammon, Bura, Domino, and Seka. All their games are hosted on Amazon Web Services and Microsoft Azure Cloud Computing Programs, and they have gaming licenses from several regulators like the UK Gambling Commission and the Malta Gaming Authority.
Aviator Casino Game Alternatives
There are quite a few Aviator Casino game alternatives, especially on crypto casinos. The most famous Aviator alternative is a game called Rocket Run. With this game, you board a virtual spaceship that is launching into space.
The goal is to jump off the rocket ship before it explodes. This game is way more visually appealing than the Aviator Casino game, and the only thing is that you can only play it in crypto casinos and that the game has an RTP of 95%, which is lower than Aviator.
Aviator Casino Game Review – Our Verdict
When we first looked at the Aviator Casino game, we were far from impressed and didn't get it. We just couldn't believe that such a simple concept was taking the world by storm and that this game was so incredibly popular among casino players from across the globe.
However, after playing a few rounds ourselves, we were sold, to say the least. It is such an easy concept and well-developed game that is super addictive and really fun to play.
You never know when the plane takes off and you're really min-maxing your bets to make the most of it.
Overall we really like the game, and given the fact that some crypto casinos offer it with just a single percentage of the house edge, it makes it just as good to play as online blackjack variants like Pontoon or Switch.
If you're looking for a really unique kind of casino game, then we definitely recommend trying out a few rounds of Aviator. 
Aviator Casino Game FAQ