The Biggest Casino in the US – Introducing WinStar World Casino and Resort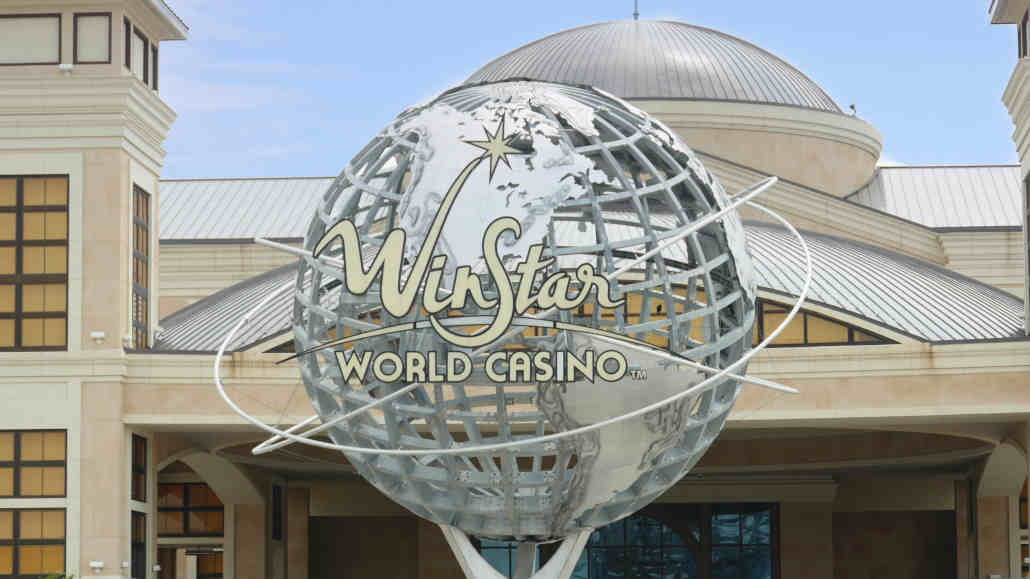 The Biggest Casino in the US – Introducing WinStar World Casino and Resort
When you walk into a casino and resort complex, you expect to have all sorts of activities readily available to meet all of your gambling needs.
Moreover, a lot of large-scale casinos offer hotel accommodation, various restaurants, and many other entertainment options besides gambling.
But, no casino in the US can match the sheer size of WinStar World Casino, the biggest casino in the country and one of the largest casinos in the world.
After being left very impressed by the enormity of WinStar World Casino, we've decided to profile this casino and resort in great detail.
So, if you want to learn everything there is to know about this impressive and monumental casino and resort, below you'll find all of the latest and relevant information.
WinStar World Casino Location and History
Before we dive into the games and various other activities available at WinStar World Casino, let's first go over when and where this casino was built.
This casino and resort is located about 120 miles (193 kilometers) from Oklahoma City. It first opened its doors in 2003 and was renovated in 2009.
The casino was designed by the successful architect Larry E. Seitz, who previously worked on casinos all over the globe, most notably Sands Casino and Trump Taj Mahal.
Its interior features specially commissioned sculptures, art, and even special effects that you won't see in many other casinos worldwide.
The exterior facade features replicas of some of the most recognizable historical buildings, such as the Arc de Triomphe, the Colosseum, and the London Parliament Building.
The WinStar World Casino is so massive that the casino actually has a detailed map on its site that helps you navigate its premises more easily.
To save time and avoid wandering around this huge complex massively, you can use the online tool to browse the map and search for games, restaurants, and other locations you want to explore.
Who Operates WinStar?
WinStar World Casino is fully owned and operated by the Chickasaw Nation. They are a federally recognized Native American tribe and officially the 13th largest tribe in the country.
The Chickasaw Nation operates many historical sites, museums, and casinos in Oklahoma. Besides the WinStar World Casino and Resort, some of its other well-known casinos include SaltCreek Casino, Riverwind Casino, and Newcastle Casino.
How Many Games Does WinStar Casino Have?
Now, let's move to the main topic that probably interests you the most, how many games does WinStar World Casino have, and what types of casino games can you explore while playing at the biggest casino in the US?
Well, the answer is not that simple. As the biggest casino in the US, WinStar World Casino offers an unparalleled selection of games.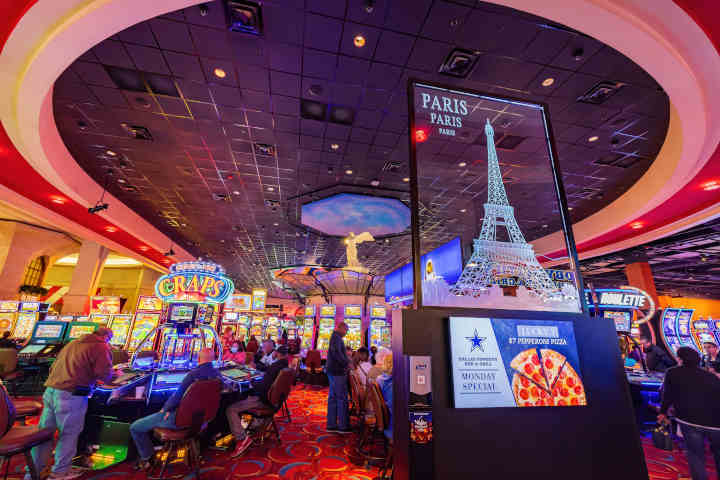 There are so many games available at the casino that they aren't all featured in one venue but are divided across multiple venues and rooms.
Here's a complete rundown of all plazas that make up the Winstar World Casino gambling complex:
Beijing Gaming Plaza
Cairo Gaming Plaza
London Gaming Plaza
Madrid Gaming Plaza
New York Gaming Plaza
Paris Gaming Plaza
RIO Gaming Plaza
Rome Gaming Plaza
Vienna Gaming Plaza
Additionally, WinStar World Casino and Resort has a number of dedicated game rooms and spaces. These include:
The High Stakes Room
The Lightning Link Lounge
The Poker Room
The Racers OTB
The Bingo Hall
Overall, you can find a total of 100 table games, a poker room with 55 tables, and more than 8,600 electronic games at WinStar Casino.
With so many options, visitors certainly don't have to worry about running out of games to play while staying at this venue.
All of this makes up a total gaming area of around 370,000 square feet (over 34,000 square meters) according to outside sources and close to 400,000 square feet (over 37,000 square meters) according to the information from the casino's site itself.
Whether you want to play blackjack or try your luck with video slots, you'll find plenty of action here.
What Type of Accommodation Does WinStar World Casino Offer?
WinStar World Casino and Resort offers several accommodation options, allowing visitors to conveniently pick an option that best suits their budget and preferences. The hotel complex is divided into several hotel towers.
The first hotel tower was built in 2009 and has a capacity of 395 hotel rooms. The second hotel tower opened in 2013 and the third tower opened in 2014.
Both of these have 500 rooms, putting the total number of rooms at 1395. Each of these towers offers top-quality accommodation and stunning views of the resort's radiant pool or the nearby Oklahoma hills and woodlands.
Additionally, if you don't want to stay at the WinStar hotel, you can go to the Inn at WinStar.
It's just a quick ride away from WinStar World Casino, and you can even get a shuttle service for more convenient transportation.
Moreover, while pets aren't available at the WinStar hotel (we'll get to this later down the page), you can get pet-friendly rooms at the Inn at Winstar.
This makes the Inn at WinStar the sweet spot for those traveling with their pets or with additional accommodation requirements.
Lastly, WinStar World Casino visitors can also stay at the Fun Town RV Park at WinStar.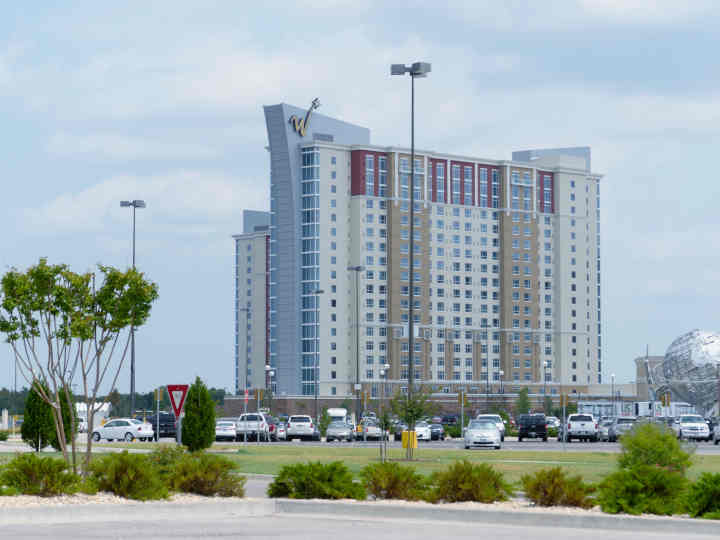 If you want to have the comfort of your own home and prefer traveling in an RV, the Fun Town RV Park at WinStar spans 15 acres and offers plenty of ample room at the edge of the WinStar World Casino.
Plus, staying in the RV park enables you to enjoy the beautiful nature surrounding the casino.
You can go on one of many walking trails, play beach volleyball, and partake in many other activities when you're taking a break from playing games at WinStar World Casino.
What Bars and Restaurants Does WinStar Casino Have?
Every casino and resort worth its salt must offer bars and restaurants to its visitors. And, when it comes to this, Winstar World Casino certainly went all out to make sure all guests have at least one option suited for their liking.
With that in mind, you can choose from fine dining to casual dining options, cafes, and classing bars and lounges.
When it comes to the first category, Winstar World Casino and Resort offers a couple of top-quality fine dining restaurants.
To be more specific, you can choose between Kirby's Prime Steakhouse and Mickey Mantle's. Both deliver a great ambience and have delectable offerings to please your palate.
Moving to casual dining options, you can pick from several classic Southern restaurants, exotic cuisines featuring food from around the world, or sizzling and always good Mexican food.
There are nearly a dozen casual dining restaurants, with the most famous ones including the Dallas Cowboys Bar & Grill, Gran Via Buffet, and Khan's Fire Fresh Kitchen.
Winstar World Casino has also created a few options for guests who are just looking for quick bite meals so that they can return to the casino as soon as possible.
Famous food chains available at the complex include IHOP Express, Panda Express, Red River Grill, and Taco Casa.
Lastly, if you want to have a drink and aren't in the mood for eating, you can visit one of several bars and lounges at WinStar.
For casual sports fans, the most popular option is the Palladium Sports Lounge. On the other hand, if you want to enjoy expensive high-quality drinks surrounded by luxury, The Rotunda Bar is the right choice.
Non-Gambling Activities Available at WinStar
As a world-class resort, WinStar also features tons of non-gambling activities visitors can partake in.
Looking at the two main outdoor activities to enjoy at WinStar, the pool and the cabanas, both offer a fantastic environment for relaxation after a long day of playing casino games.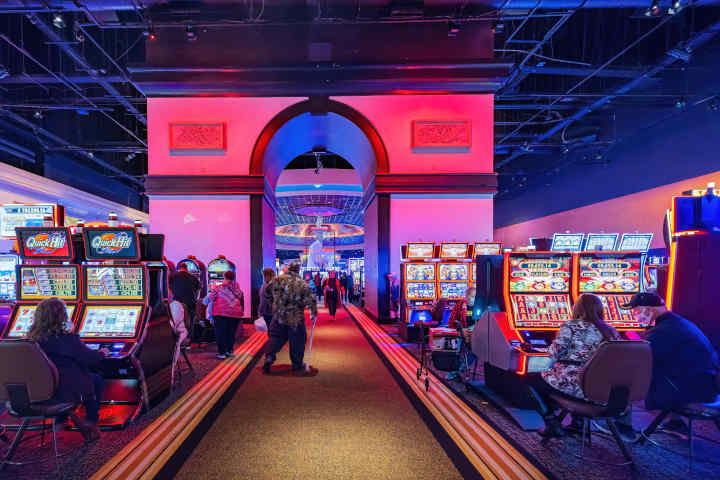 The pool area is available to hotel guests only and includes two luxury spas, a fire pit, and of course, an amazing pool bar.
That said, while spending a day at the pool is one thing, renting your private cabana brings this experience to a completely different level.
WinStar World Casino and Resort offers six private cabanas available on a first-come, first-served basis.
Each cabana is equipped with cushioned seats, a refrigerator, a ceiling fan and can fit up to four people.
Apart from spending time at the pool, WinStar World Casino and Resort visitors can also enjoy shopping in a handful of shops available in the complex.
Currently, the resort includes The Isle at WinStar, Le Fleur Boutique, ONYX Boutique, The Ring, and an Essentials Gift Shop.
If you ever run out of cash at the WinStar World Casino, you can easily get more at one of the 20 ATMs available throughout the complex.
Considering all of this, the planners of this casino and resort have really thought about everything to make an all-inclusive location you don't ever have to get out of the resort if you don't want to during your stay.
The Massive Global Event Center
Even though this casino and resort is located relatively in the middle of nowhere, it has welcomed some of the world's biggest entertainers over the years.
Superstars like Maroon 5, Lil Wayne, ZZ Top, Tony Bennett, and Jay Leno, among many others, have held their shows at the resort.
All of these events were held in the impressive 3,500-seat Global Event Center that opened in 2008.
This relatively large venue attracts many guests from surrounding areas that want to see their favorite entertainers, making WinStar World Casino and Resort a popular destination even for those who aren't particularly big fans of gambling.
Golfing Areas Available at WinStar
If all of this wasn't impressive enough, it's worth noting that WinStar World Casino and Resort even includes a full-size 18-hole golf course.
It covers more than 350 acres of land adjacent to the resort and provides an engaging pastime for golfers of all skill levels.
Speaking of skill, WinStar even offers a Golf Academy you can sign up for if you want to hone your golfing skills while on vacation.
Besides the 18-hole course mentioned previously, the Golf Academy also features eight covered hitting bays, allowing all-season access to gamblers who enjoy golfing.
The WinStar World Casino and Resort Convention Center
In addition to the massive Global Event Center, WinStar World Casino also operates a 65,000 square-foot (6000 square meters) Convention Center.
This area hosts various conventions, corporate events, weddings, and many other social events.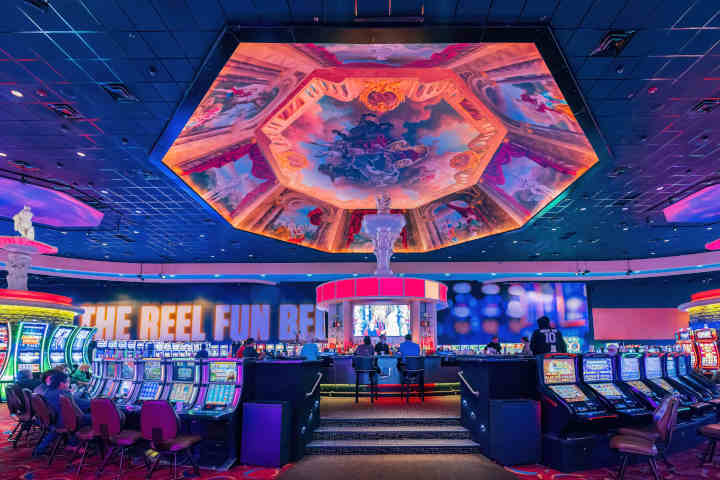 The Convention Center is divided into several larger areas and rooms, all equipped with the latest tech and equipment.
Most notably, it features a 15,000 square-foot ballroom and over 21,000 square feet of open event space organizers can customize.
Are Children and Pets allowed at WinStar?
The answer to this is both yes and no, as children are certainly not allowed in the gaming areas because all guests that want to play casino games must be at least 18 years old.
That said, you can bring your kids to other parts of the resort, restaurants, and shows, but they should always be under your supervision and never left alone.
When it comes to pets, they are unfortunately not allowed at the WinStar World Casino. While the casino encompasses a massive area, housepets aren't allowed anywhere. The only exception are service animals.
What Casinos Are Bigger Than WinStar Casino?
After going over everything that the Winstar World Casino and Resort has to offer, we can say that we were very impressed by the scale, abundance, and variety of everything that makes up this hotel and casino.
And, considering everything that makes up the resort, it's easy to understand how Winstar World Casino and Resort is the biggest casino in the US.
That said, we've mentioned at the beginning that it's "only" one of the biggest casinos in the world.
So, what are the other casinos that can possibly be bigger than the Winstar World Casino and Resort?
It's a bit challenging to answer this, as information on overall square footage varies depending on the source.
What we can say for sure is that the Winstar World Casino and Resort is the biggest casino and resort in the world when you include all of its additional entertainment areas, golf courses, and other venues.
That said, looking at these criteria purely through the lens of overall gaming floor space, WinStar is not the largest casino in the world.
This honor goes to The Venetian Macao, which has a total estimated gaming area of 550,000 square feet (over 51,000 square meters), which is still significantly more than WinStar's estimated area of 370,000 square feet (over 34,000 square meters).