Famous Racehorses – What Was the Greatest Racehorse of All Time?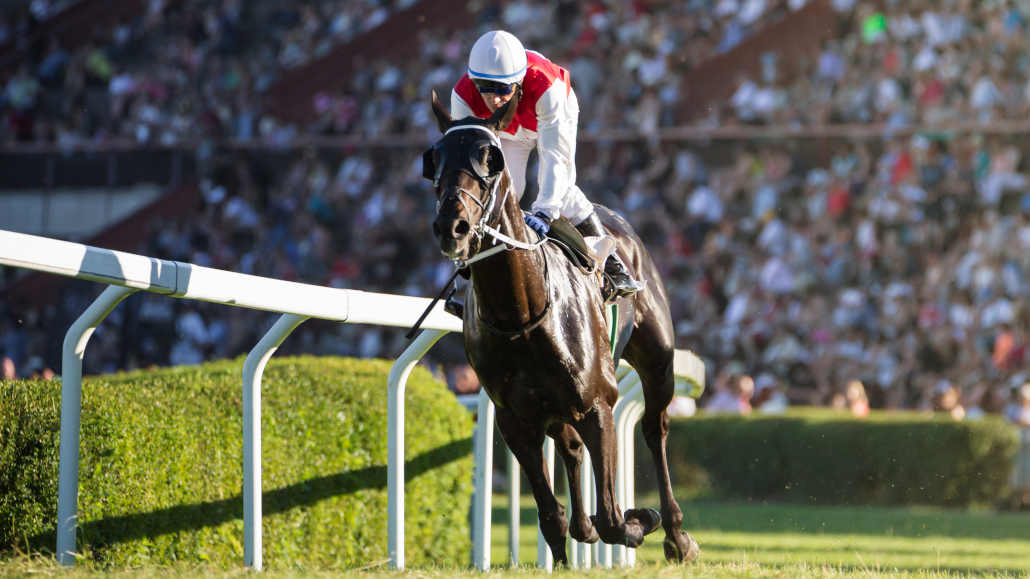 14 minutes
Last Updated: January 31, 2022
Famous Racehorses – What Was the Greatest Racehorse of All Time?
Horse racing is one of the most gracious sports in existence. Moreover, it's also one of the oldest sports in human civilization.
Horse racing has remained fairly unchanged since ancient times and has been one of the most popular pastime activities ever since.
Of course, with horse racing being so popular as a sport and a betting market, many famous racehorses have been in the spotlight over the previous decades and centuries.
They've become so popular that their names still ring very strong long after they're gone.
Some of these horses have gained popularity for their racing successes. Others have become so ingrained with the sport's culture that they had movies and other works made about them.
But, there's one thing all of them have in common. That is that each deserves a spot on this list of the ten most famous racing horses of all time.
10. Seabiscuit
Everyone loves a good underdog story, and Seabiscuit is undoubtedly an epitome of such a tale. Although he may not be in contention for the greatest racehorse of all time, he certainly is one of the most famous horses to hit the tracks.
What made Seabiscuit so popular in the horse racing world of the 1930s was that he was an undersized horse, being only 15.2 hands high.
Even more so, Seabiscuit had a fairly unsuccessful start of his career, winning only about a quarter of his first 40 races. But, his greatest successes came in the latter part of his racing career.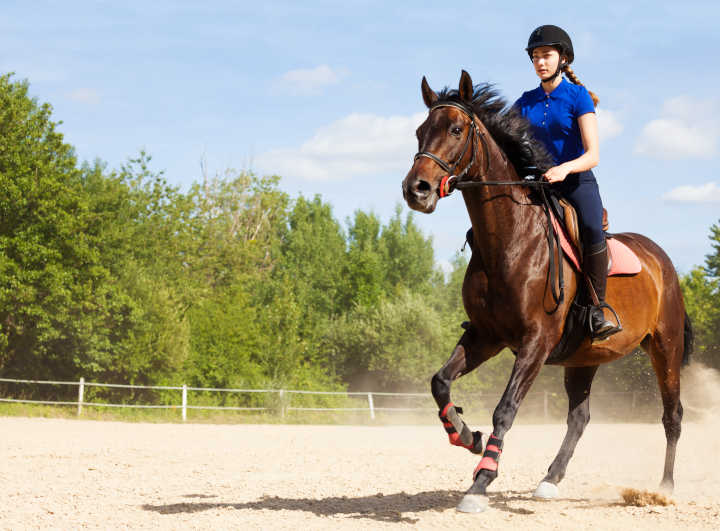 One of Seabiscuit's most famous achievements includes beating the legendary racehorse War Admiral in a two-horse special event.
Seabiscuit was a very popular horse in the US at the time and the symbol of triumph and hope during the dark periods of the Great Depression. In 1938, he was even named the American Horse of the Year.
Over the years, Seabiscuit has been portrayed in many books, shows, and movies. Some of these include The Story of Seabiscuit starring Shirley Temple and the 2003 movie Seabiscuit, which was even nominated for the Academy Award for Best Picture.
9. Black Caviar – Famous Racehorse With Impressive Winning Streak
Foaled in 2006 in Australia, Black Caviar is one of the few famous undefeated racehorses, having won all 25 of her races.
In fact, she is the second-placed horse all-time in this regard, with only Kincsem being in front of her in consecutive wins.
Black Caviar was a four-time WTRR champion, keeping the ranking from 2010 to 2013 when she retired.
Black Caviar's total earnings come close to eight million dollars, as she recorded many major wins across popular tracks across the globe.
She won the Diamond Jubilee Stakes in England and the Newmarket Handicap in Australia. She also recorded multiple wins in the Lightning Stakes and the Patinack Farm Classic.
At one moment, Black Caviar was so popular in the horse racing world that she even won the European Champion Sprinter recognition in 2012.
This wouldn't be any surprise if she weren't an Australian horse that just had one race in the entire Northern Hemisphere that year.
Shortly after retiring, a life-sized bronze statue was unveiled in her small township of Nagambie, Australia. Black Caviar remained a highly-esteemed horse even after her retirement and has already given birth to several foals.
8. Citation
Foaled during the last months of World War II, Citation is arguably not as famous as the other racehorses on this list but undoubtedly deserves a spot on it.
He won 32 races during his career and even recorded a 16-race win streak during this period. Thanks to these great successes on the racetrack, Citation became the first horse to earn more than one million dollars.
Citation recorded his biggest wins during 1948 when he won the Chesapeake Stakes, the Empire City Gold Cup, and the Seminole Handicap.
All of this aside, Citation's career achievement came during the same year when he became the 8th Triple Crown Champion.
This success secured him the number three spot on the Top 100 U.S racehorses of the 20th Century list that came out in 1999, as he was placed right below Man o' War and Secretariat.
He was also inducted into the National Museum of Racing and Hall of Fame a few years after his retirement.
7. Kelso – One of the Most Famous Racehorses in the US
Ranking fourth on the Top 100 U.S racehorses of the 20th Century, Kelso is considered one of the greatest US racehorses of all time.
Although he never won the renowned Triple Crown, Kelso holds one unique record that made him so revered during his time.
He defeated more Hall of Fame horses and champion racehorses than any other horse. Moreover, he did so often carrying massive handicaps. Some of the most famous names that Kelso defeated include Gun Bow, Carry Back, Tompion, Never Bend, and Gun Bow.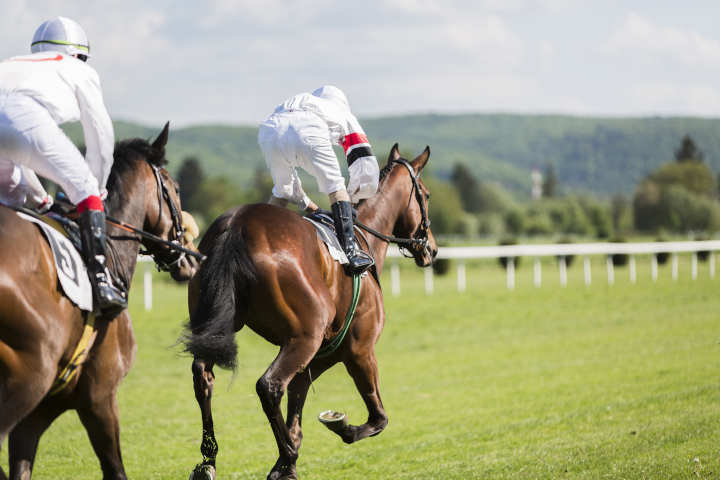 Because of all of his wins over these big names, Kelso also has the distinction of holding the Outstanding U.S. 3-Year-Old Male Horse award despite not winning the Triple Crown at that age. He was also the U.S. Horse of the Year five times in a row, from 1960 to 1964.
At the time of his retirement, Kelso was an all-time leading horse in terms of total money winnings.
He was hugely popular among fans and pundits and was highly appreciated for his consistency and heart. Kelso's career would likely have lasted far longer if it wasn't for his injury in 1966, which forced his owner to retire him.
6. Zenyatta
Jumping to a more recent famous racehorse, Zenyatta was foaled in 2004. She is an American Thoroughbred that won 19 of her 20 starts. Most notably, she won the Breeders' Cup Classic and the Breeders' Cup Distaff.
In most of her races, Zenyatta was known for finishing her races strongly. She often let her opponents lead early, only to overtake them near the finish line.
In a 2010 vote for the horse of the year, she garnered 87% of the total votes. During that time, she was so popular that she was featured in O and W Magazine.
What's more, even the famous US news show 60 minutes did a thorough profile on her. In 2016, Zenyatta was inducted into the National Museum of Racing and Hall of Fame.
Apart from her notable racing successes, Zenyatta also became very popular among horse racing enthusiasts for her attitude and personality.
Most notably, she used to have an entertaining pre-race routine in which she would dance around while in the walking ring. Equally as amusing, her love for Guinness beer also helped make her a passionate following among horse racing fans.
5. Kincsem – A Famous Racehorse from the Past
Foaled in 1874, Kincsem is the historically earliest born horse on our list of the greatest racehorses. And, while it's challenging comparing racehorses from different eras, Kincsem is undoubtedly one of the best of all time.
Kincsem was so successful and popular that she is still considered a national icon in Hungary and one of the greatest racehorses of the 19th century.
Moreover, Kincsem holds a distinct record of being a racehorse with the longest undefeated streak in the history of the sport, as she won all 54 of her races.
To put this into context, the next closest is the above-listed Black Caviar, with her run of 25 undefeated races. This number alone is enough to make you consider Kincsem as the best racehorse of all time.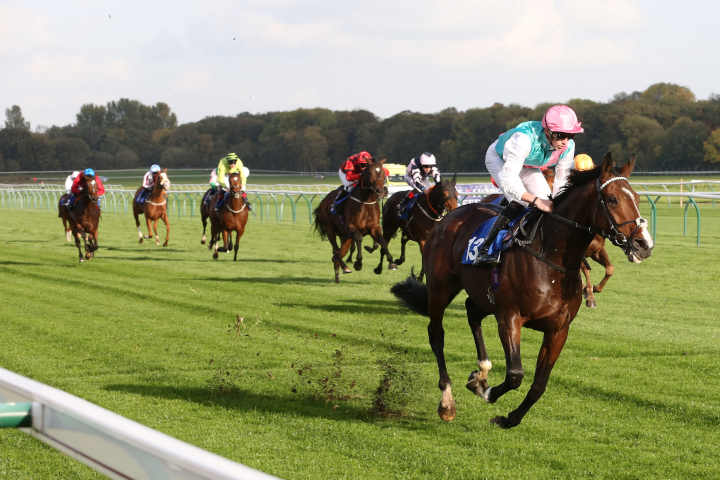 In her four-year campaign, from 1876 to 1880, Kincsem raced at the most reputable and prestigious race tracks across all of Europe. Among her most notable victories are her triumphs at the Goodwood Cup in England and the Grand Prix de Deauville in France.
Kincsem left a massive legacy in her home country of Hungary. Hungary's premier racehorse located in the capital of Budapest is named Kincsem Park, in her honor. Additionally, there are many statues of her and even streets named after her.
Recently, a luxury car manufacturer named Kincsem even proposed 54 models of Kincsem Hyper-GT, an electric supercar that would only be produced in the exact number of the races she has won.
4. Seattle Slew
Seattle Slew is nowadays known mainly for being the tenth American Triple Crown winner. He achieved this success in 1977.
But, what most horse racing enthusiasts don't know is that Seattle Slew is also just one of two horses ever to win the Triple Crown while being undefeated at the time.
Seattle Slew enjoyed massive popularity, particularly in 1977, when he saw most of his success. During this period, every racetrack he raced at was electric and fans were lining up to see him.
He was so popular that the term "Slewmania" was coined to describe the atmosphere that surrounded him.
After retiring from racing, Seattle Slew became an excellent and highly-valued sire. His sons Swale and A.P. Indy won the Belmont Stakes and continued his line through several successful descendants.
Seattle Slew lived for 28 years, far longer than many professional racehorses. At the turn of the century, Seattle Slew was ranked at the ninth spot on the Top 100 U.S racehorses of the 20th Century.
3. Man o' War – A Great Race Horse With Impressive Record
Foaled in 1917, Man o' War is widely regarded as one of the greatest racehorses ever. In a career that started just after World War I, Man o' War won 20 out of his 21 races and was one of the most dominant racehorses at the time.
Interestingly enough, he was one of the first sports superstars in the US. In 1920, Man o' War received honors as an "outstanding athlete of the year" by The New York Times, alongside Babe Ruth.
Decades later, he was also voted as the best American racehorse of the 20th century.
Man o' War also sired a number of great Thoroughbred racehorses. Most notably, he was the Sire of the famous Triple Crown Winner War Admiral and the grandsire of Seabiscuit.
His line continues to horses today through many racehorses still competing on the highest level.
1919 was Man o' War's most successful year, as he won 9 of his ten starts. Unfortunately, the only loss that year and in his entire career was dealt to him by a horse fittingly named Upset.
After his death, Man o' War was inducted into the National Museum of Racing and Hall of Fame. On the hundredth anniversary of his birth, this museum opened an extensive exhibit in his honor.
2. Winx
A recently-retired horse, Winx is an Australian Thoroughbred horse with plenty of impressive achievements under her belt.
Most famously, she holds the world record for winning 25 consecutive Group 1 races and 33 races in total. Her undefeated streak spanned from May 2015 up until her retirement in April 2019.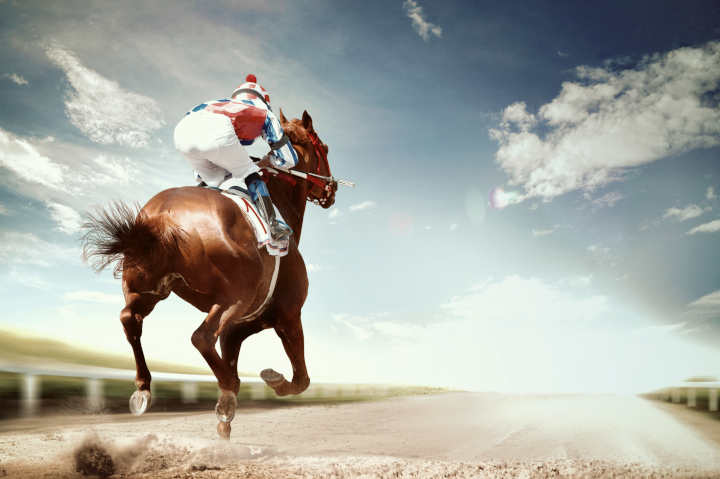 Much like another legendary horse we've listed, Seabiscuit, Winx also had a rocky start. She won her first three races, but after that won only one more race in the following seven starts.
This all turned around in 2015 when she rebounded in style and started her winning streak.
Over the four years that her winning streak lasted, Winx won the Furious Stakes, Phar Lap Stakes, and the Sunshine Coast Stakes.
She was also named Australian Horse of the year for four consecutive years and also won the Secretariat Vox Populi Award in 2018.
Winx's impact on Australian horse racing is very apparent. She was inducted into the Australian Racing Hall of Fame, still very much at the top of her career.
Focusing on her financial successes, she earned over 26 million Australian dollars, making her one of the top-earning racehorses of all time.
1. Secretariat – A Synonym for Famous Racehorses
There's no arguing about which horse holds the top spot for the greatest racehorse of all time. This is because the majority of horse racing enthusiasts would answer: "Secretariat" when asked the question.
Secretariat became internationally known in 1973, after winning the prestigious American Triple Crown, a series of three races for three-year-old Thoroughbreds.
He won the race at Belmont Stakes by a massive 31 length difference in what's considered one of the greatest racehorse performances in history.
Equally as impressive, Secretariat still holds the fastest time record in all three races, even almost fifty years after this achievement.
For all of these outstanding successes that were followed by heavy media attention in the US at the time, Secretariat is widely considered the greatest horse of all time, especially in this country.
Secretariat is most popular in the general population thanks to the touching film of the same name, starring John Malkovich and Diane Lane.
Outside of this, Secretariat is remembered through many statues in cities all across the US. The most famous one is the life-sized statue of Secretariat, kept in the National Museum of Racing and Hall of Fame in Saratoga Springs, New York.
All of this popularity also means that Secretariat was one of the most lucrative horses of all time. He was even syndicated in 1973 for a whopping six million dollars (equaling to over thirty-six million today).
His brilliance and appearance made him an American icon and a very sought-after stud that officially sired 663 foals after his retirement.