Las Vegas Tattoos – Where Can You Get the Best & Cheapest Tattoos in Sin City?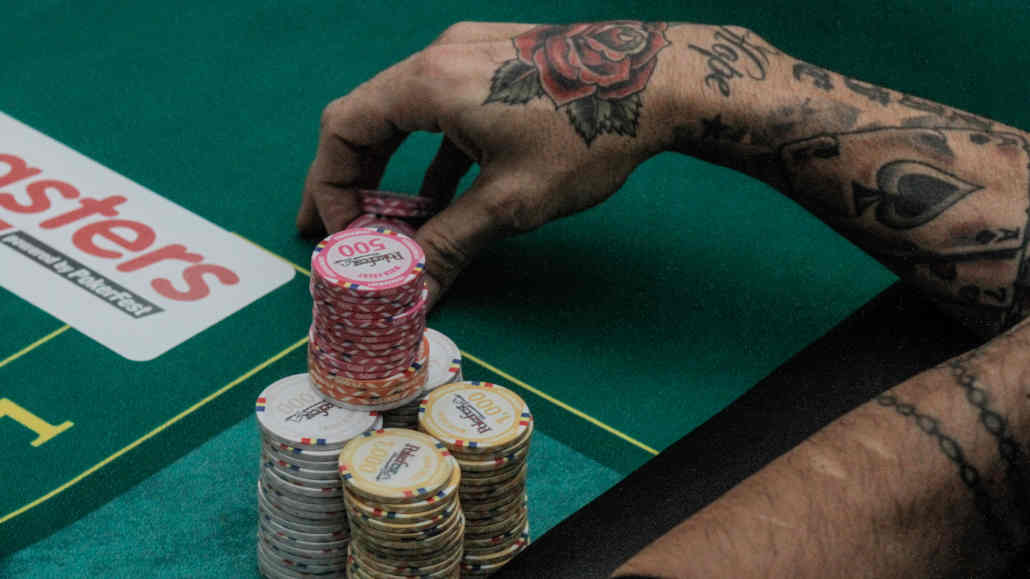 9 minutes
Last Updated: June 27, 2022
Have you been thinking of getting a tattoo while in Vegas? You probably suppose that such a lively city, focused on gambling and entertainment, has expensive tattoo parlors reserved for those with deeper pockets.
In a sense, you would be right, as Sin City is the home of some of the most renowned tattoo artists in the world.
But, the offer isn't so one-dimensional, as you can find tattoo parlors in the city that fit everyone's budget.
So, to make it quick and convenient for you to pick the most suitable tattoo places in Las Vegas, we've done extensive research on the topic.
In this detailed page, you'll find recommendations for both the best tattoos Las Vegas has to offer and some cheap quality parlors worth considering.
The Best Las Vegas Tattoo Places Overall
The first category we want to cover pertains to the best Las Vegas tattoo places. Some of these have very expensive prices and employ skilled and reputable artists.
But, if you don't want to make any compromises and want to ensure you get the best-quality tattoo that will last you a lifetime, picking one of these Vegas tattoo studios is a no-brainer. So, here are the top Sin City tattoo parlors worth checking out:
Pair-A-Dice Tattoo
Pair-A-Dice is the oldest tattoo parlor in Las Vegas that's still in operation. It was opened by two local tattoo legends Mr. Bub and Jimmy in 1996.
Mr. Bub has been in the industry since 1981 and has served his apprenticeship under Smilin' Paul & Doc Dog, the best-known artists in Vegas during the 70s and 80s.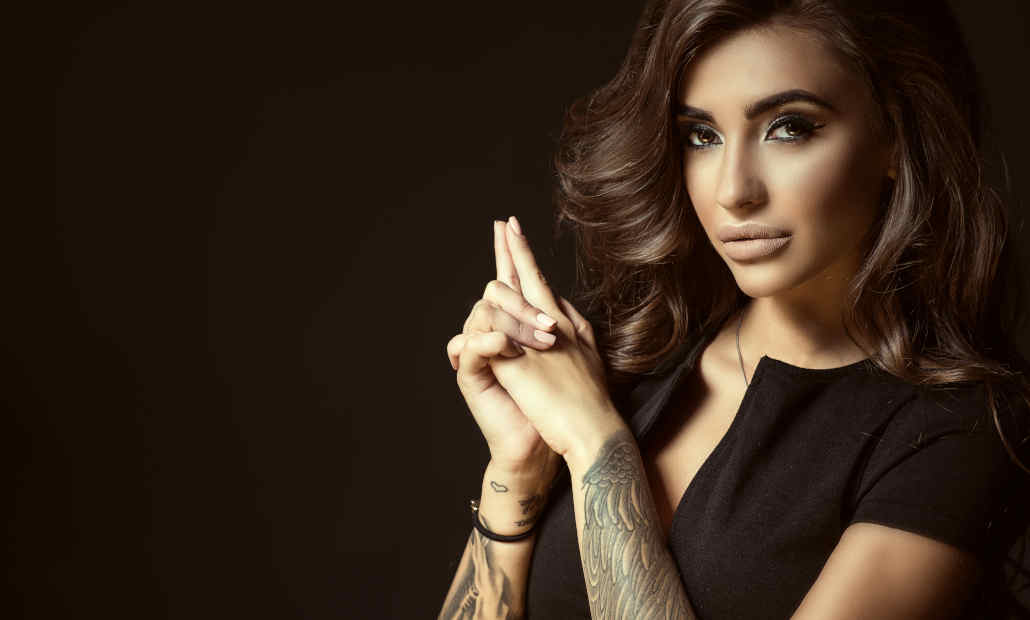 Mr. Bub is still actively working in Pair-A-Dice, so where better to get a tattoo than directly from one of the most respected tattoo artists in Sin City.
Mr. Bub has a number of specialties but doesn't limit himself in this regard, as he will always fulfill every customer's tattoo wish, no matter how crazy it sounds.
Downtown Tattoo
Downtown Tattoo has been in business since 2008, and its artists have over 35 years of combined experience.
So, if you're looking for trusted and proven professionals to do your new tattoo job, you can rely on this parlor to get it done right.
It's located on the iconic Fremont street, so you know that they get tons of traffic, being in one of the city's best-known locations.
Downtown Tattoo works every day of the week, but we advise you to first book an appointment through their site.
As the place is so busy, this is the best way for local gamblers and tourists to get the exact time when you should come to get your tattoo.
You can choose which of their six renowned tattoo artists you want to do your tattoo. The Downton Tattoo website features detailed portfolios of each artist, so you can tell who would best translate your idea into a tattoo that you'd like.
Studio 21 Tattoo Gallery
Studio 21 Tattoo Gallery is a family-owned and operated tattoo parlor that has been in business since 2003.
This is an upscale tattoo studio that has won numerous awards over the years for being the best tattoo studio in the city and having the best tattoo artists.
Studio 21 Tattoo Gallery is widely known even outside of Nevada's borders, as it was featured in a number of national magazines.
Studio 21 Tattoo Gallery has a great online presence and enjoys very positive reviews online.
For example, just on Yelp, it has over 600 reviews and a five-star reputation. The parlor is known for being very clean and featuring some of the best artists in the city.
It is a bit further from the big gathering places in Vegas, as it's located about a mile west of The Strip. However, the parlor's flashy logo with bright colors is impossible to miss, even from afar.
Black Spade Tattoo
Located in downtown Las Vegas, Black Spade Tattoo is among the best-reviewed tattoo parlors in Sin City. It maintains a five-star rating on Yelp and an impressive 4.8 stars on Google Reviews.
Black Spade Tattoo is well-known in the industry. Its owner King Ruck and other employees have been featured in various publications and shows.
This includes appearances in several episodes of the popular Ink Master TV show franchise.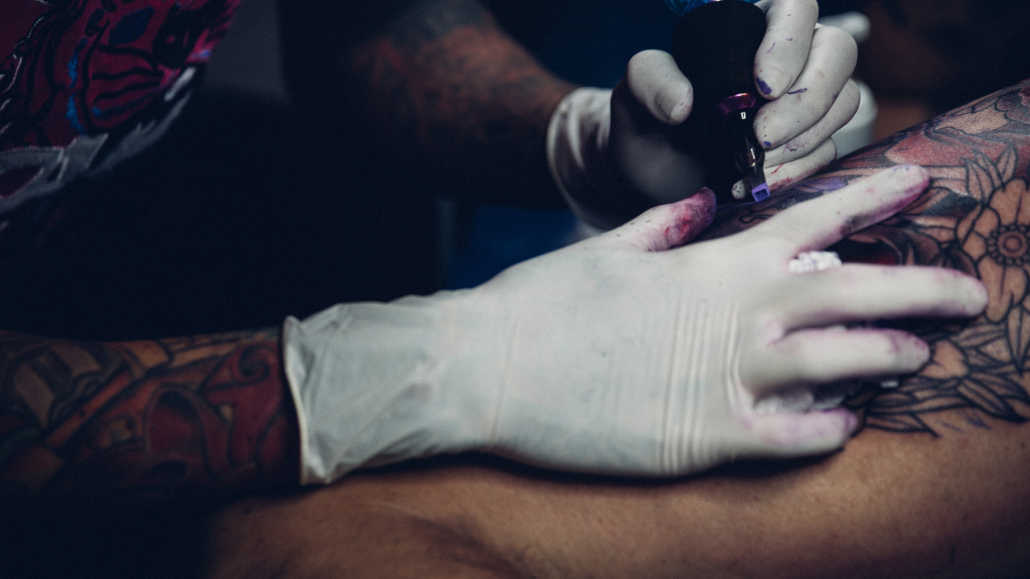 You can find the Black Spade Tattoo studio directly on Fremont street, located inside Downtown Container Park.
You can also reach out to them through social media, as Black Spade Tattoo maintains a very active presence on Facebook and Instagram.
Ironhorse Tattoos and Piercings
Ironhorse Tattoos and Piercings is open all seven days a week, and you can find it at the very end of the south part of the Las Vegas Strip.
It has been in business since 1999, while its owner Tony "Tattoo Troll" Otto, started working as a tattoo artist in 1994 and is still actively working in Ironhorse Tattoos and Piercings.
Locals and tourists praise the parlor for the friendly and comfortable atmosphere but also for the professional and dedicated work of the studio's tattoo masters.
This parlor maintains a superb reputation, with a 4.7 ranking on Google Reviews and a five-star ranking on Yelp, with over 400 reviews combined. This top-quality parlor accepts walk-ins but recommends you call first.
Club Tattoo at Planet Hollywood
If you want to get a tattoo in a boutique-style parlor, you can do so at Club Tattoo at Planet Hollywood, located in the Miracle Mile Shops.
Club Tattoo has a rating of 4.5 stars on Yelp, with over 400 reviews. It aims to provide a high-end tattoo experience with professional staff, world-class artists, and sanitary studios.
Club Tattoo has been featured on BuzzFeed, GQ, Entrepreneur magazine, and CNBC, among many other media platforms and outlets.
With digital portfolios you can "flip through" in its shop and artistic collaboration support, Club Tattoo aims to provide more than a tattoo, and it's a great pick if you're looking for a perfect gift for gamblers.
The Best Cheap Las Vegas Tattoo Places
If you don't want to spend an excessive amount of money and just want a simple tattoo to remind you of your time in Sin City, $10 tattoos in Las Vegas are available almost on every corner.
We've done the research to bring you the best affordable tattoo places in Las Vegas:
Koolsville Tattoo
Koolsville Tattoo advertises as the home of $10 tattoos in Las Vegas. It's a favorite tattoo and piercing place of many locals and a big tourist attraction as well.
This tattoo parlor specializes in styles like Polynesian, realism, and henna. You can find over 5000 different line design options. Many start at just $10 but you can also get more detailed and expensive tattoos.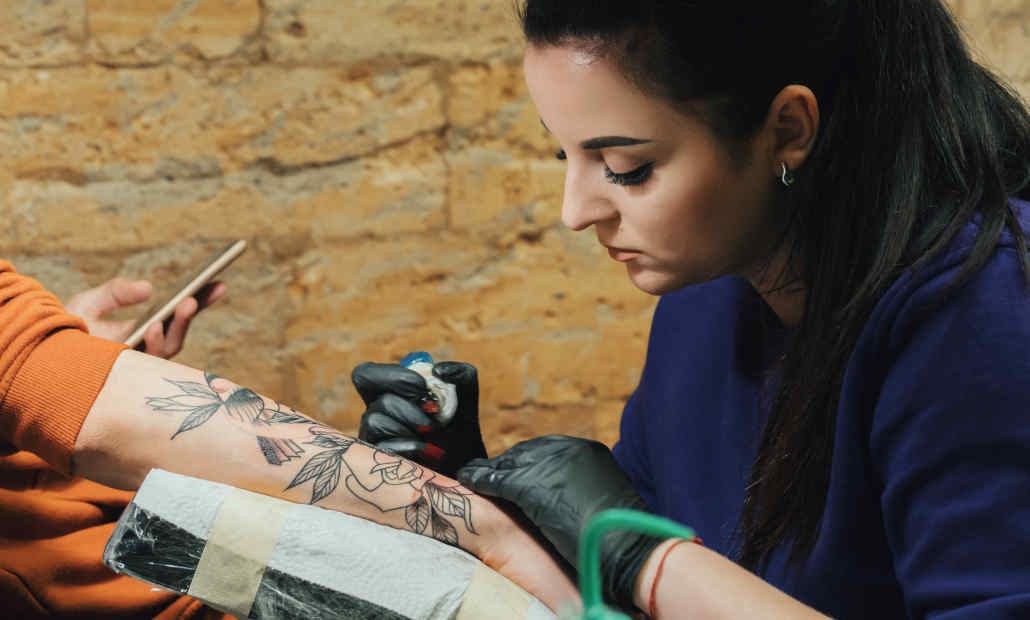 Koolsville Tattoo is so popular that it has spread all over Vegas in the past few years. Today, you can find it in the Arts District, Downtown, and at two locations at The Strip.
West Coast Tattoo
West Coast Tattoo promises to show you the difference between its and other Las Vegas tattoos.
Specializing in a long list of tattoos, West Coast Tattoo is best-known for its portraits and traditional work. But, you can count on them to do any work you want, at a bargain price at that.
This tattoo parlor employs nine tattoo artists, some of which have won notable industry awards in various styles. West Coast Tattoo is available in two locations in the city and accepts both walk-ins and scheduled appointments.
Last Chance Tattoo
Opened in 2014 by Bradley Paul, Last Chance Tattoo employs a group of very talented tattoo artists skilled in an array of tattoo styles, from traditional tattoos to realistic portraits. It's a massive studio offering both tattoo and piercing services.
Last Chance Tattoo also has unique and exciting offers called the "Get What You Get" tattoo roulette machine and dice.
You can buy a custom-made tattoo by drawing it from a ball or letting the dice decide.
This way, for only $100 to $150, you can get a tattoo worth up to $300. Plus, the excitement and gambling element adds to the feeling of playing in Vegas and makes for a perfect way to decide on your new tattoo through gambling.
Revolt Tattoos
Revolt Tattoos was founded in 2014 and currently operates in two locations in Las Vegas. It also has parlors in Salt Lake and Lake Tahoe.
One of Revolt's two owners is Joey Hamilton, a tattoo artist who won Season 3 of the popular tattoo show Ink  Master.
Revolt Tattoos studios use cutting-edge tattooing technology and employ over 20 talented tattoo artists.
On the parlor's site, you can find that its mission is to create a brand that focuses on elite artwork and client values.
And, judging by the reviews of previous customers, Revolt Tattoos is fully succeeding in this goal.
A five-star Yelp profile with over 250 reviews and hundreds of positive reviews on Google instills confidence that this tattoo shop is a great pick to get your next tattoo at.
Get a Vegas Tattoo To Eternalize Your Experience in Sin City!
Las Vegas is undoubtedly one of the best places to get a tattoo. You can easily find a famous artist, so you get both a tattoo and a story to tell for many years to come.
All of the tattoo parlors we've featured above are worth considering if you want to get tattooed in Sin City.
Lastly, we want to mention one important aspect of getting a tattoo in Vegas. Remember that you're getting a permanent mark on your skin, so you want to pick the best tattoo artist available.
If you don't have the money to get a particular tattoo that you want, don't haggle. Tattoo artists put a lot of time and effort into honing their craft.
Plus, you want your tattoo artist to do the job with their head and heart in it and not just rush to get it done as fast as possible.
So, while you can manage to get a $10 or $20 tattoo in some places, keep in mind that you always get what you pay for. The less money you pay, the cheaper the tattoo will look, and the faster it will likely deteriorate.
Las Vegas Tattoo Parlors FAQ