Mega Moolah
If you have ever visited an online casino before, or even if you haven't, you have probably heard the name Mega Moolah before.
This is because Mega Moolah is one of the most famous and popular online slots among players worldwide.
Mega Moolah was developed and released by Microgaming in 2006, contains super fun features, great gameplay, and above all: a mega high jackpot.
The Mega Moolah jackpot has been won quite a few times, and as of writing this Mega Moolah slot review, the jackpot stands again at over a whopping $10,000,000.
You have read that correctly: the Mega Moolah jackpot currently stands at over $10 million. So, if you are a fan of online slots, which we assume you are, or else you wouldn't be on this page, continue to read this Mega Moolah slot review to find out all about the Mega Moolah bonuses, features, payouts, pros & cons, and more.
Play Mega Moolah Slot In Demo Mode For Free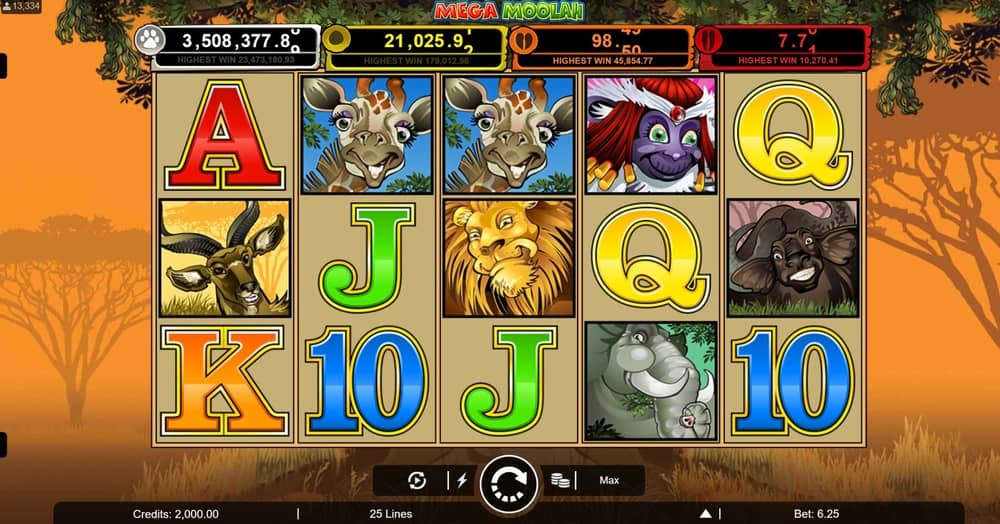 The Mega Moolah slot has an African wildlife theme to it. It looks like Lion King in terms of graphics, as there are all sorts of animals on the reels and colorful card symbols like 10, J, Q, K, and A.
As soon as you launch the game, you will be welcomed with a funky African background tune that makes you excited to spin the reels.
What probably will excite you are the four jackpot meters on top of the reels that show the current jackpot heights of the Mega, Major, Minor, and Mini jackpots.
We see the pay lines colorfully numbered to the left and right side of the 3×5 grid playing field, and below the playing field, we see the betting interface.
The betting interface gives us information about our current casino balance and what the bet per spin is currently set on.
A big yellow button reads 'View Payout' to the left side of our screen, which might be handy to click on for beginners, just to get some information about which symbols pay out what amounts and the like.
Don't worry, we will also cover that in this Mega Moolah slot review.
The Mega Moolah layout and theme in a nutshell: African savanna style, with cartoonish-looking symbols similar to Lion King characters.
How to play Mega Moolah?
Although Mega Moolah contains quite some features, it is an incredibly easy slot machine to play. You don't have to think about any particular strategy, as you would with blackjack or online poker.
All you need to do is relax, sit back, enjoy the soundtrack and give the game a spin.
As mentioned before, the game is played on a 5×3 playing field. It has 25 paylines total that pays out from left to right.
You can view the individual paylines by hoovering over the numbers to the left and right sides of the playing field.
To get started playing the Mega Moolah slot machine game, all you need to do is follow these simple steps:
Go to your favorite online casino, open the lobby and search for Mega Moolah. Alternatively, you can use the search bar or filter options to filter for Microgaming and then select Mega Moolah. Make sure you click the right Mega Moolah slot, as there are some other slots with similar names.
Click the yellow 'View Payout' button to view the payouts of the different symbols and familiarize yourself with the mechanics of the Mega Moolah slot machine game.
With the green 'Select' buttons under the playing field, you can select the number of lines you want to play and how many coins you want to wager per line. This will form your total bet per spin, and this amount will be shown in the box under 'Total Bet.'
Once you have determined your total wager per spin, you are ready to spin the reels. Simply click the 'Spin' button on the lower right side of the playing field to do so. If you want to play for a longer while, you could use the Autoplay feature. You won't need to manually press the spin button every round when you do this. You have the option to set win and loss limits and the amounts of spins to be spun with this feature.
Mega Moolah Minimum and Maximum Bets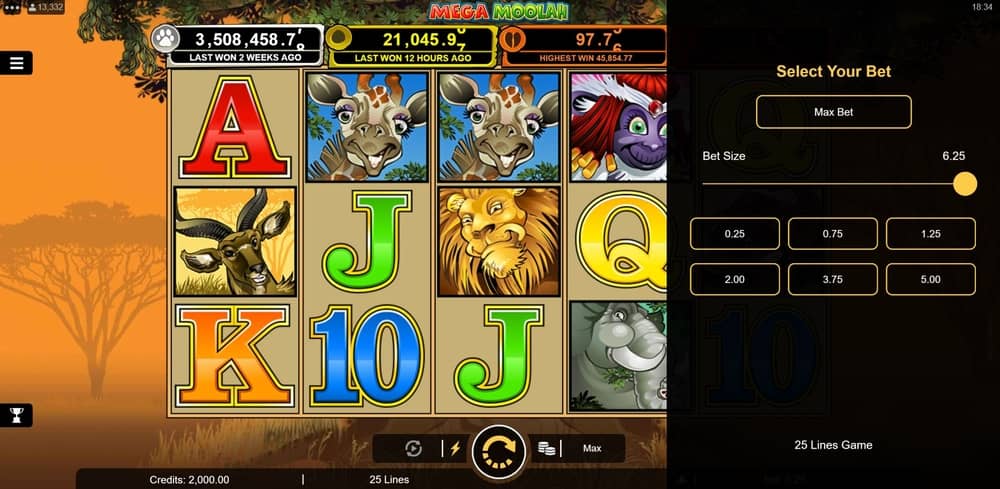 Mega Moolah is a slot machine game for players with all sorts of budgets. You can already play the game for as little as $0,01 per pay line per spin.
Essentially you could win $10 million with just $0,01.
The maximum bet is $6,25 per spin. You spin for $6,25 total when you set the coin value at 5 and play all 25 paylines.
We like that you don't have to play all the paylines, which is the case with most online slots.
Mega Moolah RTP and Volatility
The return to player of Mega Moolah is significantly lower than other online slots. The industry average for online slots is 96%, while Mega Moolah only has an RTP of 88,12%.
The lower return to the player is obviously because you have a chance to win one of the four massive jackpots in return.
Mega Moolah is a high-volatility slot.
That means that you don't win often, but when you win, you win big, Mega big in this case. We suggest adjusting your playing budget accordingly and being patient while playing Mega Moolah, as it can take a while before you hit a big win.
Mega Moolah Bonuses and Features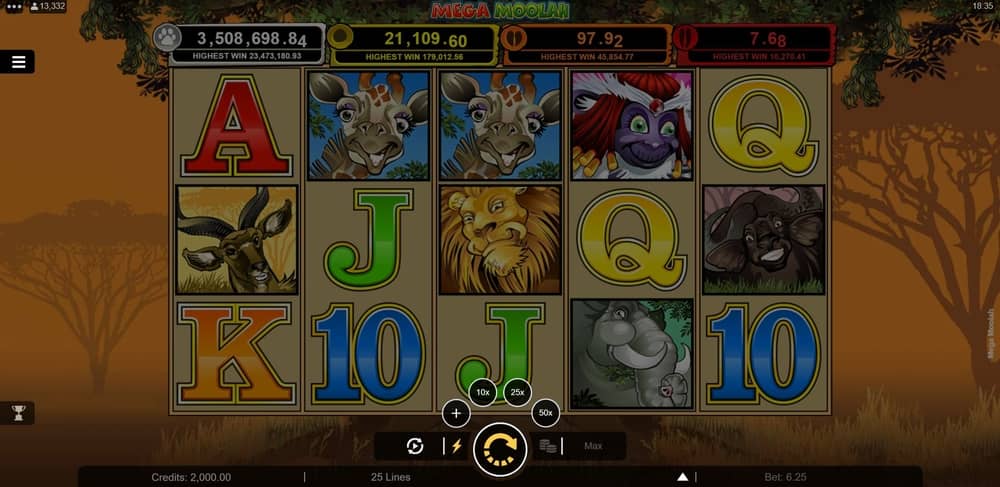 Mega Moolah essentially has two special bonus features. One is the standard bonus round, and the other is the Mega Jackpot Bonus round.
The standard bonus round can be triggered by spinning 3 free spins symbols anywhere on the reels. It doesn't matter where you spin them, and they don't have to be adjacent.
Mega Moolah Free Spins
Once you spin 3 "free spins" symbols during your Mega Moolah gaming session, you will receive 15 free spins. All winning combinations will be paid out with an x3 multiplier during these free spins. This can net you some nice wins.
Mega Moolah Jackpot Bonus
While playing Mega Moolah, you can randomly get the Mega Moolah Jackpot Bonus. When this happens, you get to spin a wheel.
The wheel is divided into multiple sections, each having a corresponding jackpot bonus.
These jackpots are Mega, Major, Minor, and Mini. The Mini jackpot starts at $10, the Minor jackpot starts at $100, the Major jackpot starts at $10,000, and the Mega jackpot starts at $1,000,000. Whenever you get this Jackpot Bonus wheel to appear, cross your fingers and hope for the best!
How to Win with the Mega Moolah Slot Machine
You win the Mega Moolah slot machine game by winning the jackpot! Apart from winning the jackpot, you win money by spinning winning combinations, so there are no secrets on how to win on slots attached to it.
Winning combinations are formed when three or more identical symbols appear on the game's 25 paylines from left to right.
With the 'View Payout' button, you can view more information regarding the Mega Moolah payouts. Note that Mega Moolah is a game of pure chance and that there is no certain strategy you can apply to increase your chances of winning the Mega Moolah jackpot.
For your convenience, we have compiled a table below, which you can use to see the different Mega Moolay payouts
| | | | | |
| --- | --- | --- | --- | --- |
| Symbol | 2 Symbols | 3 Symbols | 4 Symbols | 5 Symbols |
| Lion | x15 | x125 | x1,500 | x15,000 |
| Elephant | x6 | x50 | x250 | x750 |
| Buffalo | x4 | x40 | x150 | x600 |
| Giraffe | Nothing | x30 | x125 | x500 |
| Zebra | Nothing | x20 | x100 | x400 |
| Antelope | Nothing | x10 | x50 | x250 |
| Ace | Nothing | x8 | x40 | x150 |
| Monkey | x2 | x3 | x20 | x100 |
| King | Nothing | x6 | x30 | x100 |
| Queen | Nothing | x4 | x20 | x75 |
| Jack | Nothing | x3 | x15 | x60 |
| 10 | Nothing | x2 | x10 | x40 |
| Wild | Substitutes all other symbols | Substitutes all other symbols | Substitutes all other symbols | Substitutes all other symbols |
| Scatter | Nothing | 15 free spins | 15 free spins | 15 free spins |
Mega Moolah by Migraming Demo Gameplay
Normally we would suggest you always play the Mega Moolah demo version first before wagering your own hard-earned money. However, with Mega Moolah, this isn't the case, as the main reason for playing this game is to hit the jackpot, which is obviously not possible in the free version.
Instead, you can try other free games that offer all features, even in the free demo mode.
That being said, if you like to try the game just to see how it looks, feel free to do it.
Mega Moolah Mobile Version
Although the game is almost 15 years old now, it is perfectly optimized for mobile gameplay. It was one of the first mobile casino games, which is great nowadays as this means that even older devices can run it perfectly fine.
You can play Mega Moolah directly in your browser on both Android and iOS devices, and you don't need to install any casino software or casino app.
The only thing that you require is a stable internet connection and a charged battery, as playing the slot will drain your battery's lifespan quite fast.
Software Provider Behind Mega Moolah – Microgaming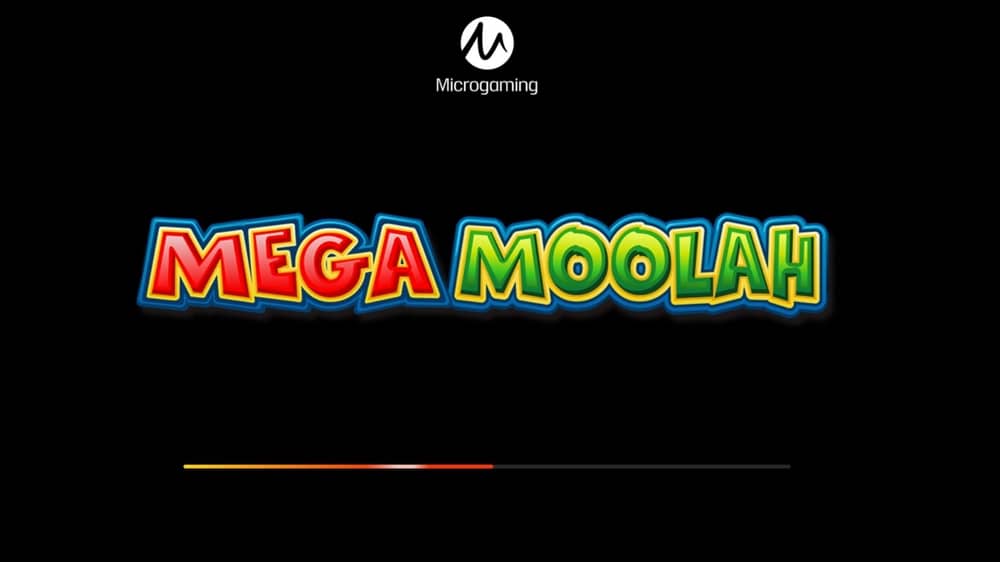 Microgaming was founded in 1994 and was literally the first company ever to develop online casino software. Nowadays, the firm employs over 200 people and has developed over 500 different casino games.
The first casino game ever produced by Microgaming was Cash Splash, which also featured a progressive jackpot, just like Mega Moolah.
Other Mega Moolah Slot Machine Games
If you don't really like African Safari casino games or whenever you just want to play a different casino game with a Mega jackpot, you can take a look at these other Mega Moolah slot machine games. All designed by Microgaming and containing a progressive jackpot:
Mega Moolah 5 Reel Drive
Mega Moolah Summertime
Mega Moolah Isis
Mega Moolah Atlantean Treasures
Mega Moolah Absolootly Mad
Mega Moolah Jackpot Winners
Around 50 people have won over $10,000,000 with Mega Moolah. You can find the names, amounts, and dates of these gigantic jackpot wins on the official website.
Some of the jackpot winners made it into the Guinness Book of World Records by winning huge amounts of money.
The Brit Jon Heywood holds the record Mega Moolah Jackpot win with €18,910,668.01, which converts to about $20 million.
Mega Moolah Slot Review – Our Verdict
Mega Moolah is one of the most famous online slots, just like Sweet Bonanza and Rainbow Riches, for a good reason. The game has created many multi-millionaires and continues to do so.
Nowadays, the Mega Jackpot stands at over $10 million yet again and can be won at any time.
Reason enough to try out the game, we would say.
Apart from the high jackpot, the game has cool features like free spins with x3 multipliers and high volatility. If you are a fan of online slots and ready for some big wins, we highly recommend giving Mega Moolah a spin.
Mega Moolah by Microgaming FAQ