Baccarat Betting Strategy – What You Need To Know Before Playing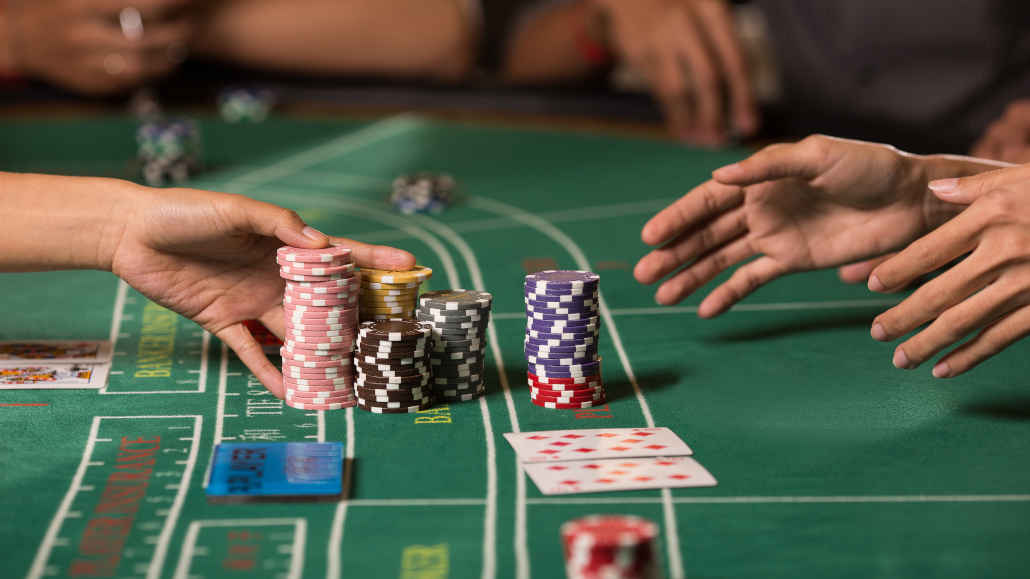 Baccarat is a game of pure chance, meaning that there aren't any gameplay strategies you can employ to increase your success in the game.
That said, this doesn't mean that you should play baccarat without any plan, especially when it comes to managing your bankroll and the way you place your bets.
A proper baccarat betting strategy can help you manage your bankroll more efficiently and give you the best chances of coming out as a winner.
So, while luck is still the determining factor, you will place yourself in the best position to win consistently whenever good fortune is on your side.
We've prepared the most comprehensive baccarat betting strategy guide you will find on the Internet. So, if you want to find all of the best betting strategies for baccarat and many more useful tips, sit back and let us guide you through everything you should know to become an expert baccarat player.
Baccarat Betting Systems – The Three Main Categories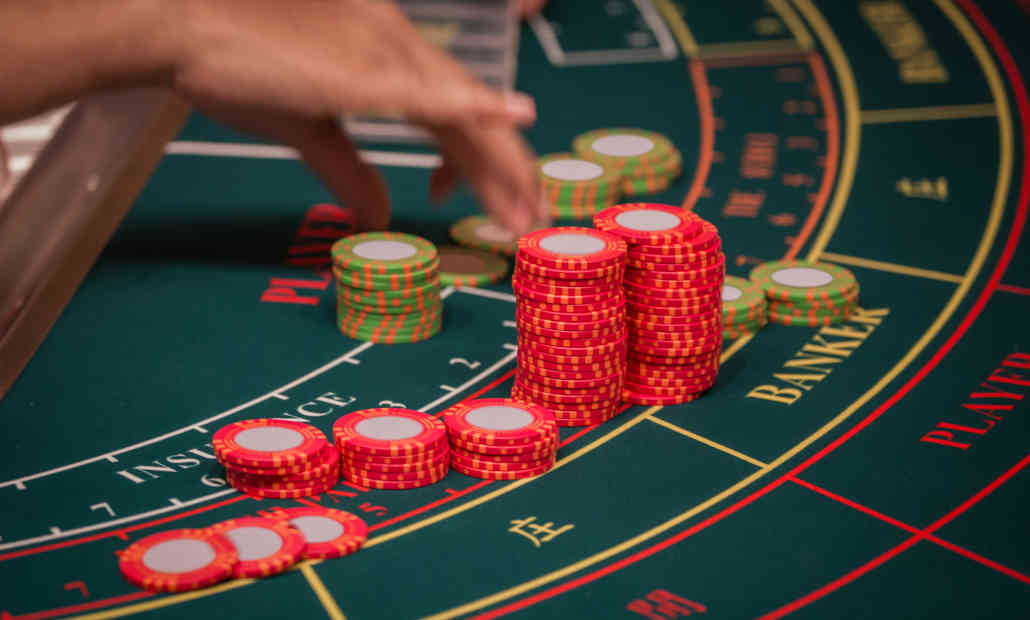 Aiming to deliver the most extensive information on every betting strategy baccarat players can try out, let's first start with the absolute fundamentals. When it comes to baccarat betting systems, we can differentiate three distinct forms:
Positive Progression Betting – The idea of a positive progression betting strategy is to minimize the risk and increase long-term winning chances. This is done by increasing your bet size after winning and decreasing it after losing.
Negative Progression Betting – Opposite to the previous strategy, the negative progression betting system includes increasing your bet after every loss and decreasing it after a win. The main logic behind such a system is that a win always helps you recoup a loss.
Flat Betting – Lastly, the flat betting strategy involves always betting the same bet size, regardless of your results. The main advantage of this system is its simplicity, making it a good choice for beginner baccarat players.
Best Baccarat Positive Progression Betting Strategies
With a focus on decreasing your bets after losing and increasing them when winning, a positive progression strategy ideally serves to keep your losses as low as possible. Here's a look at the best positive progression betting strategies in baccarat:
The Paroli System
The Paroli system is arguably one of the most popular betting systems in the world, right behind the Martingale system. The essence of this simple strategy is to focus on slowly building your bankroll through small wins and keeping it safe by avoiding major losses.
Like the other two positive progression betting strategies we'll share, this one starts with setting your base unit. For instance, you can set it at $5. This will also be your initial wager.
If you win, you will double up your bet for the next hand. In case you win again, double it up and bet four units. If you continue to win three hands in a row, you should revert to your base unit bet for the fourth hand.
The reasoning behind this is that your winning chances start to diminish significantly after three straight wins. Additionally, every time you lose, you should automatically revert to the one-unit bet.
The 1-3-2-6 System
The numbers in the 1-3-2-6 positive progression betting system actually determine how many base units you should bet, depending on your situation. Of course, to use it, you first need to set a base unit, which we'll keep at $5.
To start, you place an initial bet of $5. If you win, progress to the next number in the sequence, which is 3. To put it more precisely, this would mean you need to wager $15. If you win, you move to the next number in the sequence.
If you manage to win four times in a row, you return to the beginning of the sequence and start again. At the same time, if you lose a round at any time, you immediately revert to the start of the sequence.
This is the entire strategy, and the simplicity of the short 1-3-2-6 system makes it easy to remember and use.
The 1-3-2-4 System
This positive progression betting system works identically as the previous one. All you need to do is set a base unit size and follow the sequence. And, since the highest number in the sequence is four instead of six, the win/loss variance is reduced. So, this is a safer and much less turbulent system than the 1-3-2-6 one.
Best Baccarat Negative Progression Betting Strategies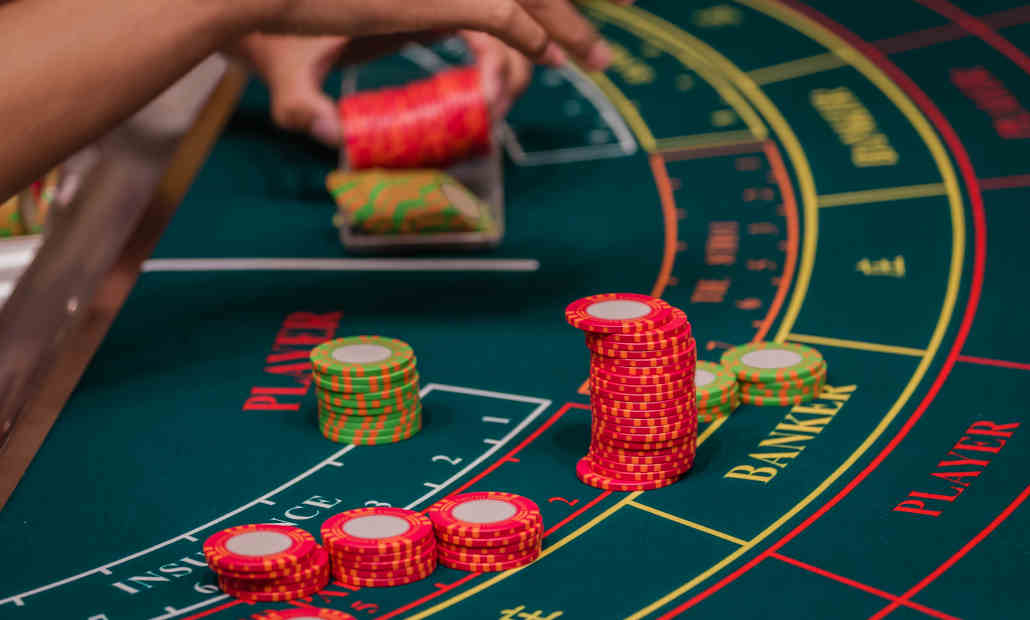 Negative progression betting systems are arguably the most popular ones and more exciting to use. However, they can be risky, especially for beginner players who don't have a substantial bankroll to constantly double up as they lose.
Besides this, the most aggressive negative progression betting strategies can also be restricted by table limits. With these important aspects in mind, let's go over some of the best baccarat negative progression strategies:
The Martingale System
Starting with the most popular betting tactics in gambling, the strategy behind the Martingale system involves doubling your bet every time you lose. The main intention of the Martingale system is to immediately recoup your losses and provide you with a solid profit if you win several times in a row.
After you win, you return to your base bet and keep betting the same base amount as long as you're winning. Here's a table showcasing how the Martingale system works in practice:
| | | |
| --- | --- | --- |
| Bet Number | Bet Size | Outcome |
| 1 | $5 | Loss |
| 2 | $10 | Loss |
| 3 | $20 | Win |
| 4 | $5 | Loss |
| 5 | $10 | Loss |
| 6 | $20 | Loss |
| 7 | $40 | Loss |
| 8 | $80 | Loss |
| 9 | $160 | Loss |
| 10 | $320 | Loss |
As you can see from the table above, the Martingale system is excellent for instantly getting back in the game with just one win. But, at the same time, it potentially requires a huge bankroll so that you can stay in the game during a long losing streak.
If you run out of money while still losing, you'll just end up with empty pockets. So, unless you can't afford to keep up and stick around for long enough, it's best to avoid using the Martingale system.
The Fibonacci System
The Fibonacci betting system is based on the famous Fibonacci sequence. This sequence functions on a very simple mathematical premise. Each number is the sum of the two numbers that precede it.
More precisely, the Fibonacci sequence looks like this: 1, 1, 2, 3, 5, 8, 13, 21, 34, 55, 89, and so on.
To put this sequence in the context of gambling, you progress through the sequence after every loss. When you win, you move back two numbers in the Fibonacci sequence.
If this sounds a bit confusing, we've drafted a helpful table for a more visual illustration. In this example, we'll take that your initial bet is $10. Here's a simulation of how the Fibonacci system works in this case:
| | | |
| --- | --- | --- |
| Bet Number | Bet Size | Outcome |
| 1 | $10 | Loss |
| 2 | $10 | Loss |
| 3 | $20 | Loss |
| 4 | $30 | Loss |
| 5 | $50 | Win |
| 6 | $20 | Loss |
| 7 | $30 | Win |
| 8 | $10 | Loss |
| 9 | $20 | Loss |
| 10 | $30 | Win |
The D'Alembert System
Unlike the previous system, which focuses on increasing or decreasing your bets by a variable amount, the D'Alembert strategy uses a system of fixed betting units.
To use this system, you first need to define the size of your base bet unit. For instance, one unit will be $5.
This will be the size of your first wager. If you win the bet, your next wager should be of the same size. If you lose the bet, you should increase your next bet by one unit, making your next bet $10.
Should you lose again, increase it by one more unit, to $15. Keep increasing your bets by one unit if you continue losing.
When you win, decrease your bet by one unit size. This system is super simple to follow and is not aggressive as the predominant Martingale system.
This means that your stakes won't rise as quickly, but it will take you a bit longer to recoup your losses if you fall into a losing streak.
The Labouchere System
If you're confident in your betting abilities, the Labouchere betting system is the most complex negative progression betting strategy you can try out.
It's similar to the previous two systems in the sense that it doesn't focus on recouping all losses instantly but over several bets.
To use the Labouchere system, you need to set how much you want to win. Let's say that you want to win $50 for this example.
When you have your desired amount, you need to divide that amount into smaller increments, for example, $5, $10, $10, $5, $2, $10, $5, $3.
The first bet you place equals the sum of your first and last numbers. In this case, it's $8. If you win, you remove these numbers and use the new leftmost and rightmost numbers to place a bet. If you lose, you add the amount of the bet to the right of your sequence.
When you win enough times to remove all the numbers from your sequence, you'll reach the goal you set for yourself at the start of the game. As we mentioned, this is a very challenging strategy to follow, albeit one that can make your baccarat session very exciting.     
Best Baccarat Flat Betting Strategies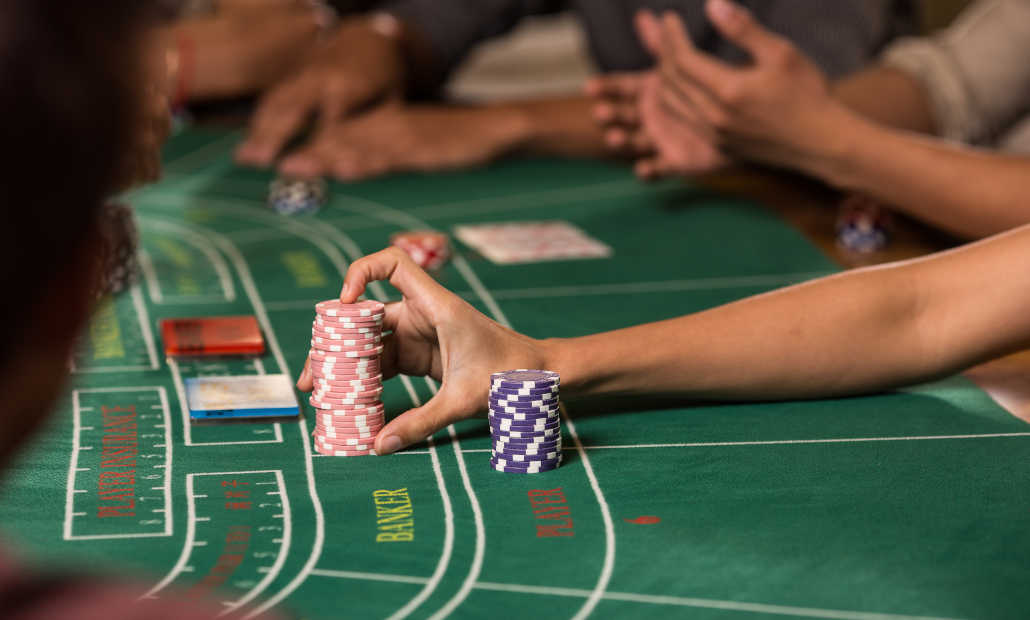 Leaving the simplest for last, a baccarat flat betting strategy is the easiest and most straightforward one to remember. With that in mind, there's not much room for strategizing nor any different flat betting strategies you can explore.
Instead, you just place a bet of the same size regardless of how your session at the baccarat table is going.
For instance, if you set a $1, $5, or $10 bet size at the beginning of your session, you stick with it for the entire game.
The strengths of the flat betting system are ultimately its weaknesses as well. You're never scaling your bet sizes, meaning that you'll never put yourself at risk of losing a big chunk of your bankroll on a single bet.
On the other hand, as your bets are always of the same size, you won't see any huge wins or skyrocket your bankroll on a single win.
So, a flat betting strategy involves slowly building your bankroll over time. This is why it's a good choice for baccarat players who are risk averse, beginners who don't understand the game very well yet, or simply those that want to extend their session to the max.
Additional Baccarat Betting Tips
The baccarat betting strategies outlined above are some of the most prevalent ones among baccarat players. Depending on how risky or safe you want to play your baccarat session, one or more of our featured strategies could be a good pick for you.
Additionally, there are many other things you should be mindful of that can nicely complement a solid baccarat betting strategy. Here are some additional and valuable baccarat betting tips:
Master Baccarat Rules First
Trying out different baccarat betting systems can be fun and profitable, but it can't replace the benefits of mastering the game's fundamentals. This is why it's essential to know all of the basic rules before you start playing the game for real money.
The most important thing to know is that there are three types of bets in baccarat.
These are the banker bet, the player bet, and the tie bet. The banker bet is the go-to pick for most gamblers, while the player bet is also a popular option.
However, the tie bet is generally considered a poor choice. As its name implies, the Tie bet only pays when the Banker and the Player finish with an identical point score. In that case, you can expect a payout of 8 to 1 or 9 to 1, depending on the casino you're playing at. In every other scenario, the Tie bet loses.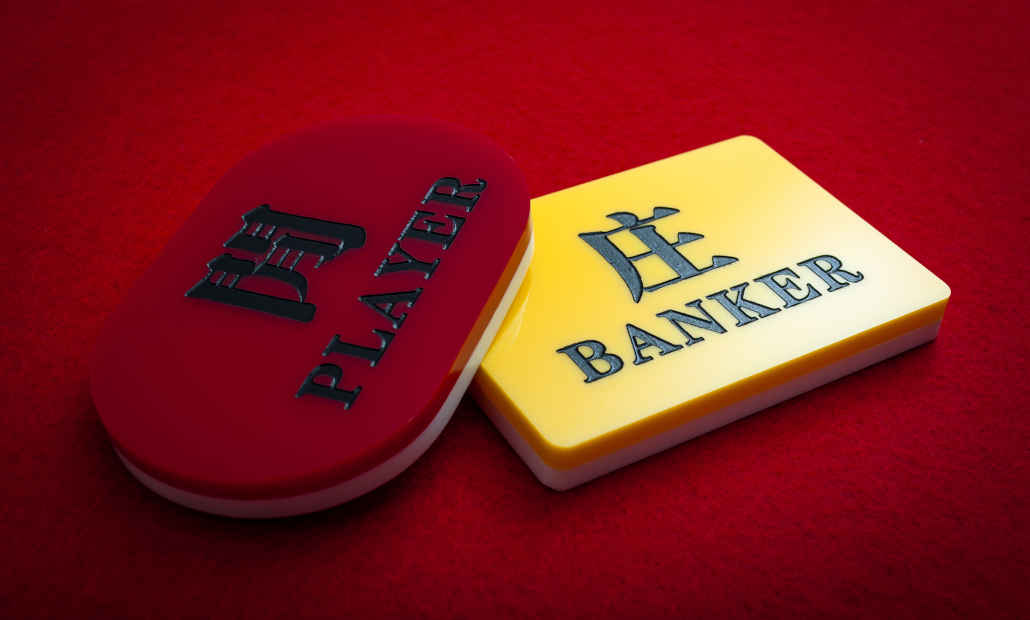 Taking a look at each of these bets' house edge, the Banker bet has a house edge of 1.06%, while the Player bet comes with a house edge of 1.24%. Lastly, the tie bet has a whopping house edge of over 14%.
Set a Strict Budget
Playing baccarat without a set bankroll is guaranteed to result in more losses than profits. This is because, with a lack of a bankroll, you can't keep track of how much you're spending per session, let alone on a weekly or monthly basis.
Regardless of your chosen baccarat betting strategy, a fixed bankroll will enable you to stay in control and help you play more focused.
Moreover, it will help you size your bets more accurately so that you get the most winning chances and entertainment value, according to your financial means.
Avoid Falling for the Gambler's Fallacy
The Gambler's Fallacy is a topic that's not frequently discussed among gamblers but can be one of the most detrimental habits holding back your baccarat success.
The Gambler's Fallacy is a belief that a result is more/less likely to occur based on the previous outcomes.
As baccarat is a game of pure luck, every game is a separate case. In other words, you can lose a number of times in a row and think that the win is due the next round but still lose again. The truth is that you're never due a win.
As much as there's a chance of interchangeable win/loss outcomes, there's also a chance of a prolonged losing or winning streak without the other.
So, the best thing you can do to avoid the Gambler's Fallacy is to consistently stick with your strategy. Don't change it mid-session, as it will only lead to bigger losses.
What's the Absolute Best Baccarat Betting Strategy? – Summing It Up
With so many betting systems out there, it's easy to get lost in the options and make a wrong pick. That said, the strategies we've highlighted in this detailed guide are by far the best ones to try out.
Although they won't guarantee you a winning experience every game, they will maximize your winning opportunities, especially in the long run.
Ultimately, remember that each baccarat betting strategy has its advantages and limitations. So, what might work for some baccarat players might not necessarily work for you.
This is why you should carefully pick a system after thoroughly researching it and, of course, use it responsibly at the baccarat table.
Baccarat Betting Strategy FAQ