Stratosphere Jump & Other Fun Non-gambling Activities in Las Vegas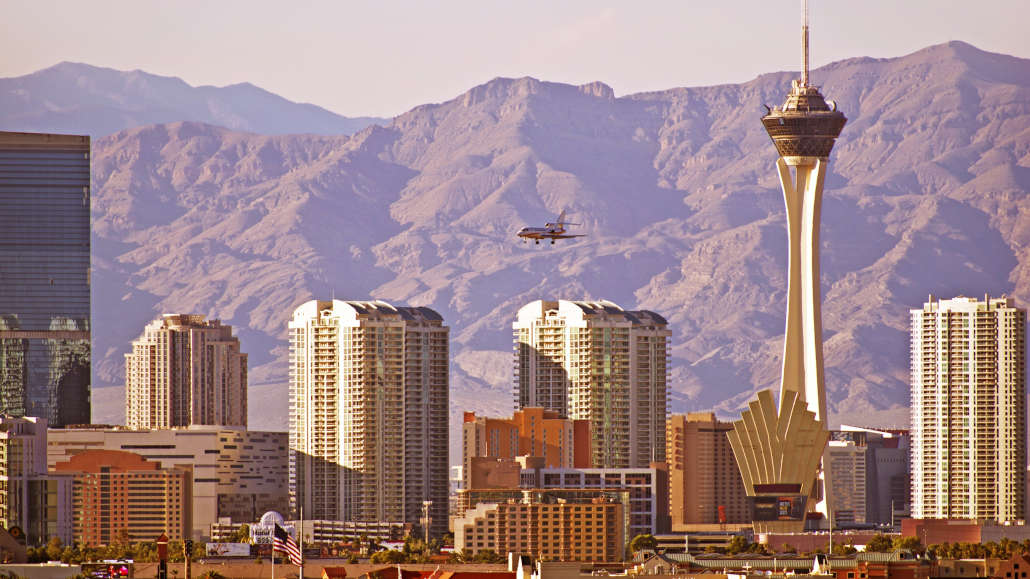 14 minutes
Last Updated: January 28, 2022
Stratosphere Jump & Other Fun Non-gambling Activities in Las Vegas
Las Vegas is widely recognized as the gambling capital of the world. With most of the city being built as a direct result of gambling, this activity is the first association everyone has when you mention Las Vegas.
And for a good reason, as you can find glamorous and world-class casinos anywhere you look.
That said, besides countless games and gigantic casinos working every minute of every day, Las Vegas has a lot to offer entertainment-wise.
As you can guess from the title above, the famous Stratosphere Jump is one of the most exciting ones.
But, there are many more of them that are worth your attention. In this article of the top ten non-gambling activities you can do in Las Vegas, we'll talk more about the Stratosphere and highlight nine other entertaining activities you should try out while in the city.
10. Visit the Las Vegas Eiffel Tower
Paris Las Vegas is one of the most recognizable casino hotels on the Las Vegas Strip. As it's themed after everything Paris-related, you can find replicas of various monuments, squares, and buildings in its vicinity.
The area in front of the Paris Las Vegas hotel and casino includes a two-thirds size Arc de Triomphe and a replica of La Fontaine des Mers. There's even a 1,200 theater called Le Theatre des Arts.
But, the most impressive part of the complex is the 164.6m (540 ft) tall replica of the Eiffel Tower. While this building is not nearly as tall as the real tower, it's still an impressive feature that marks a city filled with other monumental examples of architecture.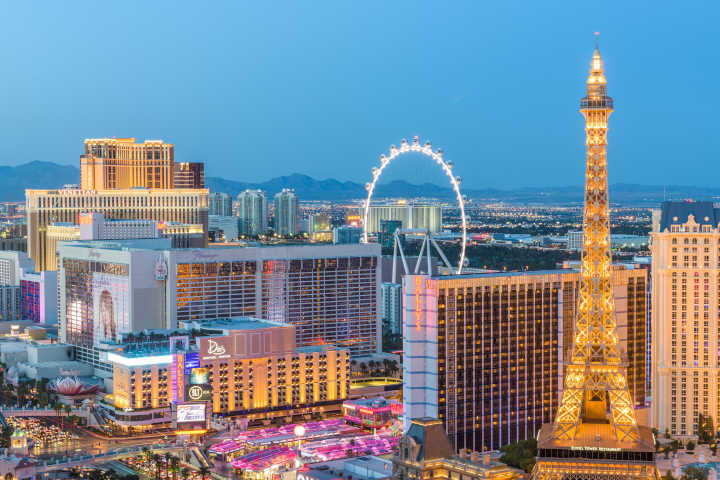 One interesting aspect of this replica is the back legs of this Eiffel Tower version actually go through the casino's ceiling into the floor.
And, just like the real tower, this replica offers you the possibility of going up to the very top and observing the stunning panorama of Las Vegas.
9. Go to an All-You-Can-Eat Place
Las Vegas is the perfect place if you want to have a memorable weekend and try everything that you think of.
This is true even if this includes enjoying copious amounts of food while playing your favorite casino games and exploring the city.
Las Vegas buffets are legendary, and you can find some truly impressive feasts if you know where to look.
Casinos and all-you-can-eat buffets go perfectly together. Whether you want to focus on gambling and need a quality buffet close by or plan on exploring the city to try out various buffets, there's always more than enough food to go around.
More importantly, many places in Las Vegas focus on quality and not just quantity. People often think that buffets feature cheap, greasy, and unhealthy food, but this doesn't have to be the case.
High-class buffets like those in Aria or the Bellagio offer tasty cuisine from all corners of the world.
Plus, even if you have a specific taste in mind or want to enjoy a certain type of food or drink, you can be sure that you'll find it in at least one place in Las Vegas.
For example, if you're going out for brunch, you can find venues that offer bottomless brunch, mimosas, and rose. There's hardly a better way to start a vacation day in Las Vegas.
8. Get Closer to the Wildlife
If the glitz and glamor of Las Vegas don't inspire you that much or you just want to get closer to nature for a bit, you can do so by visiting one of many wildlife exhibits in the city.
In my opinion, the three most popular ones are the Shark Reef Aquarium, the Wildlife Habitat, and the Secret Garden.
The Shark Reef Aquarium is open every day of the week and features more than 2,000 animals. This includes sharks, piranhas, giant rays, and other exotic animals like Komodo dragons.
Visitors can even feed the stingrays, turtles, and sharks and get closer to these fascinating animals.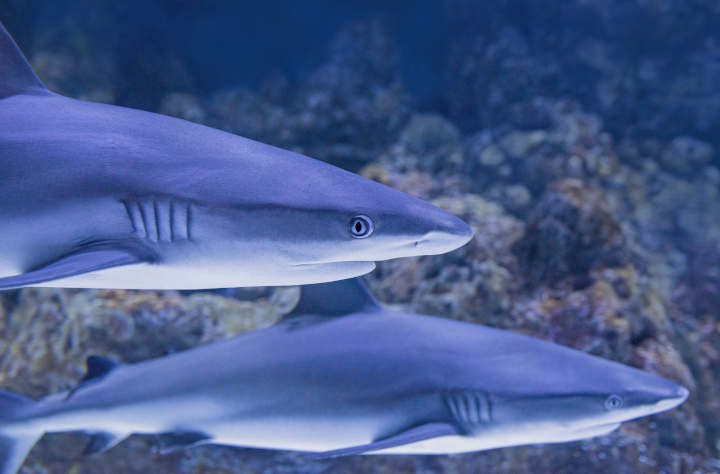 The Wildlife Habitat at the Flamingo offers you the opportunity to get up close with many exotic animals, most notably pink flamingos.
And, while the flamingos are perhaps the most recognized animals in the habitat, you'll discover many more unique species that will capture your attention.
Lastly, Siegfried & Roy's Secret Garden and Dolphin Habitat is a must-see if you want to come face-to-face with some of the most majestic creatures in nature.
Visitors get to see white tigers, white lions, leopards, and dolphins up close, and even interact with the latter through various tours.
7. Explore the History of the Mob
Las Vegas has not only been the prime gambling location in the US, but it's also known for many of its casinos and people being tied with mob dealings, especially in the 50s and the 60s.
If you want to find more about this part of the city's history, the best thing you can do is visit the Mob Museum.
Opened in 2012, this history museum features various intriguing artifacts, stories, and memorabilia tied to organized crime in Las Vegas and the entire country.
It was developed under the creative direction of Dennis Barrie, who also co-created the International Spy Museum and the Rock and Roll Hall of Fame.
So, you can justifiably set high expectations, as the Mob Museum will undoubtedly meet them.
The Mob Museum houses a number of interesting and fascinating exhibits. This includes various thematically organized sections, each depicting a certain type of illegal mob activity and how law enforcement officers fought it.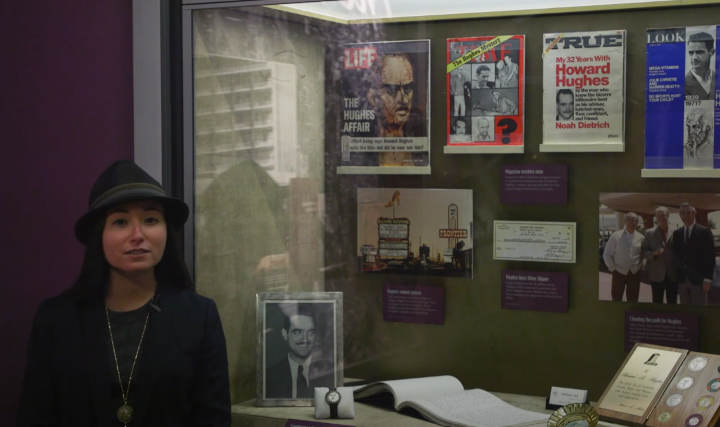 A few years back, the Mob Museum even opened a fully operational speakeasy and distillery in the basement. There, visitors can see how moonshine is made and even buy a bottle of 100% moonshine.
6. Go Shopping
Not many tourists know, but Las Vegas offers plenty of shopping opportunities, covering everything from super affordable brands to the most expensive items of clothing you'll find anywhere.
All of this makes Las Vegas a top destination where every shopaholic can fulfill any desire.
For starters, most world-class hotels in this city already offer mini shopping malls in their venues.
That way, you don't even have to step out of the building when you want to take a break from blackjack and do some shopping. But, if you decide to explore the city's shops, you'll have bountiful options.
One of the best-known shopping locations in Las Vegas is the Fashion Show Mall. It's a massive venue with over 250 shops and restaurants. Besides this mall, Crystals is a great choice if you want to shop at luxury stores.
Not only is this shopping mall located in a marvelous and beautiful building, but it also houses some of the most reputable fashion brands like Gucci, Prada, Dolce & Gabbana, and many more.
Even if you're not that into shopping for luxurious items, you can find great places like the Town Square and Broadacres Marketplace. When it comes to the latter in particular, you can find some amazing things at Broadacres Marketplace.
5. See the Hoover Dam
If you're willing to venture just a few miles outside of Las Vegas, you can see one of the most impressive examples of engineering in the form of the Hoover Dam.
Built between 1931 and 1936, this massive construction controls the flow of the Colorado River and has outstanding hydroelectric power potential. It also protects the entire area from floods.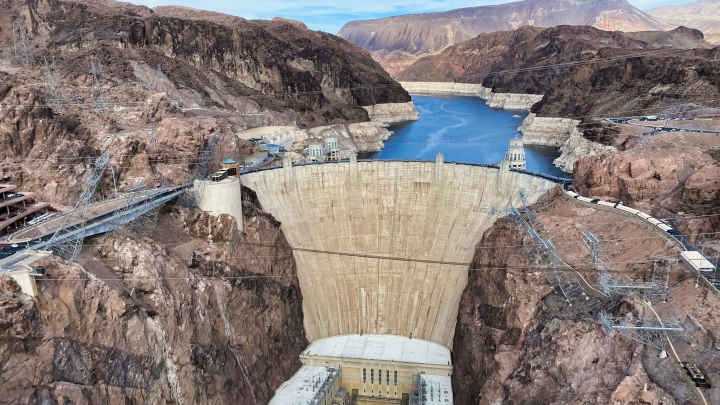 If you're interested in impressive engineering achievements, the Hoover Dam is certainly a sight you must visit at least once during your lifetime.
Its sheer size and grandeur can only be appreciated when seen in person. Plus, if you take a guided tour, you'll even get a sneak peek into some inside areas.
Moreover, even if you're not that much into architecture and engineering, the surrounding landscape is visually stunning enough to impress anyone.
It's one of the few places where man-made engineering and nature coexist on such a powerful and substantial scale.
4. Visit the Neon Museum
Las Vegas is famous for its bright and flashy lights, but have you ever wondered where all of these lights and signs go when they retire? The answer is – The Neon Museum.
Founded in 1996, this exciting concept keeps growing in popularity and already enjoys tens of thousands of visitors each year.
Located on Las Vegas Boulevard, the Neon Museum has three main exhibit areas spread across a massive surface of over 2.2 acres (over 1 hectare). These are the restored signs along Las Vegas Boulevard, the Neon Boneyard, and the North Gallery.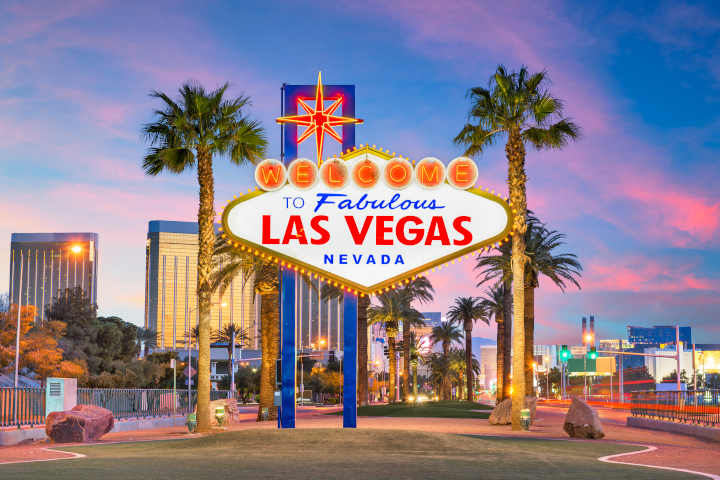 The restored signs are in the best condition and are the smallest in number. The North Gallery features repurposed signs set in an imaginative installation with either vintage or contemporary music.
But, the Neon Boneyard is undoubtedly the best and most exciting area to see.
The main boneyard includes some truly iconic signs that have marked Las Vegas' history. You can find signage from the Riviera, Stardust, Caesars Palace, and many more.
It also includes some impressive fiberglass sculptures, including the famous Treasure Island Hotel and Casino giant skull.
3. See One of Many Featured Shows
Las Vegas is all about providing you with the most memorable and entertaining time of your life. As we've seen on the list so far, this entertainment spends across many more activities than just playing slots and table games.
However, none offer you as broad of potential as you can enjoy by visiting one of the many famous features shows in the city.
The city has always been known for attracting superstars and top performers as headliners. Frank Sinatra, Dean Martin, Sammyy Davis Jr., Elvis Presley, and Celine Dion are just a handful of the most iconic ones.
While times have changed since that period, Las Vegas still features some awe-inspiring artists.
Most notably, this includes Cirque du Soleil, Absinthe, Blue Man Group, and Illuminate. All of these artists have different acts, and each is a must-see if you stay in Vegas long enough to visit all of them.
If you're nostalgic about the previous eras that have marked the city and pop culture, in general, you can visit one of many tribute acts constantly playing in Las Vegas.
Some of the most popular ones are MJ Live (Michael Jackson), All Shook Up (Elvis Presley), and the Rat Pack is Back! tribute acts.
2. Take a Walk Through Fremont Street
The Strip might be the most famous street in Las Vegas, but real gambling enthusiasts know that Freemont Street comes right after it in terms of reputation and popularity.
Moreover, Fremont Street was the go-to street for gamblers in the early gambling years of Las Vegas. This street dates all the way back to 1905 when the city was founded.
It was the first Las Vegas Street to be paved and the first to get a casino. For many years, during the city's gambling beginnings, Fremont Street was the place where most of the gambling action took place.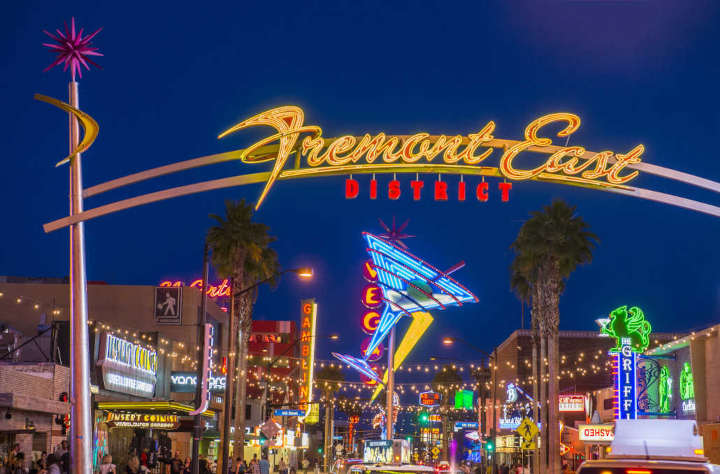 Fremont street has several famous casinos, including the Golden Nugget, Four Queens, and Golden Gate Hotel & Casino. The latter is the oldest casino in Las Vegas.
Being such an iconic location, Fremont Street is also the most-featured Las Vegas location in gambling movies and TV shows.
Films like Viva Las Vegas, Diamonds are Forever, and Dark City feature Fremont Street in them. Also, many shows, specials, and music videos have been filmed in this iconic downtown Las Vegas location.
Today, the street is part of the Fremont Street Experience, a pedestrian mall and major attraction.
One of the location's most attractive parts is the Viva Vision LED display canopy. It's approximately 419m (1,375 ft) long and features 220 speakers. It presents light and sound shows to visitors every day of the week.
1. Jump Off The Stratosphere
The famous stratosphere bungee jump in Las Vegas attraction, officially known as SkyJump Las Vegas, is the highest commercial decelerator decent ride in the world.
It features a 253m (829 ft) jump from the top of the Strat Hotel, Casino, and SkyPod.
The ride includes jumping off the top of this building and zooming towards the ground at speeds over 65km/h (40 mph) before decelerating just as you get close to the landing pad.
It is open every day of the week, and the prices per jump start around $130, depending on which package you opt for.
The Stratosphere bungee jump was opened on April 20th, 2010, and the mayor of Las Vegas proclaimed this day SkyJump Day in the city.
And, while bungee jumping and Las Vegas aren't used often in the same sentence, those who visit the city and try this attraction will find out why these two things go so well together.
If you're not into chasing excitement and big wins by risking your money in one of many Las Vegas casinos, jumping off the Stratosphere will surely get your blood pumping.
The beautiful scenery of the entire Las Vegas area and the nature around it will rush before your eyes as you're screaming with excitement and thrill while rushing to the landing pad!