Types of Slot Machines – From Video Slots to Various Options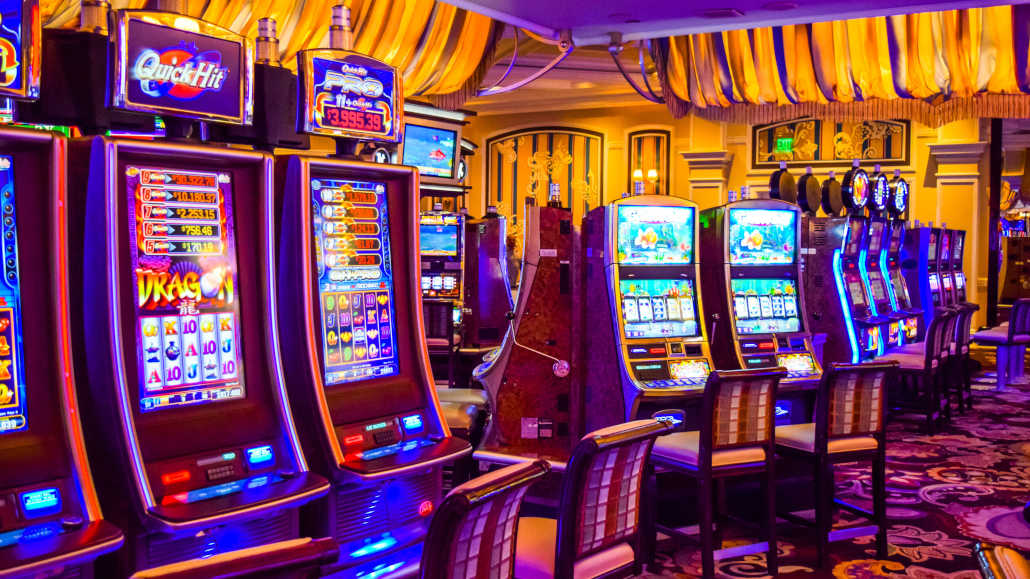 14 minutes
Last Updated: October 4, 2021
Types of Slot Machines – From Video Slots to Various Options
Slot machines have been around for well over a century. During this time, they've grown to become the most popular and best-represented casino game in the world.
Regardless of which casino you visit, from the small ones to the largest casinos in the world, you can find various types of slot machines to enjoy.
With so many slot machine varieties available, even the most seasoned slot players can't name all of the types of slot machines out there. With that in mind, how can you know which kind of slot machine is best for you?
If you're looking for helpful tips on how to pick the best slot game for you, this page has everything you're looking for! We'll go over all of the types of slot games and share with you useful tips on how to pick the right slot game based on your preferences.
Types of Slots Machines
The term slot machines covers a broad spectrum of luck-based games that can significantly differ between variants.
Although the basic gameplay principles between different types of slots are fairly similar, the games can dramatically vary between each other. To make these differences easier to understand, we'll go over each of the main types of slots machines separately:
Video Slots
Video slots don't differ very much from reel slot machines in terms of gameplay, besides the fact that they use electronic computer software to depict the reels spinning to line up the winning symbols.
In video slot machines, all of the action is virtual, so there are no physical reels being spun.
While the gameplay is similar, video slot machines are much more flexible than reel slots. This is because there are no physical constraints on the number of reels or paylines used. Hence, you can find video slots with up to a hundred different paylines and various special bonus features.
Most games you'll encounter at live and land-based casinos these days are in the video slots category. These are very popular with the players, as they offer great entertainment and have the potential to produce big payouts.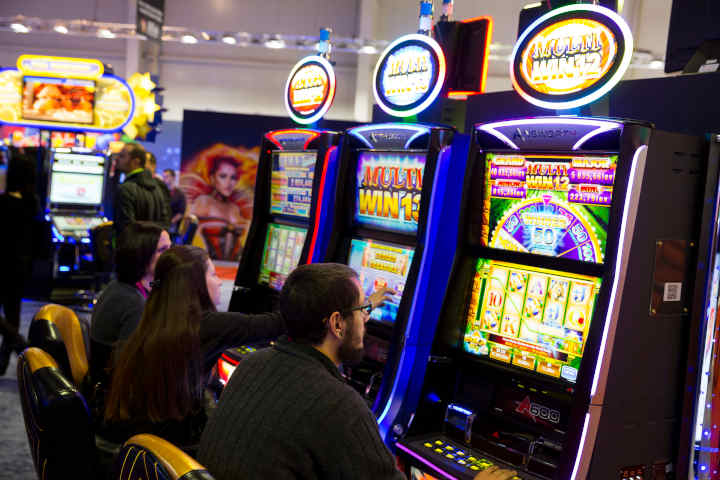 The latest trend in video slots has been to create games with the top payout of 50,000x or more. This represents a big shift in relation to older types of video slot machines, where the maximum win was usually capped at 5,000x or, in some rare instances, 10,000x the stake.
With the advancement of technology, game developers have more room to put their creativity to work. This results in video slots that are visually appealing, very engaging, and quite rewarding for those lucky players who manage to trigger a top payout.
Single-Coin Slots
Single-coin slots are the epitome of old-school slot games, as they are among the most basic slot machines you can play.
With that said, these types of slots are harder to find nowadays, mainly because they are so simplistic and don't offer opportunities for huge wins, making them obsolete in comparison to modern slot games.
With so many sophisticated and advanced slot machines available on the current market, most casinos opt to exclude single-coin slots from their game library.
However, if you enjoy a classic slots gaming experience without any advanced features or bonuses, these slot machines can be very fun to play. Moreover, your credits will last for much longer than in other types of slots machines.
Multiplier Slot Machines
Multiplier slot machines are the next step in the evolution of single-coin machines. Although most multiplier slots also accept single-coin bets, they are most rewarding when you make a bigger bet.
This is because multiplier slot machines have payout odds that are more rewarding based on how many coins you bet.
These machines were first introduced in the late 1980s and have been a hit among casino players ever since. Multiplier slots encourage you to make bigger bets, as they pay out proportionally on all winning combinations.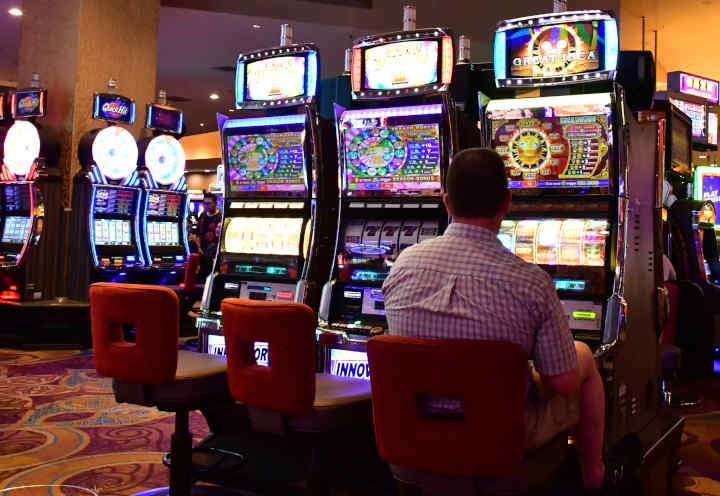 For example, if you bet one coin and land a specific combination, you might get a $5 payout. At the same time, if you make a two-coin bet and get the same combination, you'll get a $10 payout.
This entices you to bet more by offering you the prospect of winning more significant amounts. As multiplier slots have become the standard in the industry, most of the following types of slot machines have the multiplier feature included as a part of the base gameplay.
Wild Play Slot Machines
Wild play slot machines are some of the most popular types of slot machines among casino players. The reasons for this are simple. Wild play slots are extremely fun, and they offer you the chance to double, triple, and in some cases, even quadruple your winnings.
In gambling terms, wild play slot machines are the ones that include a wild symbol which can substitute any other symbol on the payline to help you line up a winning combination.
Moreover, these wild symbols also serve as multipliers, which automatically increase your profits if you manage to line up one in a winning combination.
Many modern video slots, especially online ones, fall into this category and have a wild symbol available as a part of the core game.
Progressive Slot Machines
Hitting the main prize on a progressive jackpot slot machine is the biggest dream of most slot players. This is because these types of games are by far the most rewarding slot machines in the industry.
Progressive slot machines can deliver wins that go up into tens of millions of dollars. Of course, these wins seldom happen, but when they do, the lucky winner usually obtains a life-changing amount of money.
Progressive slot machines operate in a very interesting way. They are usually interconnected and pay out a pooled jackpot. Every time any player places a bet at one of the connected slot machines, a portion of the wager goes into the progressive jackpot.
There's usually not a maximum jackpot ceiling. Instead, the amount will continue to rise until a lucky player hits the right combination.
Although progressive jackpot slot machines have been around for quite some time, they've become especially popular with the rise of online gambling. In such an environment, a progressive jackpot slot game generates a prize pool across all websites using the same casino software.
And, with more players contributing to the prize pool, jackpots can rise quickly, and anyone can win them, as long as they play on a site in the jackpot network.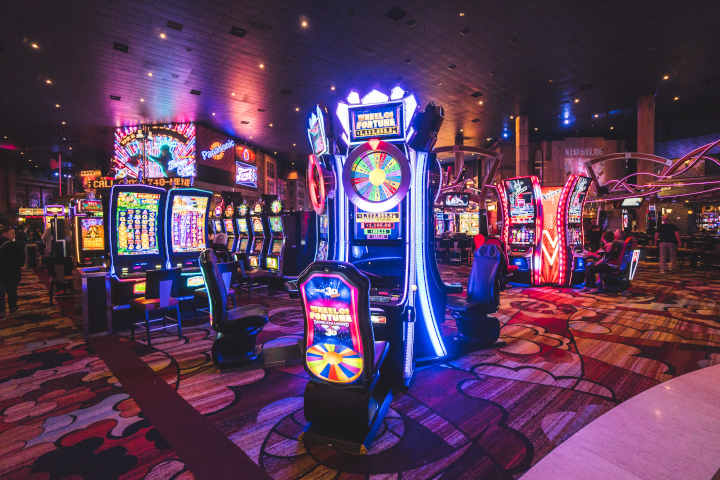 Multiple Payline Slot Machines
Typically, most casino slot machines will have one payline, and all the winning symbols on that single payline must line up for you to win a prize.
Multiple payline slot machines differ from this classic practice by offering you more action in the form of more paylines. Each payline requires you to bet one additional credit to activate it.
It's key to remember that playing more paylines doesn't increase your chances of hitting a big win. At the same time, it doesn't also diminish your winning chances.
The only thing that may be affected when playing a multiple payline slot machine is your bankroll. These games will eat away your money at a much quicker rate than simple single-coin slots.
Big Berthas
Big Berthas carry this nickname due to being the largest type of slot machine in the gambling industry. Impressive in their physical stature, Big Berthas are usually placed at the very entrance of a casino to wow new players entering the venue for the first time.
That said, these aren't the best paying slot machines you can play in a casino. Moreover, with the invention of video slots and progressive slots, Big Berthas can be difficult to find today and are usually only available in large gambling venues.
Multi-Game Slot Machines
Multi-game slot machines are particularly interesting for players who prefer playing slots and enjoy venturing into other casino games.
These slot machines allow you to switch between different games without moving to a different machine. In simpler words, a multi-game slot machine can also offer a selection of blackjack, keno, and video poker games.
These games can be very engaging, as you can enjoy a varied gambling experience, bet in different denominations, and focus on entirely different types of games while being comfortably seated in one casino chair.
Reel Slot Machines
Back in the day, reel slot machines were controlled mechanically, and you would spin them by pulling a lever.
Although this process has been made entirely electronic, you can still find reel slot machines that turn right in front of your eyes after you press the button to start the spin.
A typical reel slot machine has three or five reels, although modern slot games can have anywhere up to ten or more reels.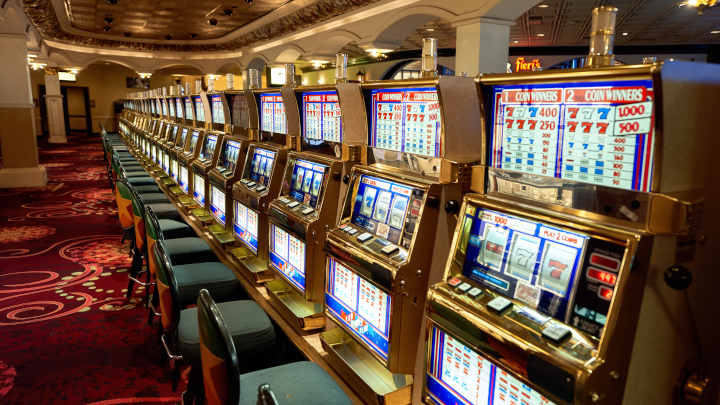 Types of Slots Machines By Payout Frequency
Besides the main classification of different types of slot machines we've talked about above, you can also differentiate slots by their payout frequency. In this regard, there are three types of slot machines.
Loose
In casino jargon, a loose slot is any type of slot machine that has a payout frequency of 95% or over. In other terms, the house edge is only 5% of every bet in the long run, offering the players a great opportunity across many spins. These types of slot games are more easily found online, as most land-based slots fall into the next category.
Medium
As the name says, slot machines that have a medium payout frequency sit between loose and tight slots. These games pay out fairly often but still don't offer you the best long-term value when compared to loose slots.
Tight
This type of slot is much more common in land-based casinos and can't be easily found in the online gambling world. Tight slot machines offer unfavorable payback percentages.
For example, casinos in Nevada have a legal minimum payback percentage of 75%. This means that casinos in this state can set their slots to be really tight and offer no consistent payouts.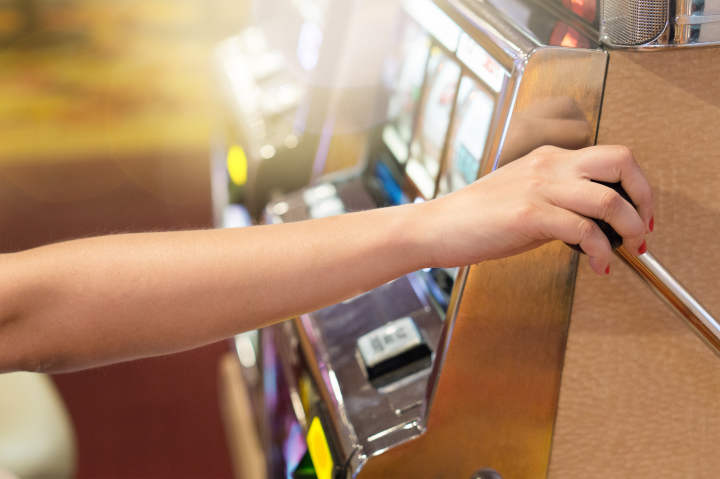 Types of Video Slots By Different Bonus Rounds
Going into more specific details, slot machines, especially video slots, can also differ based on the type of bonus rounds they include. The most common bonus rounds and mini-games you can find in different types of slot machines are:
Free Spins
The most common bonus in land-based and online slot games. You can trigger the free spins bonus by lining up the right symbols on the reels during the base gameplay. After this, the free spins will be automatically activated, and you can bet using them instead of wagering your real money.
In many games, these free spins come with additional multipliers, providing you with extra value on each win you manage to line up with a free spin.
Spin The Wheel
After triggering the bonus round, you'll get the option to spin the wheel to claim your prize. The wheel will feature different values rewards across it. Depending on where the wheel stops, you will get the corresponding bonus reward.
Pick and Match
You are presented with several options with hidden items behind them. You must pick two options that hide the same symbols to win a specific prize. Rewards can range from anything like instant betting credits to free spins.
Skill-Game Type Bonus
As the name suggests, this type of bonus involves more skill than pure luck to win. In this sense, it brings a more gamified experience by making this feature similar to something you can find in a video game.
How to pick the Right Type of Slots For Yourself
Now that we've covered all of the popular types of slot machines, it's key to go over another key topic – how to pick the right slot based on your interests, preferences, and budget.
If you're a beginner, doing so might seem challenging. But, with a few of our quick tricks and tips, you'll have no problem picking "the one" for you. Here are the most important things to keep in mind when choosing a slot for yourself:
Payback Percentages – We all like playing slots primarily because they're fun and entertaining, but it's also nice to win some money along the way. To make sure you have the same experience, you should always know the specific slot's payout percentages before putting any money into the game.
In-Game Features and Bonuses – Today's slot players can enjoy the convenience of plentiful in-game bonuses and extra features. That said, with such an abundance of choice, you'll need to do a bit of research to find the slot games that offer you the best bonuses and mini-games according to your preferences.
Themes – Lastly, the slot's theme is something to pay attention to. Slots can be themed on any topic, from Christmas to Safari and anything else that crosses your mind. You can also find a great selection of slot games themed on popular TV shows and gambling movies.
Hopefully, the information we've shared with you on this page has helped you learn about the intricacies of different types of slot machines and helped you pick the best game for yourself.
Ultimately, don't forget that slot games are the best-represented type of casino content, so you'll never have any shortage of options when playing.
If you find that a particular slot game doesn't suit you, you can always explore different varieties to find out which games you enjoy playing the most!